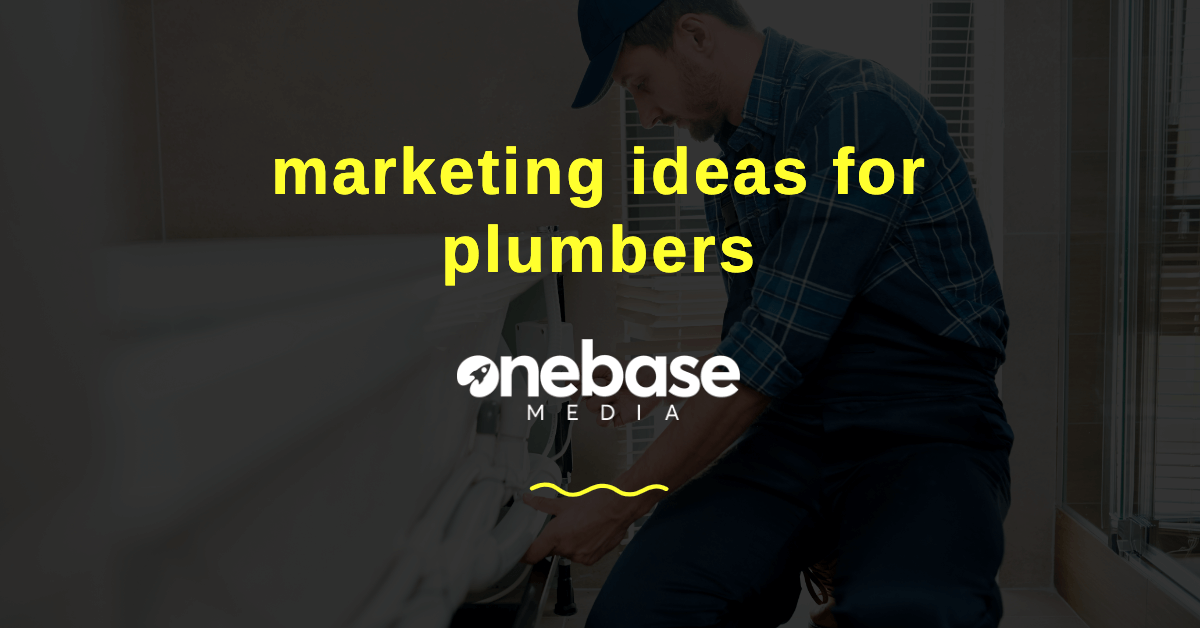 As a plumber, you know that advertising is key to getting more business. But what kind of advertising works best for plumbers? And how can you make sure your advertising budget is well-spent? This blog post will discuss 17 marketing tips for plumbers that will help you get more customers and grow your business!
16. Claim your Google My Business listing
One of the best online marketing strategies for plumbers is to claim their Google My Business (GMB) listing. Google My Business is a service offered by Google that allows businesses to manage their online presence. When you claim your GMB listing, you can control how your business appears when someone searches for it on Google. You can also use GMB to post updates about your business, respond to reviews, and more!
If you haven't claimed your GMB listing yet, now is the time! Claiming your listing is easy and only takes a few minutes. Just go to google.com/business and follow the instructions. Once you've claimed your listing, be sure to fill out all of the information is correct.
To fully optimise your listing, include
Your company logo
A category for your business
Your address
service areas
opening hours
Phone number
Website address
Company description
Photos
Reply to any reviews [Good or bad]
List out services
Add products
You will get more calls and leads by fully optimising Google My Business. This will show you how many website clicks and phone calls you get through the listing. You can regularly log in and view insights to keep track of this.
15. Get listed on Checkatrade or Trustatrader.
Checkatrade and Trustatrader are two of the most popular websites for people looking for tradespeople in their local area. Getting listed on either of these websites is a great way to get more exposure for your business and start collecting reviews.
To get listed on Checkatrade, create an account and add your business listing. Be sure to include as much information as possible, such as your company logo, a category for your business, your address, service areas, opening hours, phone number, website address, and a company description. You can also add photos to your listing.
Both platforms place your listings higher the more reviews you get, so it's important to get reviews from your customers continually. This way, you will get more visibility on your listing and more plumbing leads.
If you are struggling to know which website to get listed on (watch this video) do a Google search for your local service in your local area.
Let's say "plumber in Chelsea", look at which directory is at the top of Google, if Checkatrade is at the top, get listed and keep getting more reviews until you are number one.
14. Build a brand local customers will recognise
Consistency is key when it comes to branding. Your brand is much more than just a logo. Use the same branding across everything, from your website to your social media platforms, as well as any print materials you use. Think about the colours you use, the fonts you choose, and the overall style of your branding. All of these elements should work together to create a cohesive look that customers will associate with your business.
If you're unsure where to start, consider hiring a professional branding agency to help you develop a brand that local customers will recognise and trust. You can build a brand that will set your business apart from the competition and attract new customers.
Take a look at a company like Pimlico plumbers, they have built a strong brand in the local area, and people instantly recognise the vehicles, the website and the uniform. This is what your branding should achieve. Also creating a catchy and memorable plumbing slogan can help build your brand.
13. Get your plumbing business listed on all major directories.
And make sure your information is consistent across the web. This will help you to rank higher in local search results and get found by potential customers who are looking for businesses like yours.
Make sure you claim all the free local directory listings and fill out all the information customers need about your business, such as opening hours, services offered, and contact details. This will send good signals to your website and help you to appear in local search results when people are searching for businesses like yours.
Best local directories
These directories will help with your local SEO and get you more traffic, leads and calls from your website.
12. Build a Google ad campaign
Google ads are the listings that show above the organic search results, and they can be a great way to get more exposure for your business. However, they can be expensive if not set up correctly, so you must ensure that you are targeting the right keywords. You also need to make sure that your ad is well-written and relevant to your target audience.
If you decide to run a Google ad campaign, there are a few things you need to keep in mind:
Target the right keywords: Make sure you research your keywords carefully and target ones that are relevant to your business and have a high search volume.
Write a compelling ad: Your ad needs to be well-written and persuasive so that people will click on it
Add offers and good calls to action, and always think about why the customers will choose me over the local competitors.
Here is an example of a good Google Ad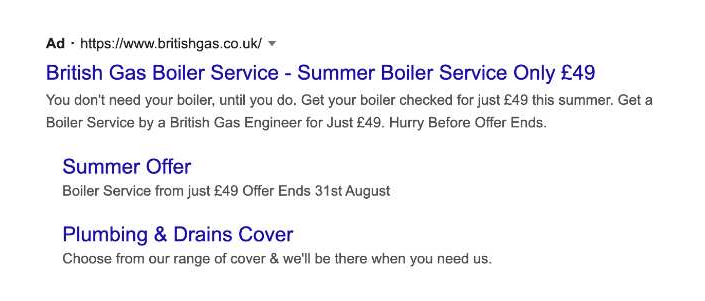 What makes this ad good?
It has a very low price in the headline.
It creates urgency [Offer ends 31st August & hurry before the offer ends]
They have ad extensions, so the ad appears bigger and takes more space on the page
Here is an example of a bad ad
What makes this ad bad
It just lists the services rather than the benefits of the service
There is no urgency created
There are no ad extensions, so the ad appears smaller
Local service Ads
Local service ads are the ads you see at the top of the page with reviews and a Google guaranteed badge.
Google service ad example
Google service ads are worth it from a call quality perspective. The rate of qualified leads per phone call exceeds that of our standard paid search campaign. When running Local Services ads the same principle applies, make sure your ad is compelling and includes a strong call to action. By doing so, you'll be more likely to generate leads that result in conversions.
11. Get loads of reviews so potential customers trust you
Testimonials and reviews are incredibly important for plumbing businesses, as they provide social proof that you're a reputable company and offer great customer service. If you don't have any reviews yet, start by asking your happy customers if they wouldn't mind leaving you a positive review on Google or another platform.
Best places to get reviews
Once you've built up a solid base of reviews, make sure to actively manage them by responding to both positive and negative reviews in a timely manner. This will show potential customers you're attentive and care about providing quality service.
Managing your online reputation is an ongoing process, but it's well worth the effort since reviews can play such a big role in boosting trust and generating new leads for your plumbing business.
10. Do SEO on your plumbing company website
The next step is to make sure your website is optimised for local SEO (search engine optimisation). Start by ensuring that your NAP (name, address, phone number) details are included on every page of your site, and that they're consistent with the details you've listed elsewhere online.
Also, build a content strategy for your website, and have pages on every service such as drainage, boilers, emergency plumbing or any other service you offer.
Another strategy you can use is having local landing pages for the areas you would like to target, such as "plumbers Chelsea" or "plumbers Hammersmith". Build local service pages for these areas and ensure the content is unique on every page and well written. Google will index the page, and your website will appear higher in these locations.
It's also important to include relevant keywords throughout your website content since this will help Google understand what your business is all about and match it with relevant searches.
9. Social Media
Build social media profiles for your plumbing business and post on them regularly. This is a great way to connect with potential and current customers and build your brand awareness. Plus, social media is a powerful platform for promoting special offers and discounts, which can help increase sales.
Best websites to build a social media presence
Facebook
Instagram
TikTok [Great for before and after videos]
Linkedin
Twitter
Make sure to post interesting and engaging content encouraging people to follow your profile and respond to any comments or messages promptly. If you're not sure what kind of content to post, try thinking about what sort of information your target audience would find useful or interesting. And remember to keep an eye on your social media activity levels, so you don't end up neglecting your profiles – no one wants to follow an inactive account!
8. Get referrals
Get referrals from local plumbers and builders by networking with them online and offline. Attend local business events, introduce yourself to new contacts, and exchange business cards.
Once you've built up a rapport with some local businesses, ask if they would be willing to refer you to work – most people are happy to help out a fellow small business owner! You could also offer to return the favour by referring them to customers from your own network.
By following these simple tips, you'll soon have a steady stream of referrals coming your way from local plumbers and builders! We have worked with businesses that have used this strategy for over 20 years and managed very successful businesses.
7. Build a blog
Build a blog for your plumbing business, blog about issues your customers might be having and then solve these problems in your blog.
Blogging is a great way to attract new customers and keep your existing ones informed about what's going on with your business.
Here is an example of a blog that gets a lot of traffic
https://iheat.co.uk/boiler-help/new-boiler-costs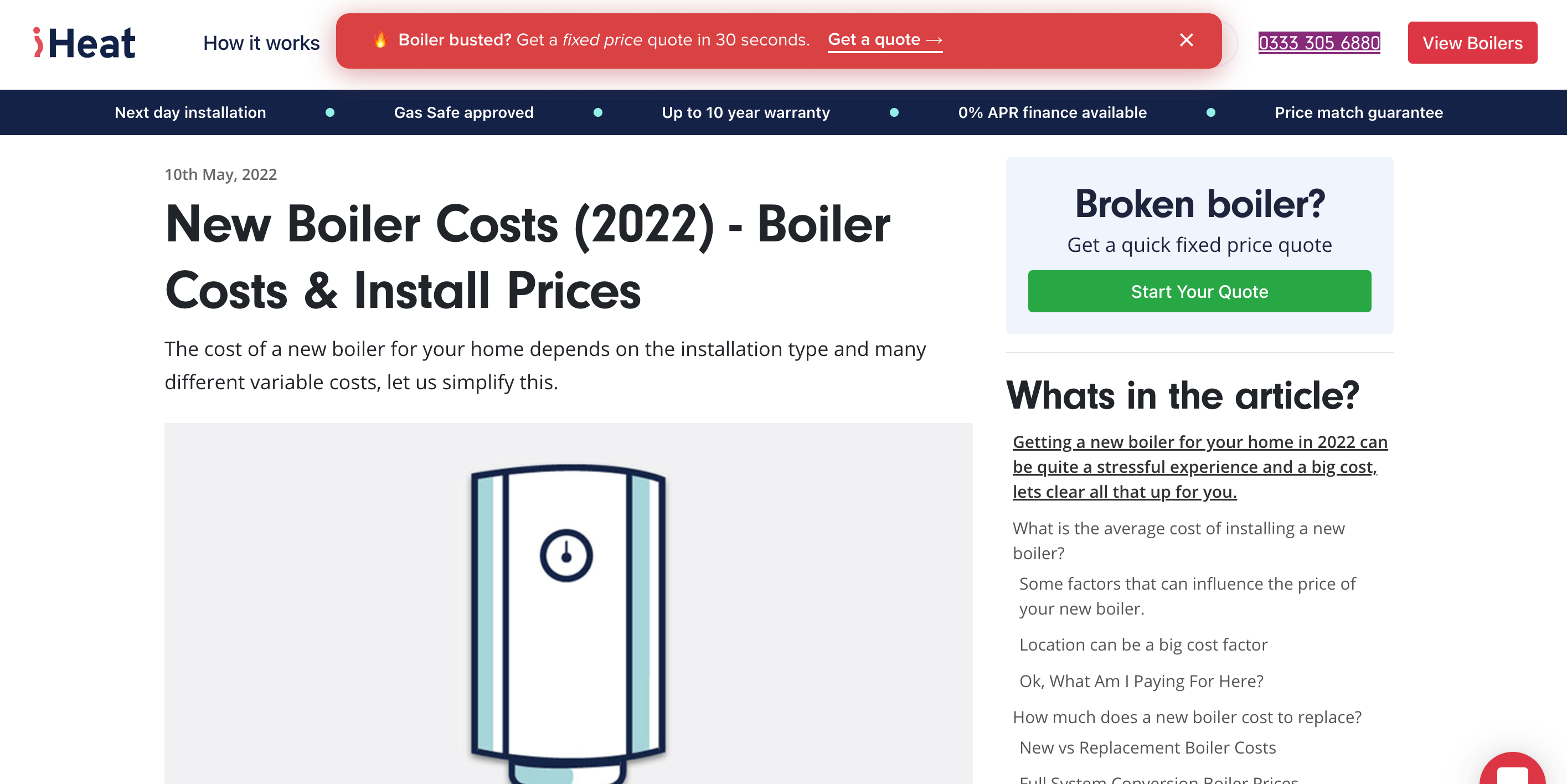 This article gets over 9,000 visits a month! It's a great article and offers a lot of information to the reader about the costs of boilers. They have then filled the page with calls to action to buy boilers. This is a very good way of getting your ideal customers on your website and then buying your product or service.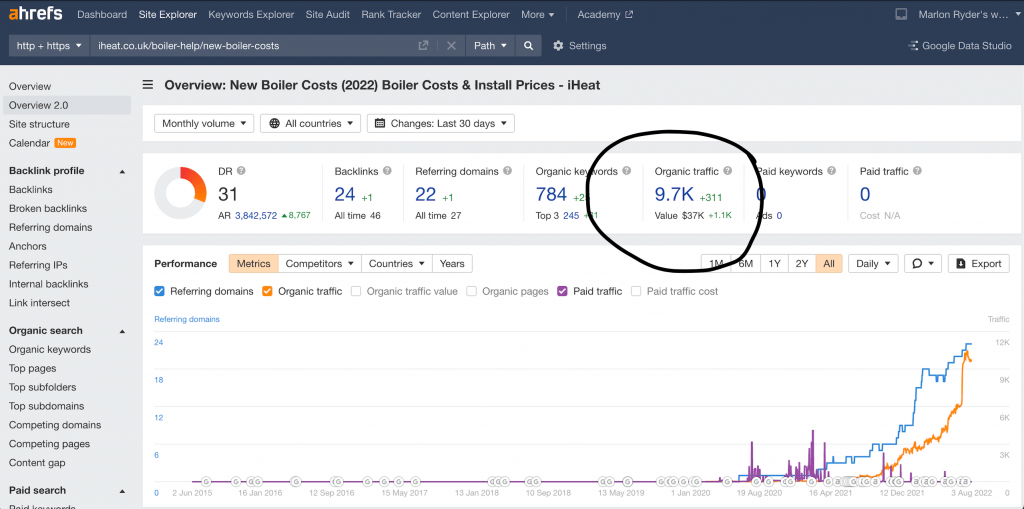 By writing blog posts that solve everyday problems faced by homeowners, businesses can position themselves as experts in the field and earn customer trust. Furthermore, regular blogging can help build relationships with other local companies that may be willing to refer work to one another. If you have any questions or need help getting started, feel free to contact us! We would be happy to help you start blogging for your plumbing business.
6. Get accreditations
Get accreditations for your plumbing business to show customers that you're a reputable and trustworthy company.
Many accreditations are available for businesses, so it's important to do some research and find the most relevant to your industry. For example, if you're a plumber, you could look into getting accreditations from the Institute of Plumbing or the British Standards Institution.
Plumbing & heating Accreditations
APHC
BSI
Ciphe
City & Guilds
GasSafe
Drainage Accreditations
NADC
CHAS
Safe Contractor
Exor
Water Jetting
Association
Accreditations can also help you stand out from your competition and win more work, so it's worth investigating what's available. If you need any help or advice, our team would be happy to assist you – get in touch!
Following these simple tips can build a strong reputation for your plumbing company.
5. Have additional services to offer customers
Another great way to keep your customers returning is by having additional services to which they can upgrade. This could be anything from an annual maintenance plan to a loyalty scheme.
By offering additional services, you can show your customers that you're invested in their satisfaction and always looking for ways to improve their experience with your company. This will help build customer loyalty and keep them coming back for more!
4. Get your vehicles sign written
One of the best ways to promote your plumbing company is by getting your vehicle's sign written. This is a great way to raise awareness of your company in your local area and get new customers through word-of-mouth.
Make sure that you include all of your contact details on your vehicle so that people can quickly get in touch with you. Also, don't just list your services on the vehicle, list the benefits of using your company.
For example
Boilers from £99
Rapid response
1-year money-back guarantee
60 min response time
Open 24/7
Listing this kind of benefits, people are far more likely to call you rather than just listing your services.
Listing this kind of benefits, people are far more likely to call you rather than just listing your services. Signwriting is an excellent part of your plumbing marketing strategy and it's a relatively low-cost way to raise awareness of your brand in your local area.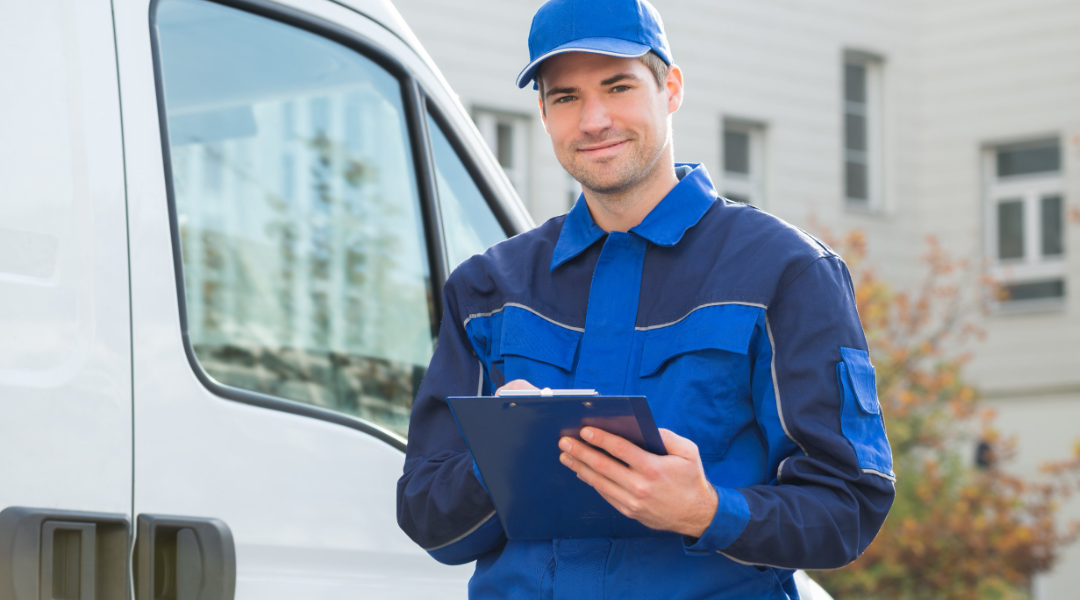 3. Get personalised uniforms
Having personalised uniforms for your plumbing business is great for the brand and also gives you a professional look for your business.
Many companies offer uniform printing services, so it's worth shopping around to find the best deal. Make sure you include your company logo on the uniforms so that people can easily recognise your brand.
Personalised uniforms are a great way to make your business stand out from the competition and show customers that you're serious about your work.
2. Do leaflet drops
One of the best ways to promote your plumbing business is by doing leaflet drops in your local area. This is a great way to raise awareness of your company and attract new customers.
Make sure you include an offer on the leaflets so that people are more likely to contact you. You could also have a QR code so people can scan it and get more information about your business.
Leaflet drops are an excellent way to promote your business, so take advantage of this marketing method!
An excellent way to test your leaflet dropping campaigns is by either having an additional number or having a single offer on that leaflet, so you know when customers call you, it comes from that leaflet drop. This way you will know your return on investment and if it's worth pushing the leaflets into additional areas.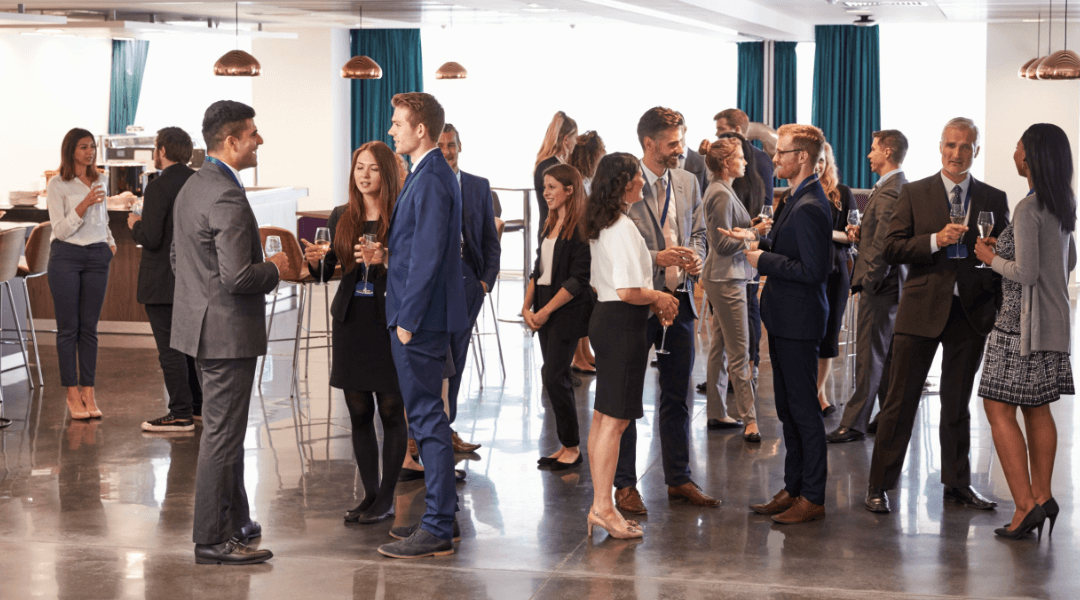 1. Get involved with the local community
Local promotional work in your area is a great way to build your brand, do charity events and local radio interviews and get involved with the community. Local PR is an excellent way to raise awareness of your business and attract new customers. It's also a great way to build relationships with local media outlets to get your business coverage.
Examples
Sponsor local races or sports teams
Do local radio interviews on how you are giving back to the community
Get links to your websites from local news websites
Do charity events
Make sure that you include your contact details on all of your local PR so that people can quickly get in touch with you. Also, don't forget to follow up with any local media outlets you've contacted so you can maximise your business's exposure.
Summary
If you are looking for more plumbing marketing ideas then our team can help. Over the last 10 years, we have helped plumbing companies across the UK boost their traffic, leads and sales using tried and tested digital marketing strategies. We can help you reach a local or national audience. Building a local presence for your plumbing services is essential for growing your business. There are many ways to promote your business locally. If you need any help growing your plumbing business, feel free to contact us. We would be more than happy to assist you!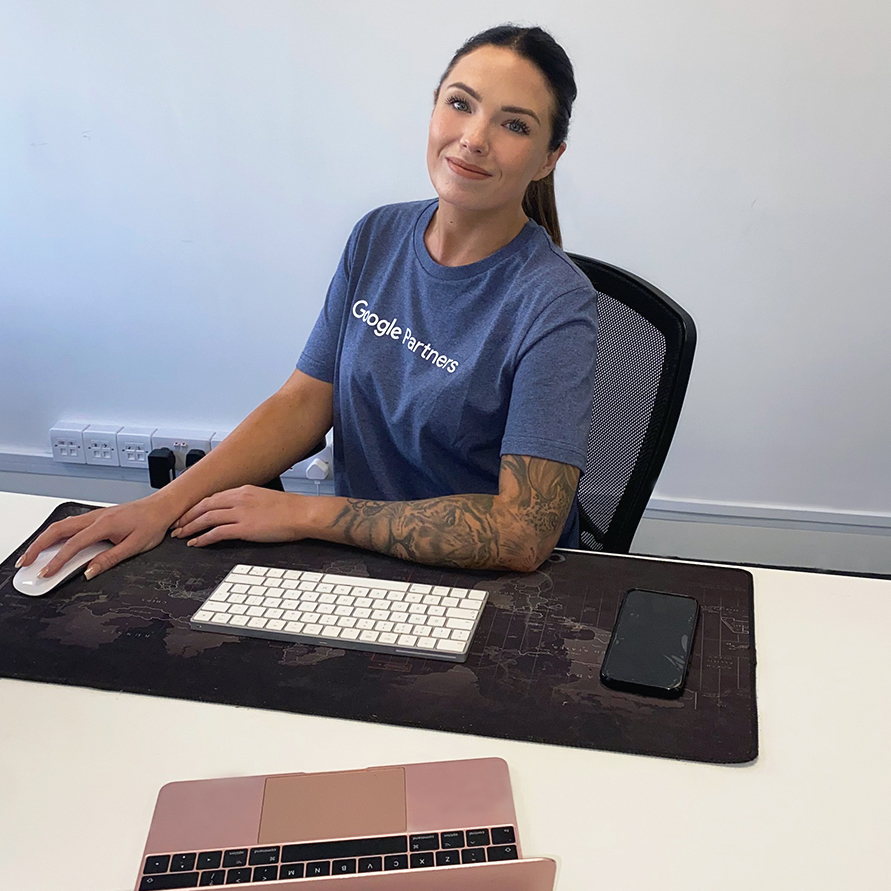 Speak to an expert
Got a quick question about your marketing? Or you want to run through the details of your next big project. We can help.
Speak to one of our experts today on 01702 668207 or send us a message.