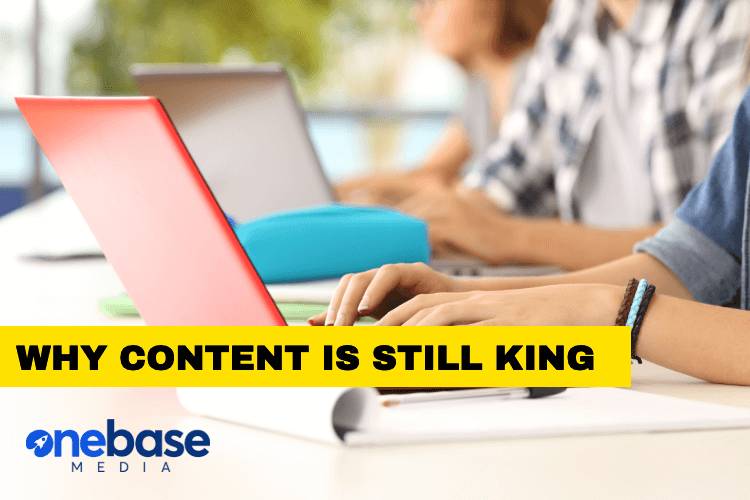 Content is important to all websites but it is not beneficial unless it is amazing.
People may wonder what the point is of having written content on their websites. Read on to find out how to write fantastic content and how it benefits your website.
Why do I Need Content?
Imagine you are creating a photography website, purely to post your pictures for local bands and events. You may be thinking to yourself 'what is the point of putting written content on my site?'
Content is the reason people manage to find you on the internet in the first place through keyword targeting, which I will talk about later on.
Content is also your way of informing visitors what your website is about and trying to persuade visitors that they should stay on your website and continue to visit it regularly. Ask yourself, would you bother staying on a website if you didn't know much about it?
I am about to provide you with key advice on how you persuade your website visitors to stay on your website and visit often.
Who are you Writing for?
When writing your content, this is an important question to ask yourself. You are not writing for yourself, so do not write your content in a way that only you would understand.
Take into account the gender of your reader, their age, ethnicity, hobbies, interests and intelligence. Chances are if you lose the fancy language, the big words and write down the information in an easy to read and understand format, more people will visit your website.
Not all people are rocket scientists, so don't make the information harder to read than necessary.
The Inverted Pyramid Technique
All journalists and many content writers / SEO copywriters use a writing technique known as the Inverted Pyramid. It is a way of presenting the reader with the facts first, which will help to keep them engaged, but it will also help to prevent you from going off-topic, which in turn will help to keep the reader interested in your post.
During this technique you have five questions that you need to answer:
For instance, if I were writing an article, in the first sentence I would aim to answer three of these questions:
"On the 7th July 2016, author Joss Stirling released her final savant book Summer Shadows."
In this sentence, I answered three of the questions above: when it happened, whose book is being released and what is being released.
What is also important to remember is not to bombard the reader with too much text, all at once. In the first sentence that you present, keep it to a maximum of 15 words, otherwise, they will quickly lose interest and go onto another website.
On the second paragraph that you present to the reader, you can put down more details and information but only write to a maximum of 30 words.
Going on from the first sentence I have written, my second paragraph would aim to answer the last two questions of "why" and "how".
"Published through Oxford University Press, Joss's fantasy series has come to an end; the author revealed that she purposely wrote this way so the story would not just 'fade away'."
Here I wrote who published the book series, what genre the book is, how the author had planned out the series and why it has come to an end.
Once you have followed the first two rules of the inverted pyramid – answering all five questions in the first two paragraphs and sticking to the word limit – you reach the third paragraph. For the third paragraph, there are no more rules to follow as your reader is now engaged on the topic. You can now give them more details on the topic, the public's views on the situation, maybe even write your own opinion down if you are writing a review on a topic etc.
Spelling & Punctuation: Spell Check your Work
There is nothing more annoying, both for you and the reader than to find you have done an embarrassing spelling or punctuation error.
It can be hugely annoying for the reader to find out that the person writing the post cannot tell the difference between there, their and they're, or to find out that they do not know where to correctly place the punctuation in certain words, or that the writer completely forgot to use punctuation altogether.
So make sure you remember to spell check your work, read through it three times and maybe even get a fresh pair of eyes to read through your work before it gets posted.
Facts: Invest in Topic Research
Why else do people read articles and research online, other than to get the facts? So make sure your facts are 100% correct.
Do the extra research and take the extra time because if you make a mistake and post a false piece of information, then you are going to lose the readers trust, therefore meaning your website will get fewer views.
Write a Story & Make it Fascinating
Do you remember when you would have to study textbooks for school – you would nearly be falling asleep, trying to cram all of that information in your head – and your interest levels in the topic instantly dropped.
That is what we want to avoid when writing for our readers. Write the information down, almost as if you are telling them a story. Make it interesting, fascinating and make them cling on to every single word, no matter the topic.
The more interesting the story, the more likely it will get shared and spoken about.
Break up the Text – Paragraphs, Subheadings, Bullet Points
If you are writing 500 words on construction, writing it in massive paragraphs is going to put anyone off. You want the reader to be able to easily locate the information they need, which is why you break up the text.
Use lots of paragraphs.
Add plenty of subheadings so the reader can find the information they are looking for.
Add bullet points when writing lists so it is easier and more visually interesting for the reader.
Keyword Research – It All Begins With Words
Keywords are highly important to any content on your website as it can make your website search engine friendly and help it rank better on search engines like Google & Bing.
Through keyword research, we are able to find out how high, specific words and phrases get searched and how much online competition there is for these words.
Using words with a high amount of searches yet low competition in your content will help make it easier for people to find you on Google.
Create Visually Appealing Content
It is not surprising to find out that the more visually interesting a page looks, the more likely people are going to stay on your website and read what you have to say.
How do you make a page look more interesting, I hear you ask? Through adding pictures and videos related to the topic you are speaking about. Use them to make the page look brighter, more colourful and to break up the text. However, avoid adding too many pictures and videos as this can cause the page to look crowded and will have the opposite effect on the reader.
Updating your Content – Quality over Quantity
In terms of blogs and articles, it is important to regularly update them preferably on a weekly basis so that your readers have something new to read. Also, by regularly updating your content you will gain more readers as they will hear through friends and social media about your blog.
Another important thing to remember is that quality is better than quantity.
Ask yourself what would you rather read? Loads of blog posts that are poorly written or a few blog posts that really interest and inspire you?
This is also the same for the number of words that you write. Although it is a good idea to write about 600 words on a blog post so that you are also able to use loads of keywords to help your website rank better, you must not try to overwrite a topic or use too many keywords otherwise this can make your post seem poorly written and people will be able to see what you are trying to do.
Social Media – Engage & Interact with your Audience
Social media is another important aspect for all websites. You can attract so many readers through social media advertising on websites such as Facebook, Twitter and Instagram, keeping them up to date on blog posts, special offers and recent jobs that your company have completed.
Be confident in the content that you are posting – the more often you post, the more people who will see them.
Another handy tip is that pictures and videos that get posted online are more likely to be shared rather than text.
Kindly Ask for Feedback
Don't be scared to ask for feedback. Whether you have a comments section on your blog post for people to reply, or you are asking your customers for advice to try to find out what they want or are interested in. Your followers will be happy that you are taking an interest in them and what they want.