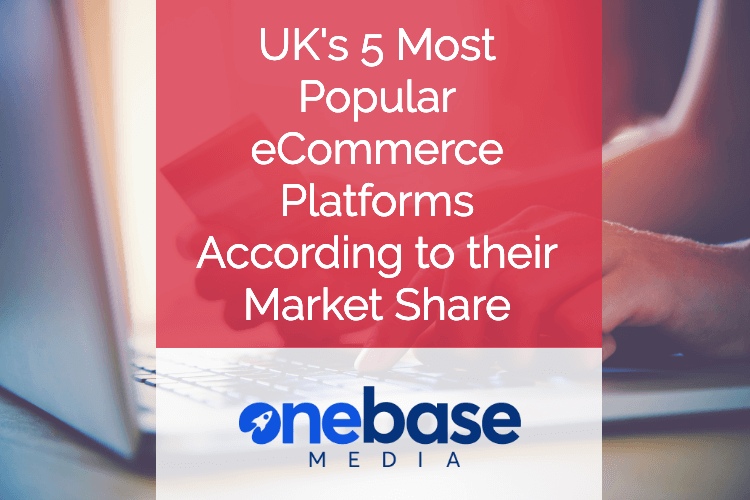 There are many different eCommerce platforms that as a business you can use to create an online store. However in the UK there are five most popular platforms that are used, this is according to their market share. The top five are WooCommerce, Magento, Shopify, Virtuemart and OpenCart.
So do you need some help deciding on what eCommerce platform to use? Here are the five most popular platforms in the UK with their benefits and drawbacks to help you make your decision.
WooCommerce.
Firstly 27.1% of users use WooCommerce compared to other eCommerce platforms available to them, making it the most popular eCommerce platform used. There are some benefits and drawbacks of using WooCommerce.
The benefits include;
Users can sells anything, anywhere both physical and digital goods in all shapes and sizes.
Provide extensive payment options and comes with the bundled with the ability to accept all major credit cards.
You control it all… forever, gives you complete control over your store.
Able to ship wherever you like, it gives you the ability to decide where you want to ship to and can offer different shipping methods, etc.
The drawbacks include;
They update their software frequently: Updates to the website are required in order to keep the platform up to date, however sometimes the plugins aren't as quick to adapt to the updates.
Customisation of a theme can be costly: If the website was built upon a theme and you decide that you want to make major changes, it may be time consuming for the programmer, making it costly for the user to do so.
Content doesn't always look right: When you make updates to the site yourself through the visual tab it doesn't always flow the way you expect it to when looking in the actual browser.
Magento.
Magento is the second most popular eCommerce platform in the UK with 13% of users choosing this platform to create their store. However this eCommerce platform comes with some benefits and drawbacks.
The benefits are;
You are able to build stores quickly, easily and to your exact preferences.
It is optimised for all devices and platforms, meaning no business will be lost due to compatibility issues.
Coupons and gift cards are also part of the Magento suite of products, another tool users can take advantage of to build sales and traffic.
Integrates into third party applications, this allows users to utilise as many options as possible to make their store a success.
The drawbacks are;
Hosting, Magento needs a dedicated server that is specialised in Magento; this is because normal hosting platforms are not able to handle it due to its bulkiness, results in a slow and irritating user experience.
Pricing: Enterprise version will cost you around $18,000 a year, and its more for customised premium enterprises.
Developers: Magento developers are very hard to find because of an extremely large database, and if you do find one, their prices are very high.
Time: Even on having a flexible architecture, customisation is hard to make because of its loading speed on different platforms.
Shopify.
5.6% of eCommerce users use Shopify as their chosen platform, but like all other platforms it will have some benefits and drawbacks.
The benefits consist of;
Helps users to build and run a successful online store, with pre-made templates ready to use.
Makes designing an online store fun and easy, allowing fir high levels of customisation and personalistion.
Easy for retailers to manage their inventory and market effectively to customers.
Users can track their sales performance, giving online sellers a bigger picture of their stores performance.
The high level of customisation allows users to make the necessary changes to build the business.
The drawbacks consist of;
Reliance on third party apps: In order to add functionality to Shopify you often need to use apps, these are built and supported by third party apps, so will have various levels of quality and costs.
Choose your template carefully: Some functionality is included in the template so be sure to consider all options before making a decision. Shopify experts should be able to write code to add functionality to a template but it's more expensive than choosing a theme.
Two sets of transaction costs: You will have to pay 0.5-2% transaction fee in addition to your normal gateway fee unless you are on Shopify plus.
Content limitations: Having lots of different types of content isn't something that Shopify supports very well.
Limited shipping options: You are only able to have shipping price rules based on the orders total price and/or total weight (and country).
Virtuemart.
4.5% of eCommerce users in the UK chose Virtuemart as the eCommerce platform for their online store. There are a few benefits and drawbacks of using Virtuemart like any other eCommerce platform.
The benefits embody;
Flexibility is represented by adaptable features, which will make users store management processes easier and provide customers with extra opportunities.
Multiple languages and currencies allowing users to sell to customers all over the world.
Shop statistics options mean you can easily analyse sales information by products, months, days, etc.
Flexible payment modules make the purchasing process more convenient for user's customers.
Improve the experience for their users with the help of numerous add-ons and can extend the functionality of the store with the help of numerous templates.
The drawbacks embody;
If you are looking for a more 'out of the box' functionality within Virtuemart it has to be custom developed by you or a third party.
Virtuemart have a very average invoicing and inventory systems.
A smaller community with fewer programmers leads to less support on the forum.
With a smaller team of programmers the development of new functionalities is slow.
OpenCart.
With 3% OpenCart is the 5th more popular eCommerce platform among users within the UK. Like many other platforms it comes with some benefits and drawbacks.
The benefits;
Suite of tools designed to make eCommerce easy and effective: Offering the best solution available to users in order for them to grow their online business.
For a small cost users have the freedom to create the store they want by using pre-made templates.
Multiple payment options that are safe and verified: Allowing users the ability to accept different currencies meaning selling internationally is made easier.
Search Engine Optimisation is also included in the OpenCart toolbox meaning that online presence is maximised.
The drawbacks;
Basic features available for free are limited: You might have to install third party plugins to get a particular feature.
The forum is active however your query might take some time to be answered.
Not suitable for large scale businesses: It may be difficult for OpenCart to work smoothly with the system at later stages.
Loading time of the site may be a little slow it can be tweaked if you are happy to get extensions and plugins.
Overall there are five main eCommerce platforms used by users that are most popular, and they all come with benefits and drawbacks, however you can see that there is a big difference in percentage of users within the UK for WooCommerce compared to the other four platforms, making it not only the most popular but probably the best platform to use when creating your online business, it provides users with a lot more features that other eCommerce platforms do not provide you with.