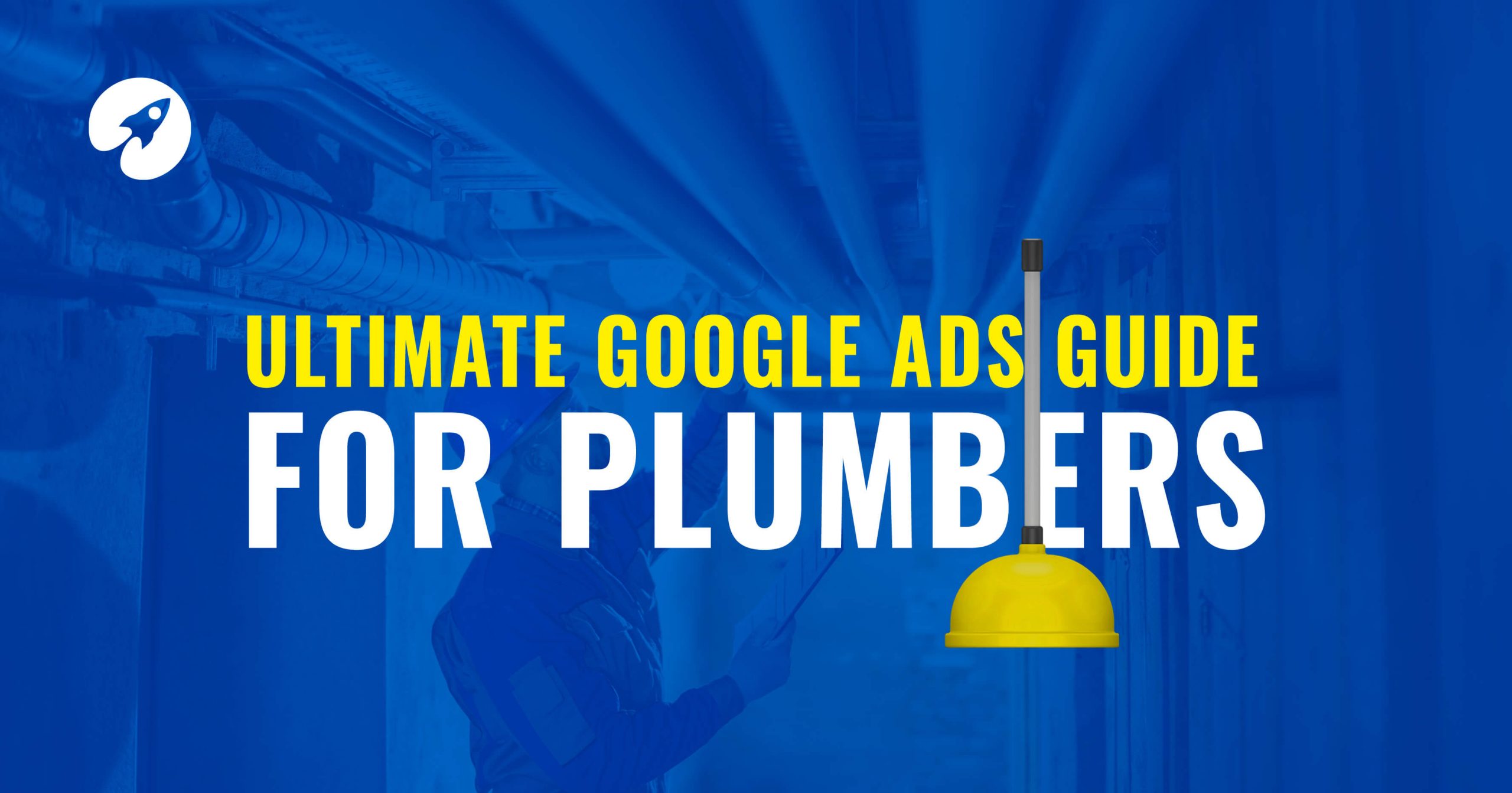 What are google Ads?
Google Ads is an online advertising platform allowing businesses to advertise their products or services on Google search engine results and other websites.
Companies create ads that target a specific audience, and when someone searches for something related to those ads, they appear at the top of the search results page above the map listings on Google.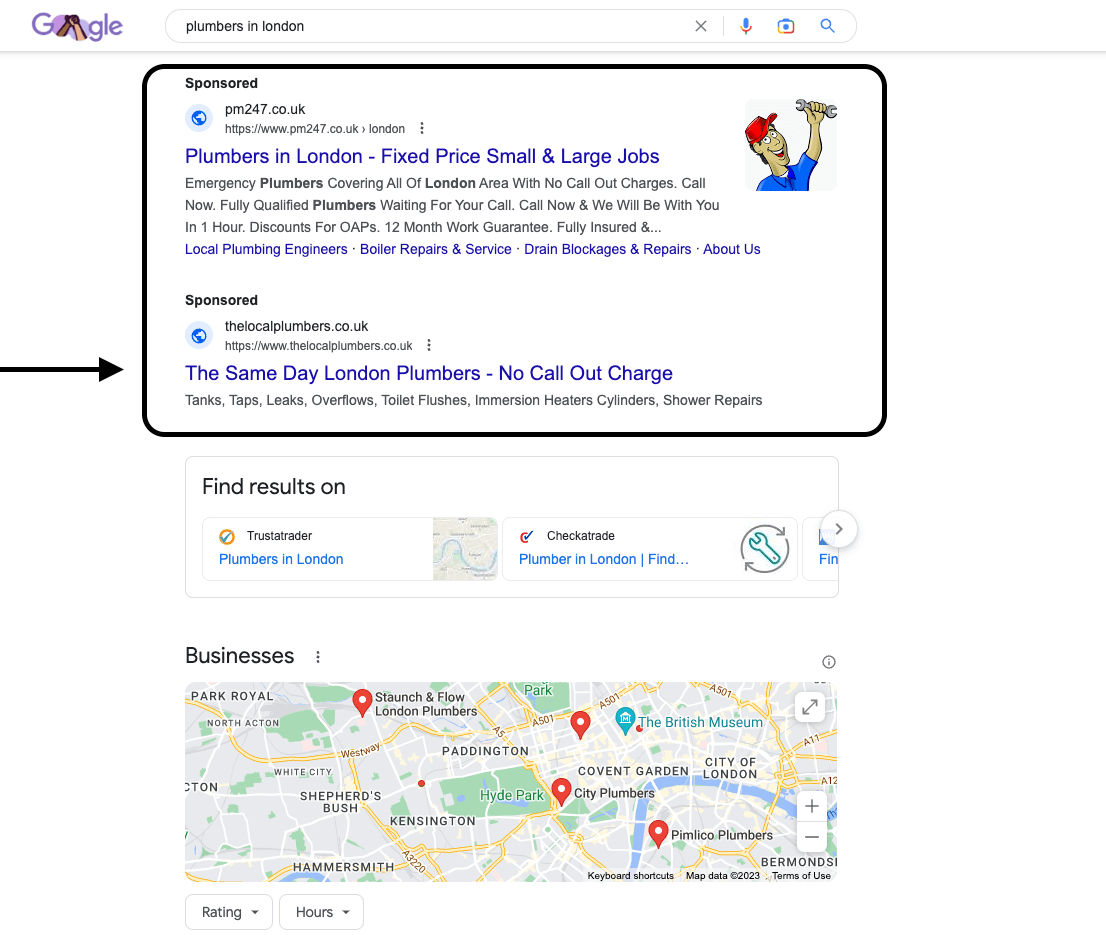 The Benefits of Google Ads for Plumbers
1. Reach your target customers: With Google Ads, you can narrow down your target audience by location, age group, sex interests and more – allowing you to reach only people who are most likely interested in what you have to offer. This helps plumbers get more leads and reach their ideal customers quickly and cost-effectively.
2. Higher visibility: With Google Ads, you can increase your chances of being found by potential customers online.
If someone is looking for a plumber in their area, they are more likely to find your business if you have an ad at the top of the search results page. This can help boost brand awareness, get more leads and is an excellent way to advertise your plumbing business.
3. Cost-effective: Google Ads provide great bang for your buck in marketing – you can start with just a few dollars per day and scale up as needed. This makes it easy to stay within budget while maximising your reach on Google search engine results from pages.
4. Easy-to-manage: You can easily take control of your campaign with options such as setting daily budgets, targeting specific keywords and more. The user-friendly interface also allows you to get up and to run quickly with minimal effort.
How to Create a Google Ads Campaign for Plumbers
1. Set up an account: Creating an account on Google Ads is easy – all you need is a valid Gmail address and credit card information (for billing purposes). Once you have created your account, you can start creating campaigns immediately.
To set up your account go here – https://ads.google.com/home/, click on start now and set up an account.
2. Do your research: Before getting started, it's essential to research the local market to understand what customers are searching for regarding plumbing services.
This will help you create ads tailored to those keywords and increase your chances of success.
A great place to start is on Google keyword planner. Here you can research how many people are searching for plumbing-related keywords in your location. We will cover this in more detail later in this article.
For this article, we will set up a new campaign called "Atlantic Plumbers."
Step 1: Create an account and then name your budget, set your country and currency and include any email addresses of people you would like to add to the account.
Then click save and continue. You will then be taken to the screen where you can start building out your campaign. You can set up your contact details and billing information here.
Now you are in the main dashboard. You can create a new campaign. Leads will be your main focus, so choose this out of the options you are given. Then select "Form submissions from your website" and "Phone calls from your ads", then click continue.
The next screen will give you a series of more options. You will want your ads to show for keywords your customers are typing into Google, so you will want to choose "search". When you see the "conversion tracking option", you can leave this for now and set this up later.
Next, name your campaign. You can call this campaign simple like "Leads & phone calls" this can also be changed later if you choose to do so.
Next, you will be taken to bidding & budgeting. You can decide how much you will spend daily on your campaigns by setting a daily budget. We suggest that you start with the bidding strategy "maximise clicks" and then set a max CPC of around £8, depending on your industry. Once the campaign has collected data over a few weeks, switch the bidding strategy to maximise conversions.
Uncheck "search network" and uncheck "display network". This is where Google shows your ads on other relevant websites. After testing hundreds of Google Ad campaigns, we have found that these options only lead to a bit of business and switching them off will save budget.
Now set your locations and languages. We would suggest getting very granular with your areas, including towns, postcodes and counties you would like to target, also, set targets to "Presence: People in or regularly in your targeted locations" and exclude "Presence: People in your excluded locations (recommended". This will ensure you won't get clicks from your targeted locations and then set your language to "English".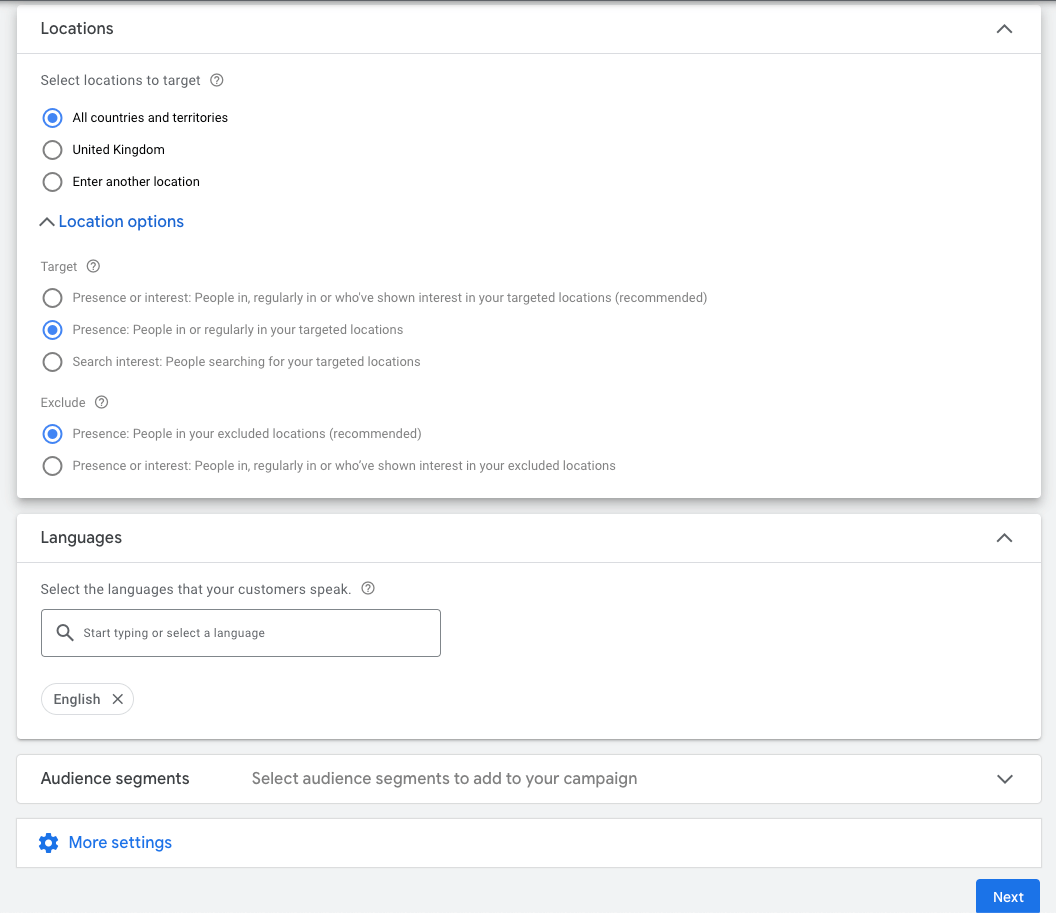 On the next screen, you can include your website and then add keywords to your campaign.
Adding keywords: Adding keywords that will trigger the display of your ads. Use the keyword planner tool to find the best and most relevant keywords.
You can also use other keyword tools such as Ahrefs, SEMRush and Ubersuggest.
Keyword match types to use: For maximum reach but with minimal waste on ad spend, we suggest you use a combination of exact match and phrase match.
Exact match will trigger your ads when someone searches for that keyword, while phrase match is more targeted by looking for exact phrases or close variations.
You can also use negative keywords to prevent your ads from appearing for irrelevant search terms.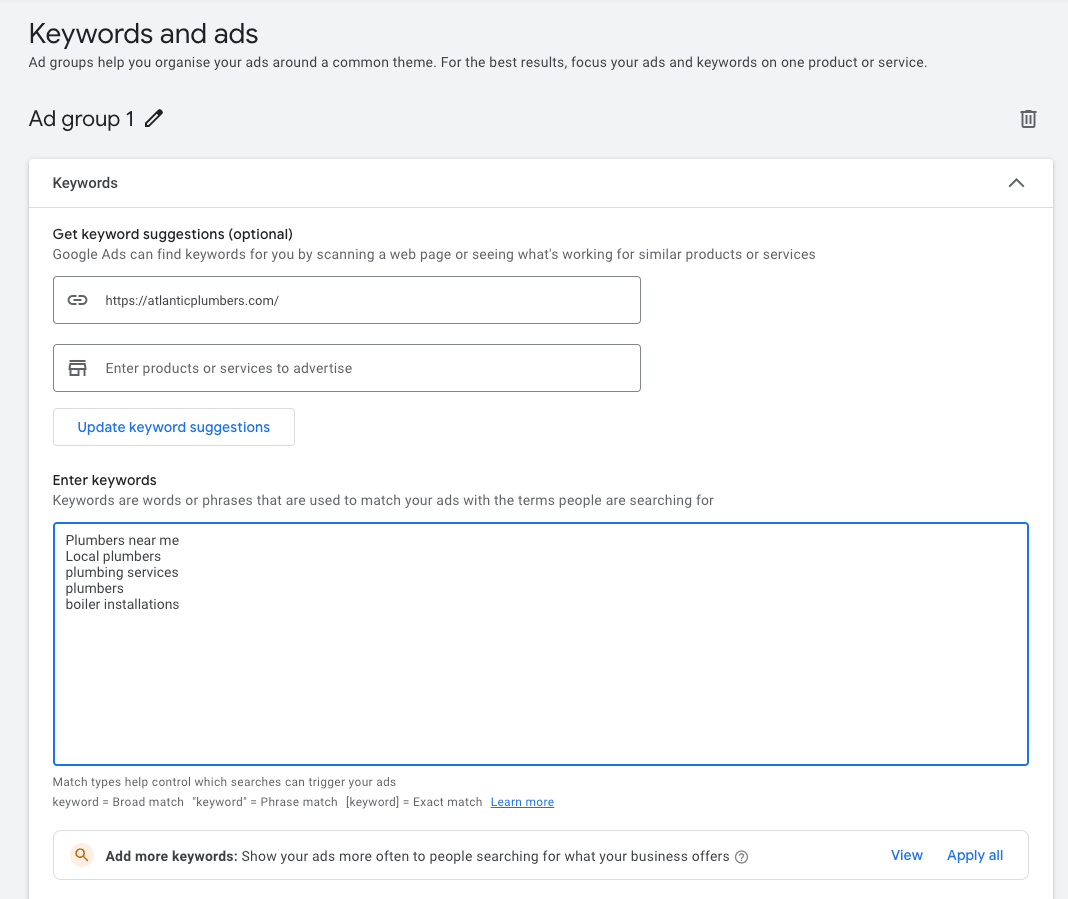 Once you have set up your keywords, start building out the ads. You will then need to create ads tailored to your target audience.
Include relevant keywords in your ad text to help ensure that it appears when someone searches for related terms on Google.
Include the URL and the display path and write all of the headlines. You want the headlines to really stand out, so include offers, USPs of your business and anything that will make you stand out amongst the competition.
A good idea to do before you start writing your ads is to do a Google search for your service in your local area and see what your local competitors include in their headlines.
This way, you can improve your offers and give customers a reason to choose you over the competition.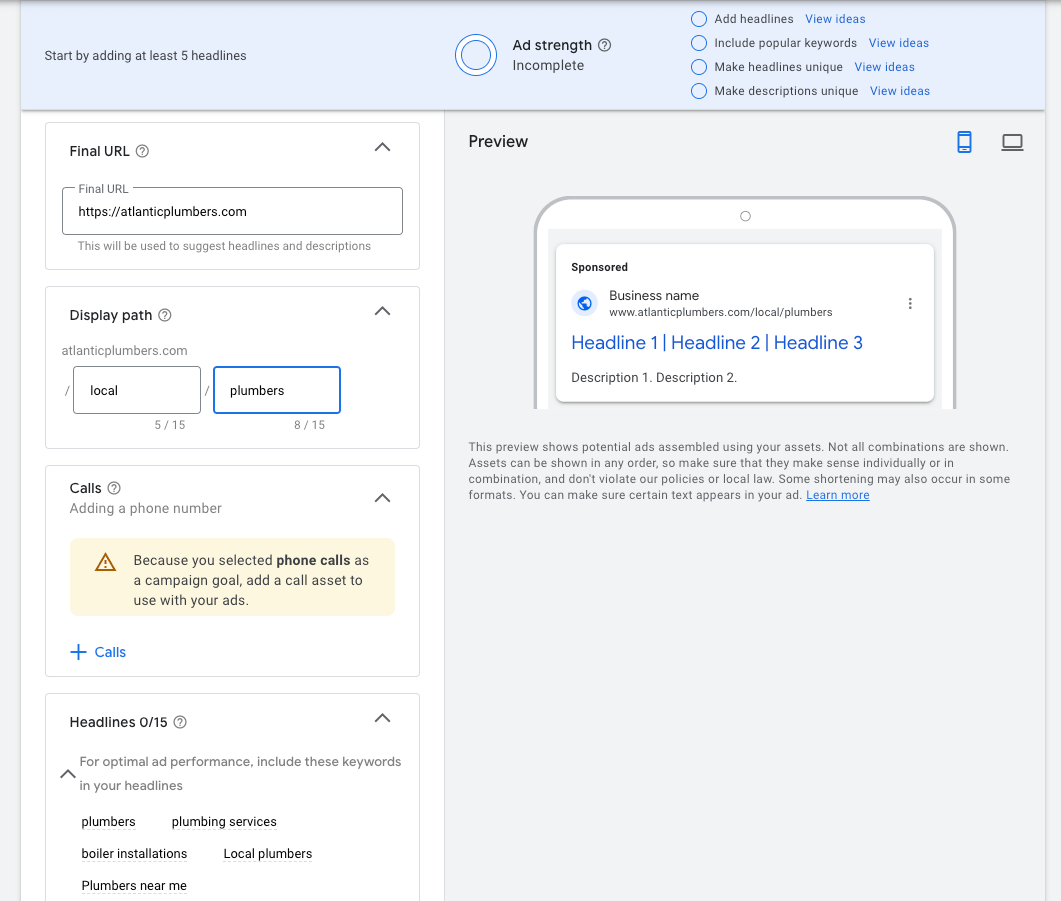 When creating the ad copy, Google will start scoring your ad from "poor" to "excellent".
You will then start to add descriptions about your service, how you are different from the competition and what makes your services so unique.
You want to include relevant text and offers, so Google scores the ad as high as possible.
You will then see the option to include ad extensions, which are a great way to add more visibility and attract attention to your ads.
Add all of the extensions, including site links, callouts, structured snippets, calls, promotions and location extensions.
You can include additional information such as calls to action, contact details, or special offers.
This will make your ad appear bigger on Google and stand out amongst your competitors.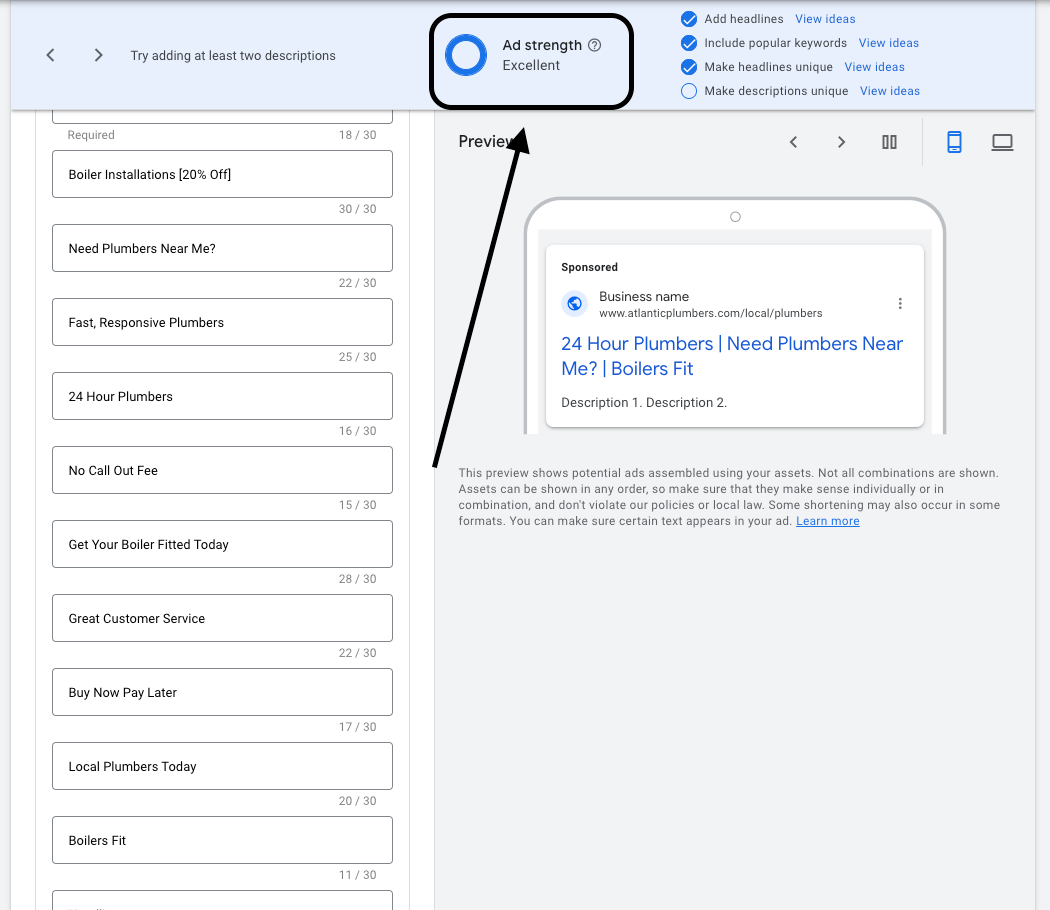 Once you have done the site links, you will be taken to the budget section. Depending on your budget and the number of leads you would like to get, set the budget accordingly.
We recommend spending at least £50-£100 a day. Most campaigns that have less than this will not perform very well. You will need this budget to collect enough data to optimise your campaign.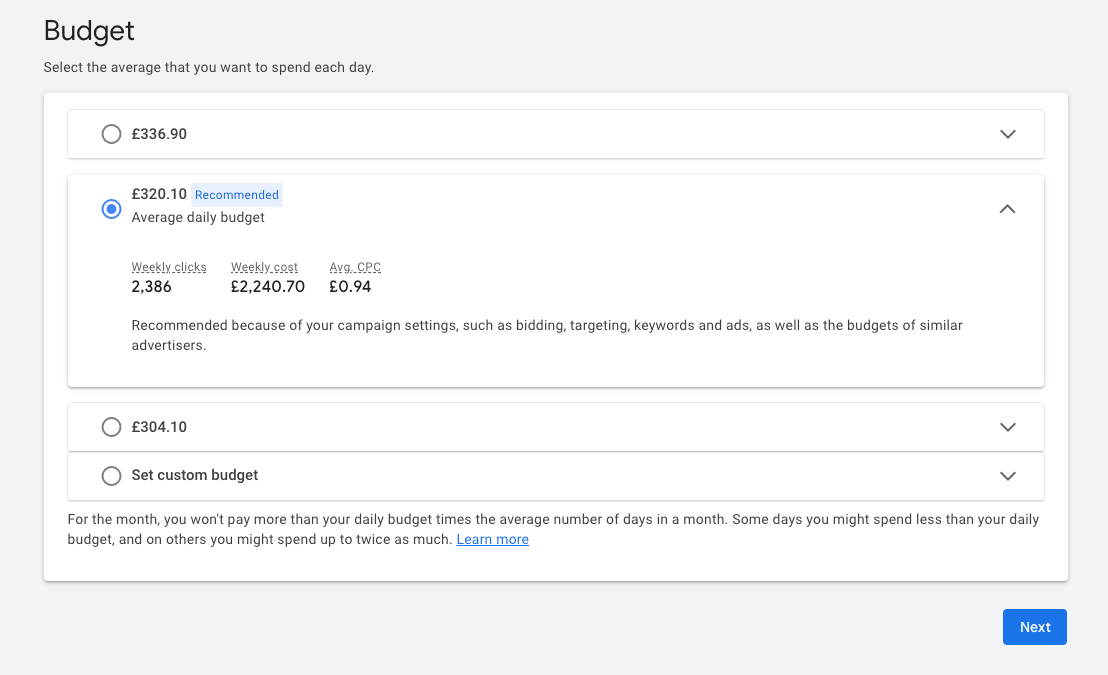 Now your campaign is set up. You will be taken through to the main dashboard. Here you can create new ad groups and build many more ads.
Conversion tracking: You can set up conversion tracking to measure your campaign's success. This involves placing a tracking code on your website that reports back to Google when someone clicks on your ad and performs an action (for example, sending a lead form or clicking on the number to call you). To set up conversion tracking, click on "tools & settings" then click "conversions" and configure all the settings here.
Skag keyword groups: You can set up Skag (Single keyword ad groups) keyword groups to help organise your campaigns.
This allows you to create groups that target a single keyword. This helps maximise the effectiveness of your campaign and ensures that your ads appear when someone searches for the right terms.
Building new ad groups: When creating new ad groups make sure to create them with the right target keywords and relevant landing pages. This will ensure that your ads appear in the right searches and lead people to the most appropriate page on your website.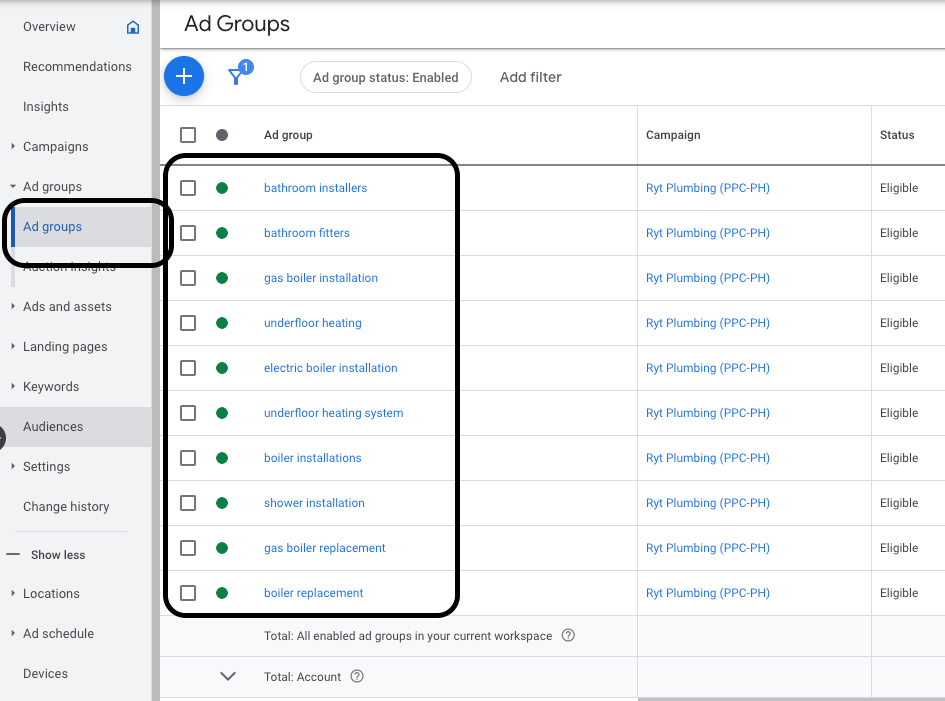 Here are some of the best keywords for plumbing Google ads:
Plumber
Plumbing services
Plumber near me
Emergency plumbing
24-hour plumber
Plumbing repair
Water heater repair
Drain cleaning
Blocked drains
Drain clearance
Sewer repair
Bathroom fitters
Kitchen plumbing
Pipe repair
Clogged drains
Leak detection
Gas line repair
Commercial plumbing services
Residential plumbing services
Tankless water heater installation
Leaking tap
Toilet repair
Shower installation
Boiler service
Boiler installation
Boiler fitter
Gas engineer
Ensure to include broad and specific keywords to reach a more comprehensive range of potential customers. Also, consider targeting particular geographic areas to optimise your ad performance.
Once your campaign is set up, you should direct people to a landing page tailored to the ad they clicked on.
This could include more information about plumbing services in your area or special offers and discounts.
Location landing pages: You can create location-specific landing pages for each area that you serve.
This is a great way to show potential customers that you are local and that you offer services in their area.
Service-specific landing pages: You can also create landing pages for each service you offer. This could include information about drain cleaning, leaking pipes or any other plumbing services you provide.
By having a landing page dedicated to a specific service, Google will increase the relevance of your landing page and improve your quality score. This will decrease your CPC, and you will get more leads.
Great landing page software
Even if you have a website, we suggest using landing pages, especially if you have multiple services. Having landing pages allows you to simplify the website, remove the navigation and make it very clear what your offer is for that service. It also makes it very easy for you to track conversions for calls and form fill-outs.
If you need more time or resources to create your landing pages, check out some great software options, such as Unbounce and Leadpages.
Both offer easy-to-use templates that can help you quickly create customised landing pages for each service.
What to include on your landing page
When creating your landing page, include relevant information for potential customers. This could include:
A brief description of the services you provide
Examples of previous work
Customer reviews
Contact information and a call to action (CTA)
A great offer (Like 20% off all boilers)
Regularly optimising your ads
Optimising campaigns: Once your campaign is running, monitoring its performance and making changes as needed is important.
This includes changing keywords, adjusting bids, testing different ad copy and experimenting with extensions.
When optimising ad campaigns, one of the main things to do is to add negative keywords continually.
Click on "search terms" under the keywords tab, and this will show all of the keywords that are triggering your ads.
If you see irrelevant keywords or competitors' names in this list, add them to the negative keyword list.
This will ensure that Google does not show your ads for these keywords and you won't waste your budget on them.
By monitoring and optimising your campaigns, you can ensure that your ads drive the best results for your business.
This will help increase conversions, leads and sales.
To monitor and track your campaign, click on overview in the top left, then sort the boxes by clicks, conversions, Cost/conversion and overall cost. This will give you a birdseye view of the campaign and show how much you spend per lead.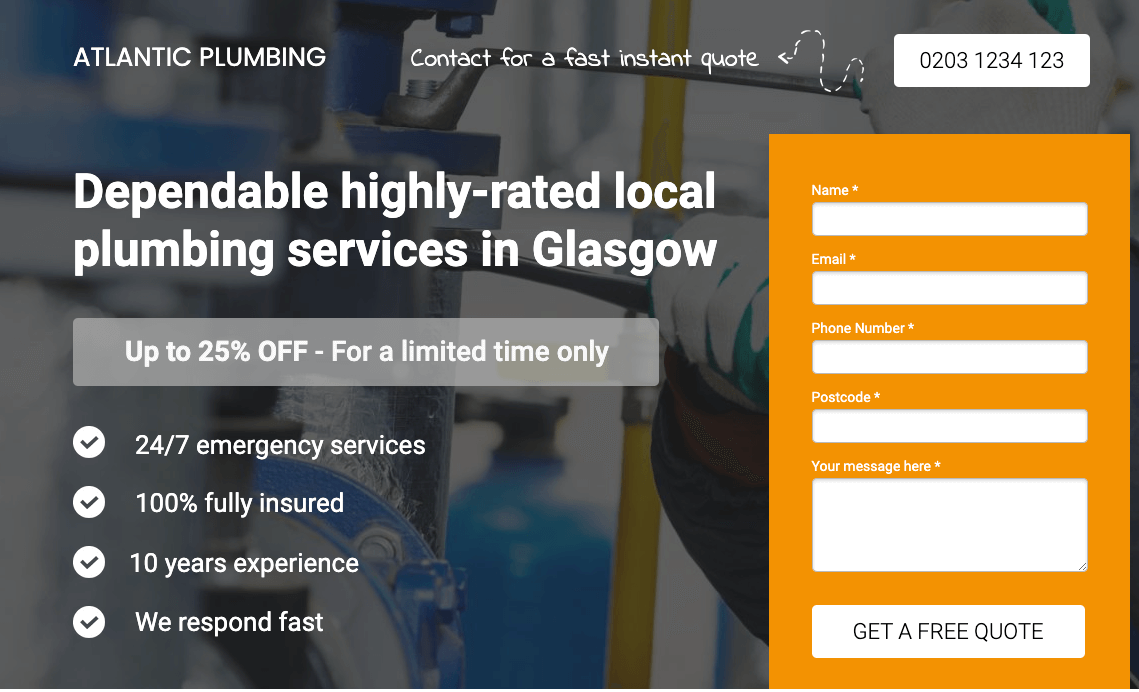 You can create effective plumbing ads that generate more leads and customers by following these tips.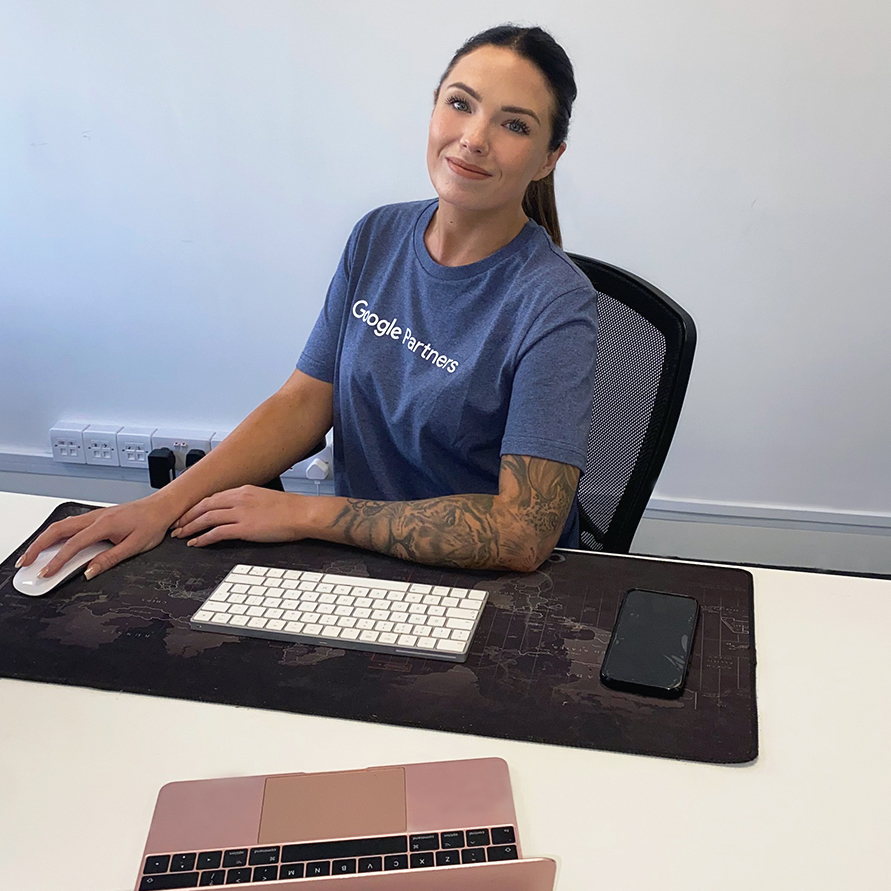 Speak to an expert
Got a quick question about your marketing? Or you want to run through the details of your next big project. We can help.
Speak to one of our experts today on 01702 668207 or send us a message.