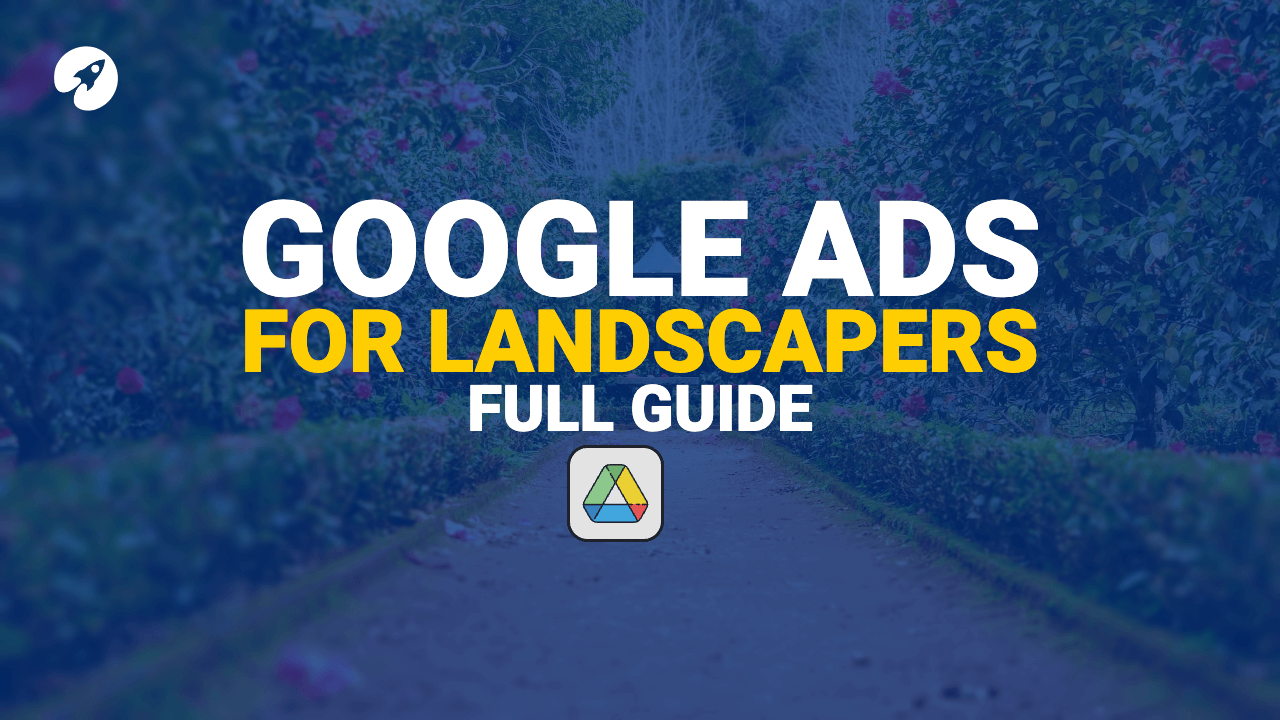 As a landscaper, there are multiple sides to running your business. You have operations and delivery, accounts, hiring staff and getting a steady flow of new customers in your industry. Local landscapers use several different strategies to drive growth.
One of the most effective ways to promote your landscaping company online is through Google Ads, the advertising platform that enables you to target potential customers directly.
If you are unfamiliar with ads, they are the listings that show above the map pack on Google (see image below).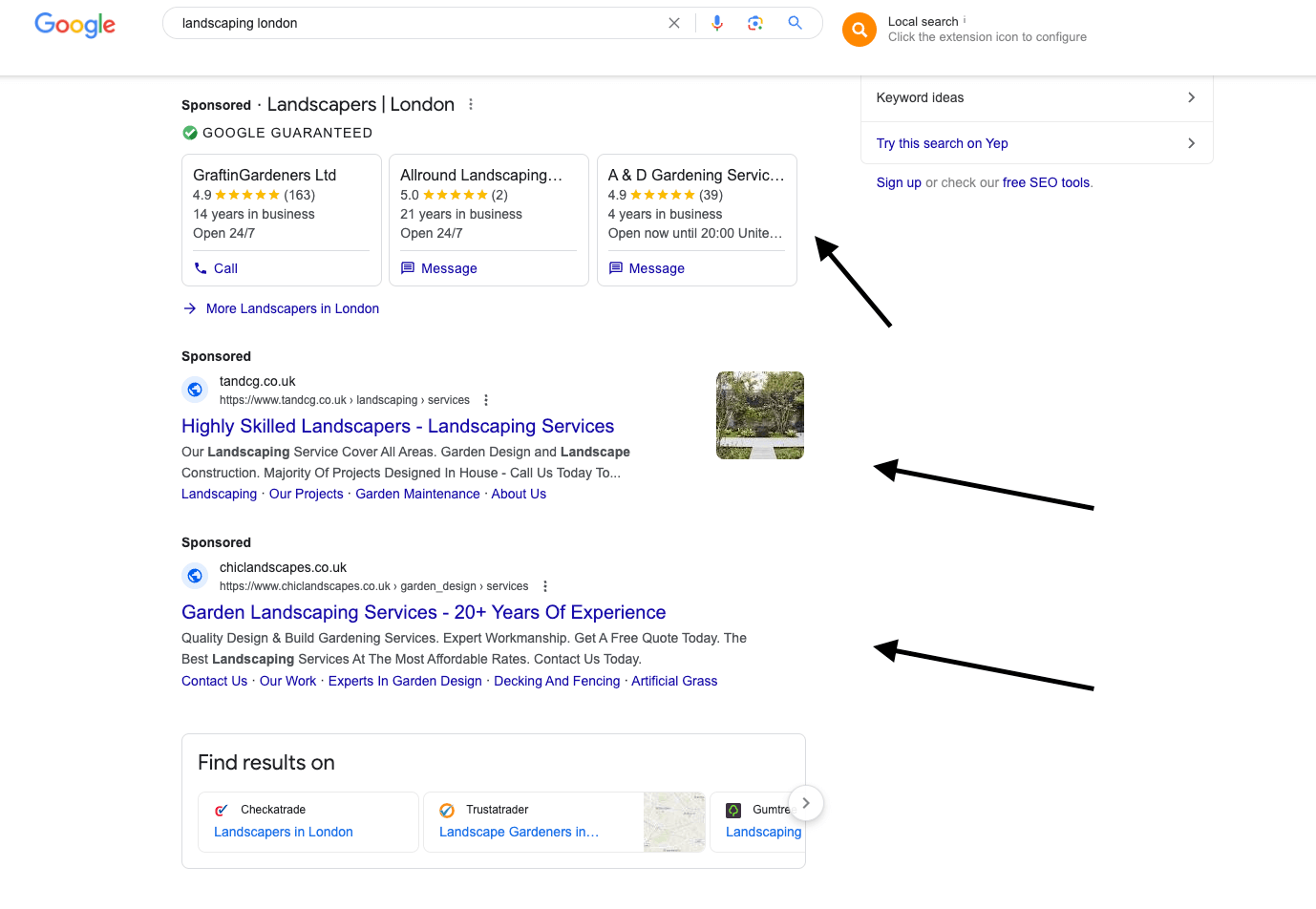 Google Ads is a powerful tool that can help you get more leads for your landscaping business by displaying your ads at the top of Google search results pages.
Google Ads is so effective because the customer is directly looking for the service in their local area, so if you can target the right keywords and drive the traffic to a very well-optimised landing page, you can enjoy getting leads on autopilot.
In this blog post, we will discuss how to set up and optimise Google Ads for your landscaping company, including persuasive text, landing pages, bidding optimisations, location settings, effectively targeting high intent keywords, adding negative keywords, and setting up conversion tracking on Unbounce. There is another way to generate leads effectively, and that is by setting up Google Guaranteed. Follow this guide to set this up.
Setting up Google Guaranteed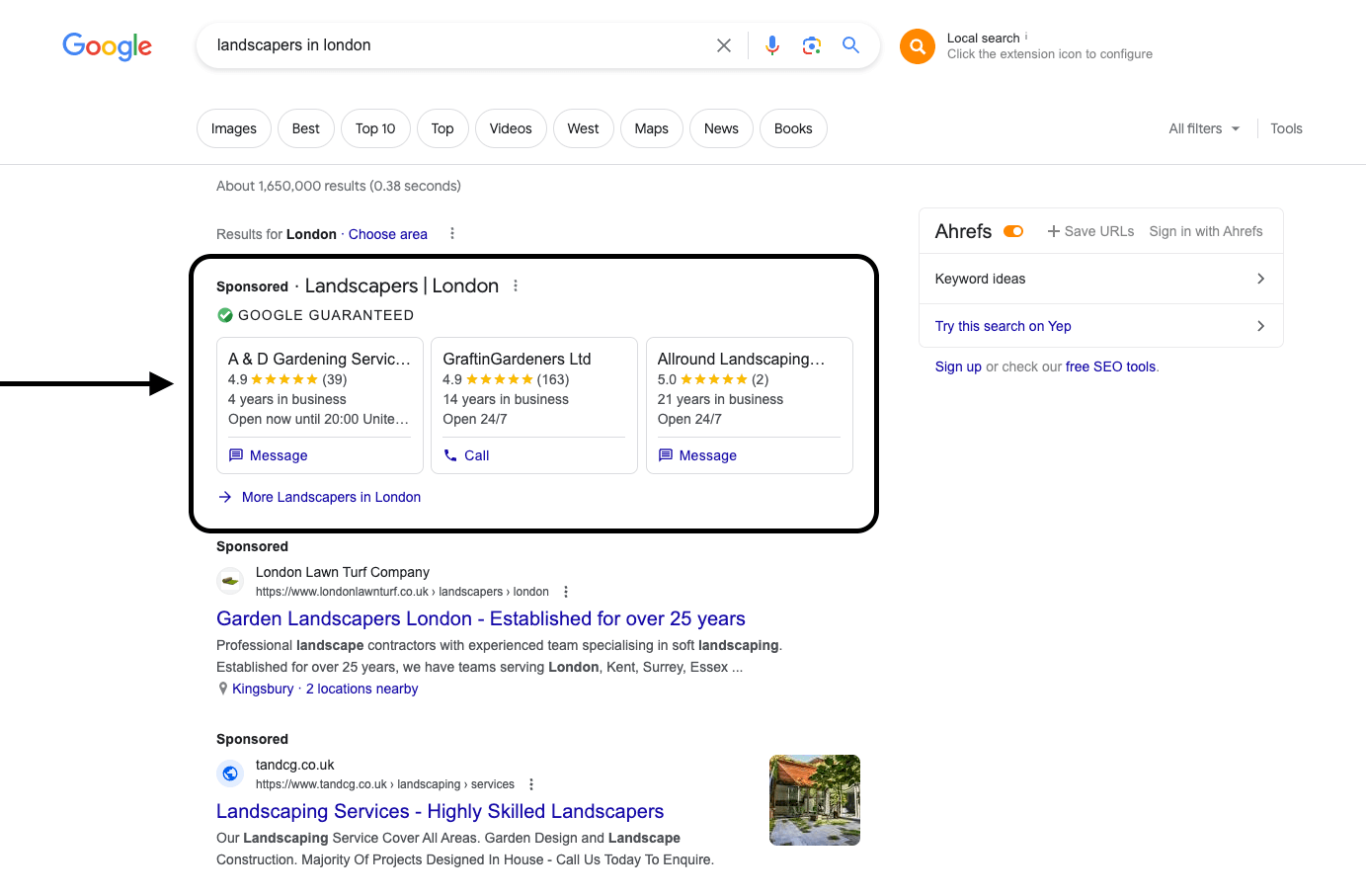 Google Guaranteed is one of the best ways to generate leads and increase visibility. If you're unfamiliar with it, Google Guaranteed is a platform that assures potential customers that your business is trustworthy and provides quality service. 
Step 1: Verify your business
The first step in setting up Google Guaranteed is to verify your business. You can create a Google My Business account and fill in all the relevant information about your business here (www.google.com/business/). 
Make sure to provide accurate information, including your business name, address, phone number, and service area. 
Next, you'll need to verify your business by providing a verification code that Google will send to your address.
Step 2: Obtain Google Guaranteed Certification
Once you have verified your business on Google, it's time to obtain Google Guaranteed Certification. Click here to start the application process – (Google Guaranteed link)
You'll need to complete an application with Google, including providing your business insurance details, licenses, and relevant certifications. 
Step 3: Meet the Eligibility Criteria
To be eligible for the Google Guaranteed program, your landscaping company must meet specific criteria:
You must have a Google My Business account with an overall rating of at least 3.0 stars.
You must have a history of resolving customer complaints promptly.
You must be licensed and insured.
Step 5: Manage Your Leads
Once your Google Guaranteed profile is up and running, you'll need to set up a budget (we recommend at least £50-£100 a day) start to receive leads from potential customers. 
Managing these leads professionally is essential to responding promptly and providing excellent customer service. 
This will help to build your reputation and secure future business. If you fail to respond to leads, Google will think you are not reliable, and they will stop sending you leads, so it is essential to manage this correctly.
Building your Google Ads campaign
Setting Goals and Budget
Before launching your Google Ads campaign, it's essential to define your goals clearly. 
Are you aiming to increase website traffic, generate leads, or boost phone inquiries? Understanding your objectives will guide your entire campaign strategy. When setting up a Google Ad campaign, we always set the goal for leads and conversions, the two goals we track are how many people are clicking and calling the phone number and how many people hit the "thank you" page after filling out the contact form. This way, we can track every lead coming into the business.
Allocating Budget Effectively
Determine how much you're willing to invest in your campaign. Google Ads allows you to set a daily budget, ensuring you have control over your spending. It's crucial to allocate your budget across different campaigns and keywords strategically. 
Remember that a well-structured campaign often performs better than one with a scattered budget. To get the most from your ad campaign, set a budget of no less than £50 a day; ideally, you want to start at £100 a day.
Google Ads keyword research
When running a successful Google Ad campaign, one of the critical factors you should always keep in mind is the art of keyword research. The main keywords you will want to target are high buyer-intent keywords. Here are some keyword research strategies to get you started.
1. Start with brainstorming: 
Before you start searching for the perfect keywords for your Google ads campaign:
Start by brainstorming keywords that align with your business and your products or services. For example, "landscapers in London" or "landscaping companies near me".
Consider the terms your potential customers might use to search for your business and write them down.
Make sure that your keywords are relevant to your business and services.
2. Use Google's Keyword Planner tool: 
Once you have the initial keywords list, use Google's Keyword Planner tool to refine your keyword list and discover additional keywords. 
The tool provides valuable insights into each keyword's average monthly searches, competition level, and estimated cost per click.  
Choose keywords with high search volume and low competition to maximise your ad's reach and minimise the cost per click. 
3. Group your Keywords: 
After you've selected the best keywords, it's time to organise them into logical groups that fit your business objectives. 
We recommend using Google Sheets to set up a sheet and list the keywords into groups.
Groupings will help better control your campaign's ad spend and allow you to target your ads correctly. 
By grouping keywords, you can also organise your ad campaigns around specific goals, including target geographic regions, demographics, and target interests.
Why 2-5 Keywords per Group is Beneficial:
Build out a few ad groups for your campaign and then target 2-5 keywords per group, this will make your groups far more focused, and you can optimise them for a better quality score. Once they are fully optimised, Google will lower the cost per click, and you will get more leads for your budget.
As a landscaper, we recommend having groups structured like this.
Garden design
Garden designers
Garden landscaping
Landscape architect
Etc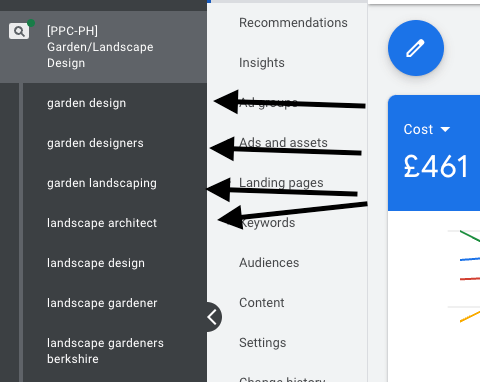 Once you have built out the groups, target them with keywords and start optimising.
Here are a few of the many reasons to build multiple groups.
Relevance: Keeping the number of keywords per group between 2 and 5 ensures that all keywords are closely related. This enhances the relevance of your ads and landing pages, increasing the likelihood of higher Quality Scores.
Control and Focus: A limited number of keywords allows you to focus on specific services within an ad group. This makes it easier to craft tailored ad copy and direct users to precisely what they're looking for, resulting in improved click-through rates and lower cost per click.
Ease of Management: Managing ad groups with a smaller set of keywords is more manageable. It allows you to monitor and optimise each ad group and keyword effectively without getting overwhelmed.
Performance Insights: With fewer keywords per group, you can better track the performance of each keyword. This data helps you refine your keyword selection and bidding strategy over time.
A/B Testing: Having fewer keywords per group enables you to perform effective A/B testing of ad variations and landing pages, helping you identify the most successful combinations.
The copy of your Google Ad can make or break your campaign. Creating persuasive text about your services is essential to attracting potential customers.
Since landscaping often deals with outdoor aesthetics, it is essential to emphasise the beauty aspect of your work, be descriptive about the client's desired outcome and set clear calls to action in your text.
Using attractive descriptions such as "Create a luxurious outdoor living space", "Design an eye-catching Garden" or "Get a free quote today" can grab the attention of searchers.
Highlighting your competitive advantages, such as being a trusted and reliable local company, is also a great way to persuade potential customers to choose your services and take action.
Landing pages are a simple but powerful tool for increasing conversion rates. A landing page on your website is designed to convert visitors interested in a specific service.
Instead of confusing visitors with lots of pages and information, a landing page merely highlights the essential information about the service that the customer is looking for. So if you are looking to target "Garden lighting design" when the user clicks through to the page, you want a page showing all of your garden lighting and information. You can also make your calls to action and offers very clear on the page.

Top tips for landscaping landing page design
Keep the design clean and easy to navigate.
Highlight your landscaping services' benefits and value propositions.
Include a clear call to action (e.g., "Contact Us," "Get a Free Quote").
Use high-quality images showcasing your past projects.
Use before and after pictures of projects.
Have a significant and straightforward contact form on the page.
Design the number to be a big button on a mobile (it is clear that the customers click it to call).
Ensure mobile responsiveness for users on smartphones and tablets.
Platforms such as Unbounce and Click Funnels make it easy to create custom landing pages for each of your ads, increasing the relevance and quality of the ad.
Using landing pages can help boost your conversion rates since a focused message is directly relevant to the searcher's query.
Our preferred choice is Unbounce. We have built hundreds of landing pages using this software. It's reliable and very easy to use and split test pages.
Building out ad extensions
Have you ever searched on Google and noticed one ad in the top five times bigger than the rest? This is because of ad extensions. Whoever built that ad has filled out all the relevant settings to build out the ad.
Ad extensions are powerful tools within Google Ads that allow you to provide extra information to potential customers and enhance the visibility of your ads.
For a landscaping company aiming to stand out and connect with local clients, ad extensions can significantly improve the performance of your Google Ads campaign.
Here are some of the best tips to build out ad extensions.
1. Site Link Extensions:
Site link extensions enable you to include additional links to specific pages on your website. For a landscaping company, this is an opportunity to showcase your various services. Include links to pages like "garden design," "garden maintenance," "Hardscaping," and "garden fencing." This extension lets potential customers navigate directly to the relevant page, increasing their chances of quickly finding what they need.
2. Callout Extensions:
Callout extensions allow you to highlight specific offers, benefits, or unique selling points in your ads. For instance, emphasise features like "Free Consultations," "Licensed Experts," "Custom Landscape Designs," and "Same-Day Service." These callouts give potential customers a snapshot of what sets your landscaping company apart.
3. Location Extensions:
Location extensions are essential for local businesses like landscaping companies. They display your business's ad in the map pack on Google. It also shows your address, contact information, and a map with your location on the search results page. 
This extension makes it easier for customers to find and contact you and boosts your credibility as a local service provider.
4. Call Extensions:
Call extensions encourage users to call your business directly by displaying a phone number within your ad. For a landscaping company, this is particularly beneficial since customers often prefer to enquire over the phone. 
Ensure the phone number is accurate and clickable on mobile devices, making it simple for potential customers to reach out.
5. Structured Snippet Extensions:
Structured snippet extensions allow you to highlight specific aspects of your landscaping services. Showcase categories like "Areas you serve" "Current offers in your business," "Years of experience," and "Sustainable Landscapes." 
6. Image extensions:
Upload the best images of your landscaping work on the image extensions.
Now, when people see your ad, there will be a picture next to it, making it far more likely for the customer to click through, and you will get more leads.
These visual extensions enhance your ads' appeal, giving potential customers a glimpse of your expertise and enticing them to engage with your landscaping business.
These snippets provide quick insights into the scope of your services and can attract users looking for a specific solution.
Bidding optimisation is selecting the right bid strategy for your Google Ads campaign.
This is critical because it will determine how much you pay for each click on your ad and how likely users will convert into leads.
Optimising your bidding strategies reduces unnecessary spending and increases your ROI.
For example, you can select the "Maximise Conversions" bidding strategy if you prioritise conversions.
Alternatively, if you prioritise website traffic, you can opt for "Maximise Clicks" and set different bids for separate regions or keywords.
With a new campaign, we recommend setting the bidding at "maximise clicks", once you have collected enough data and leads, move over to "maximise conversions." This usually takes a few weeks after launching the campaign.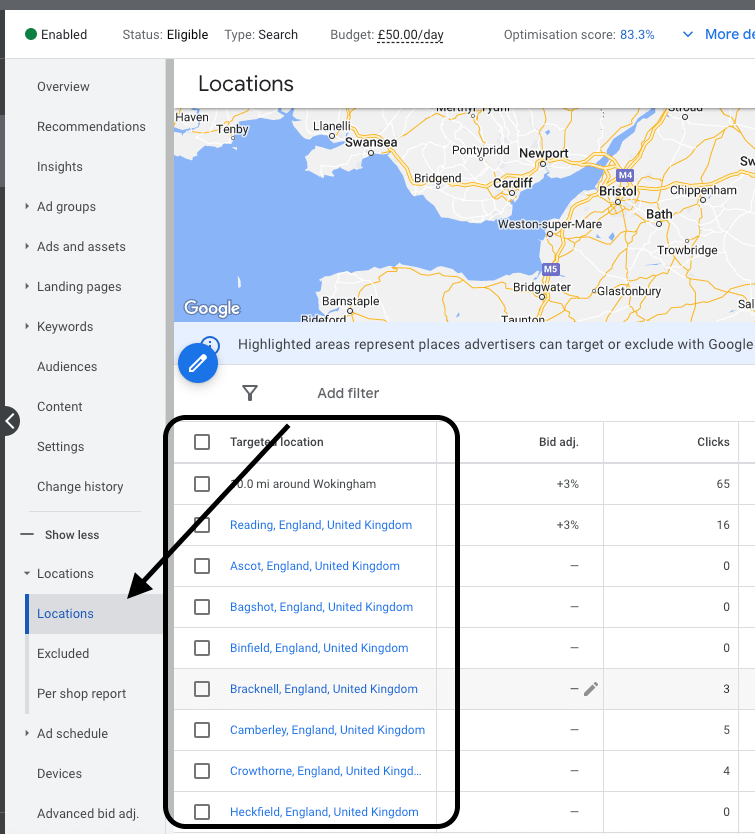 For most landscaping companies, geography is essential to consider while advertising.
Location settings in Google Ads let you target specific geographic areas such as town, county, or postcode.
This is particularly impactful for local landscaping businesses that want to target nearby locations.
In Google Ads, you can customise your targeting to reach people in the radius, postal/district code, or specific city.
With location targeting, you can minimise the risk of advertising beyond service areas and maximise the efficiency of your campaign.
Negative keywords are words or phrases you don't want to associate with your business. This is important since it prevents your ads from showing up to irrelevant searchers, which would reduce your campaign's efficiency.
Here are 20 negative keywords we use in every landscaping Google Ad campaign
3d designs
ideas
tools
diploma
course
apprentice
training
pinterest
competition
cutters
tool
software
bark
charities
vegetable
nurseries
mulch
gravel
wholesale
Adding negative keywords in your campaign is easy; for example, you can exclude searchers that are looking for "3d tools" or "landscape suppliers"
This effectively minimises the total traffic irrelevant to your business and protects your ad spend.
Negative keywords are usually one of the first things we notice that a Google Ad novice needs to catch up on. If this step is missed, you risk getting found for tons of irrelevant traffic and will waste a lot of your budget.
We recommend checking your keywords every 72 hours and continually putting new negative keywords into the list.
To do this, click on keywords, then search terms, and Google Ads will show you a list of keywords that have triggered your ads. Go through them, and if a keyword is getting traffic but not converting to leads, then put its not the negative list. Google will now not show this keyword.
This is essential for continually optimising the campaign and not wasting the budget on irrelevant search terms.
Optimising your Google ads campaign is critical to creating a successful online advertising campaign for your landscaping company.
By using persuasive text within your ads, creating landing pages, and optimising bidding, location settings, You can increase your chances of gaining leads and maximising your ROI by keyword research and negative keywords.
By following these steps and continually monitoring your campaign's performance, you can ensure that you reach the right audience, which is essential for a growing business.
Remember: in digital marketing, the success of your business relies heavily on how well you can target your audience and showcase your services to them.
Start experimenting with Google Ads today to get your landscaping business higher in search results and earn more engagement from local customers.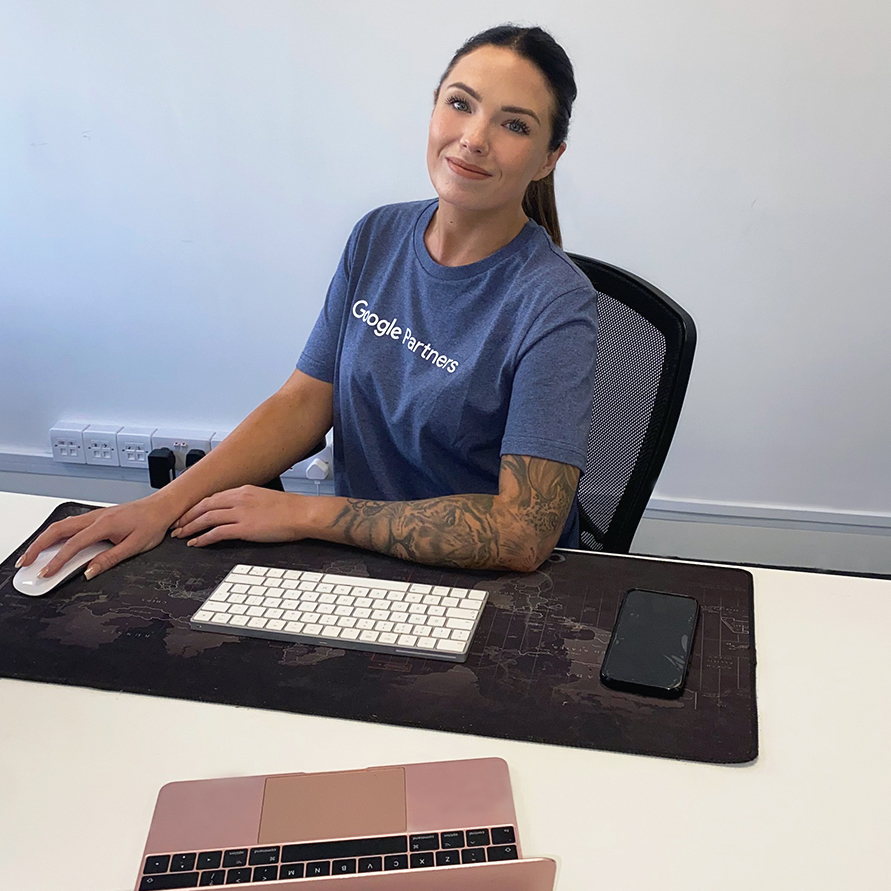 Speak to a construction industry marketing expert
Got a quick question about your marketing. Or you want to run through the details of your next big project. We can help.
Speak to one of our experts today on 01702 668207 or send us a message.