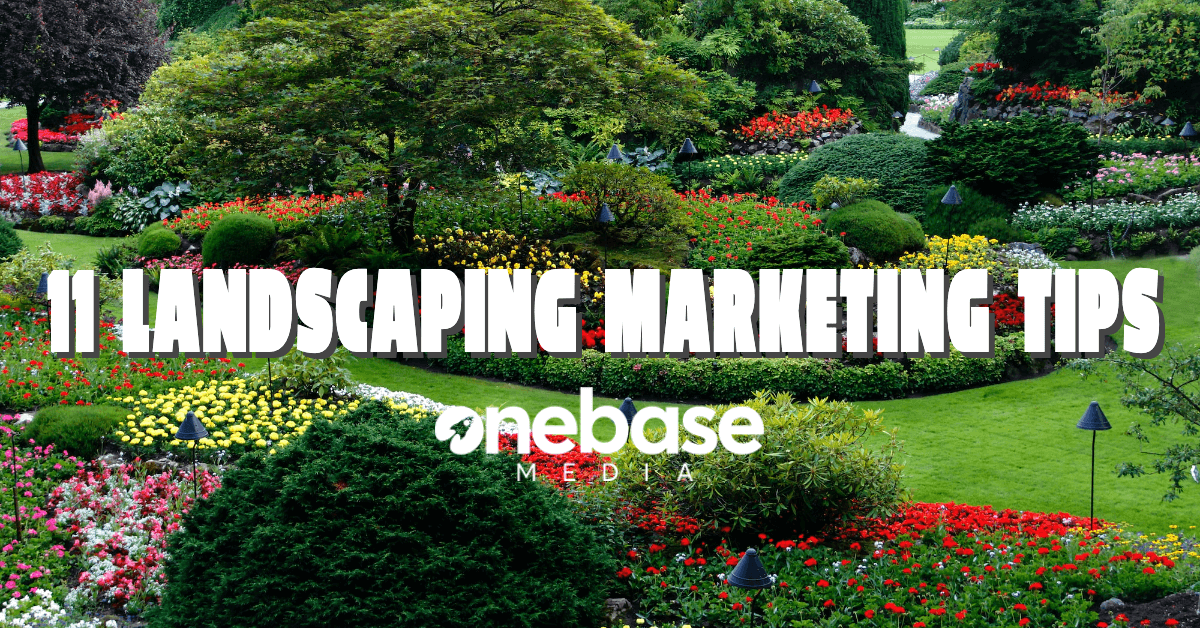 Marketing is an essential component of any landscaping business. With the right marketing strategy, you can reach potential customers, showcase your services and gain new business.
Before creating a marketing plan, you need to understand your target audience and their needs. Knowing this will help you create content that resonates with them and helps generate interest in your company's services.
Once you have identified your target audience, it is time to develop a strategy for marketing your services.
Once your marketing strategy is in place, reviewing and monitoring its success is essential.
Make sure that your message is resonating with the right people and that you are seeing the desired results from your efforts.
Also, measure metrics such as response rates, click-throughs, and conversions so you can adjust your approach if needed.
This post will list and explain the 12 best marketing strategies for your landscaping business. So let's get started.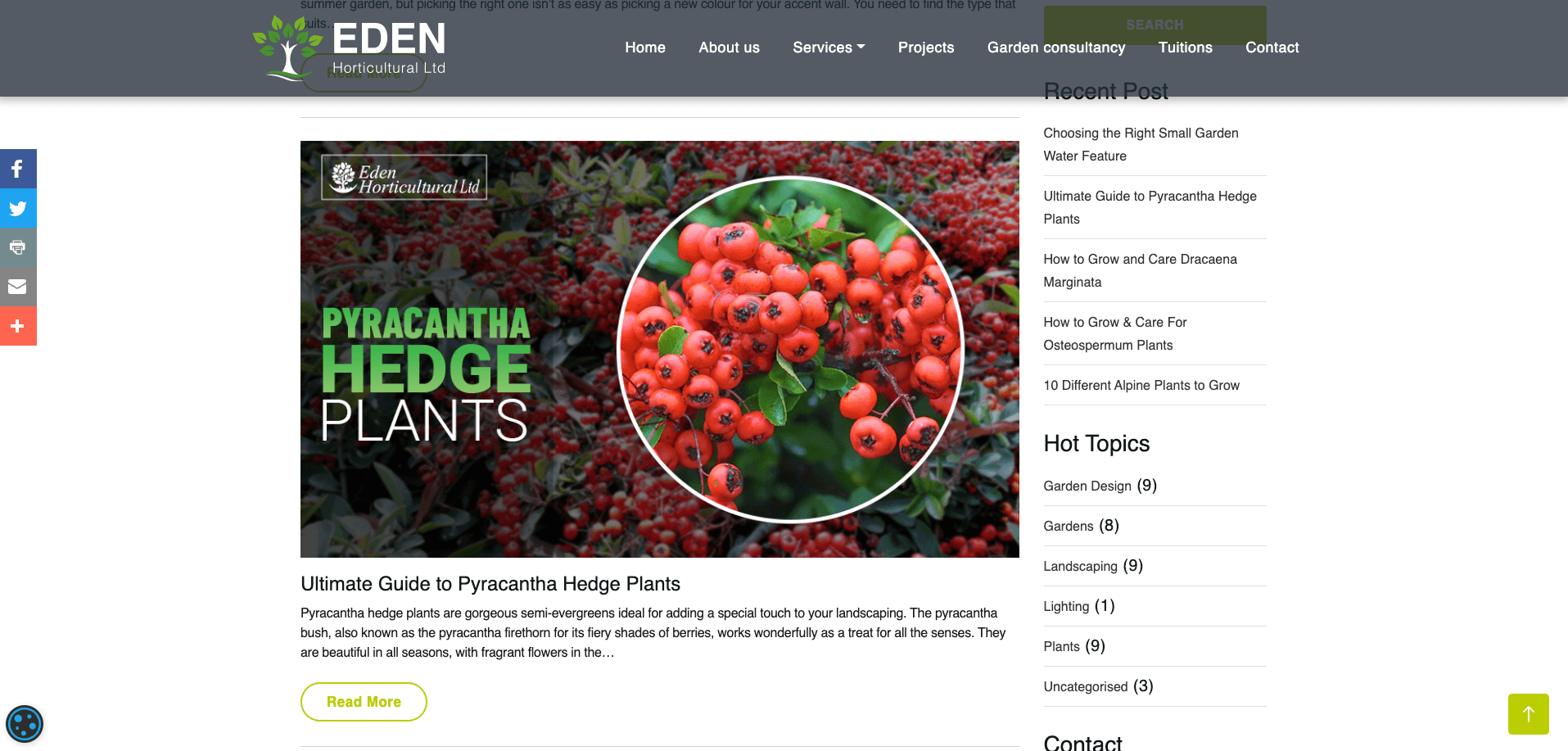 Creating a blog for your landscaping business is one of the most effective digital marketing strategies to gain visibility online. You can write about topics such as landscape design trends, tips on lawn care, and other exciting content related to landscaping.
You can attract potential customers and build relationships with them by providing valuable content that readers find helpful.
Additionally, a well-written blog post can help you rank higher in search engine results pages (SERPs).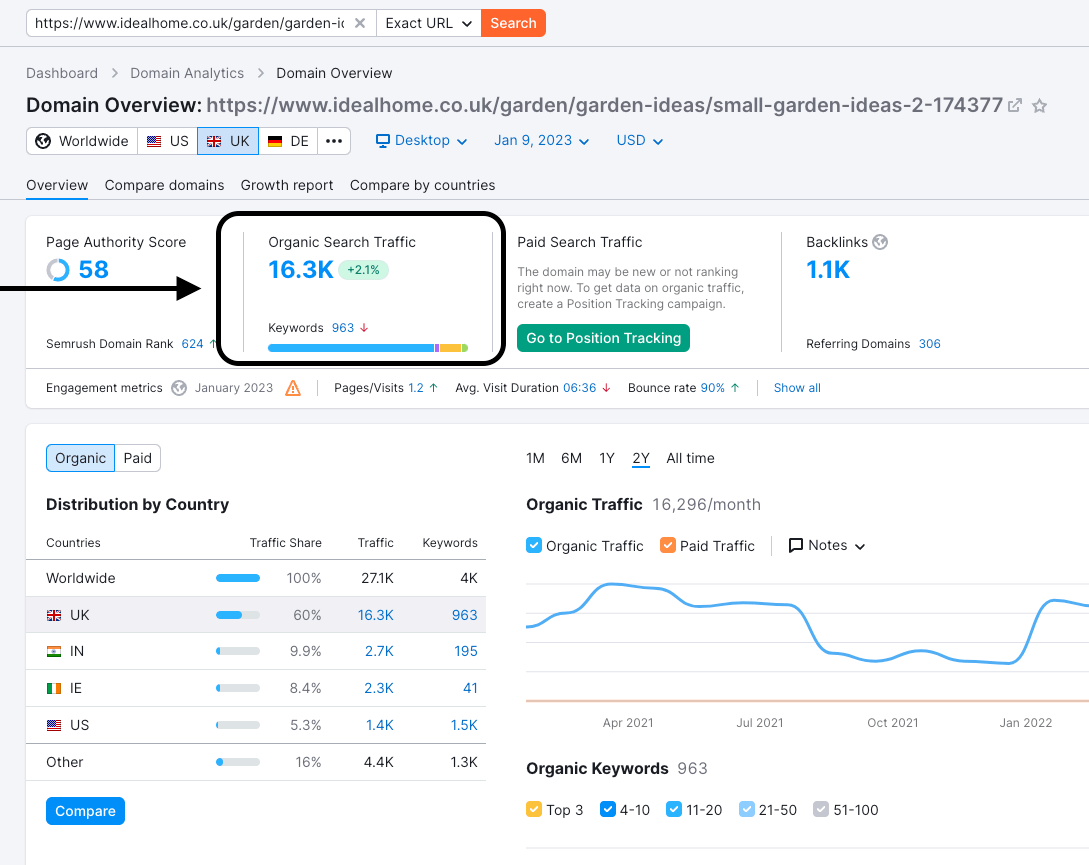 Take this article, for example, https://www.idealhome.co.uk/garden/garden-ideas/small-garden-ideas-2-174377 gets over 15,000 organic visitors a month, so you can imagine the amount of interest this receives the business.
A great way to find blog post opportunities is to list all of the frequent questions you get asked by clients and then write content to answer them. People are constantly asking questions to Google, so if your business is at the top in answering them you will become an authority in your industry.
How to build a blog post
Set up a blog using WordPress [WordPress tutorial]
Choose a topic
Research your topic
Outline the post
Write SEO-friendly content
Use images and videos to supplement content
Publish and share the post on social media sites such as Facebook, Twitter, and LinkedIn.
Build your blog to get your target audience on your website, then have calls to action leading the user to contact you. This will result in more landscaping leads and sales for your business.
Build a referral programme for your landscaping company
Word-of-mouth referrals is one of the great landscaping marketing strategies and a brilliant way to get your business in front of potential customers.
You can incentivise existing clients who refer their friends and family to your business by offering them discounts or other rewards as a thank-you for their patronage.
Consider creating referral cards existing customers can give out when they recommend your services.
This is an effective way to encourage word-of-mouth marketing and increase brand awareness among those who receive the card.
Additionally, setting up referral programs on social media channels can help spread the word about your services and reach people outside of your immediate network. Try targeting influencers in the landscaping niche who are likely to have large followings and can help spread the word about your business.
Google Ads are a great way to reach potential customers who are searching for services related to landscaping. You can use targeted keywords and phrases to put your business at the top of search engine results pages (SERPs).
Here are some great keywords to target for your landscaping ads.
Landscaping (Monthly searches in the UK – 49,500)
landscaping near me (Monthly searches in the UK – 12,100)
Lawn care near me (Monthly searches in the UK – 2,400)
Garden design (Monthly searches in the UK – 27,100)
Landscaper (Monthly searches in the UK – 74,000)
Landscaping services near me (Monthly searches in the UK – 880)
Garden landscaping (Monthly searches in the UK – 18,100)
Landscaping design (Monthly searches in the UK – 4,400)
By using targeted ads, you will be able to connect with people who are already interested in your services and have an increased chance of converting them into paying customers.
Additionally, running Google Ads is relatively inexpensive compared to other forms of advertising and allows you to test out different strategies without investing too much money upfront.
Optimise your website for local keywords
Another essential thing to consider is optimising your website for local keywords. This type of SEO involves incorporating keywords related to the geographic area your business serves to increase visibility in local searches.
For example, if you offer landscaping services in London, UK, you should use keywords such as "landscaping London" or "London landscaper" on your website.
You can also include other location-specific details, such as street names or areas of town where your business operates. By having this type of information on your website, you will be more likely to show up in search engine results pages (SERPs) when people search for landscaping services in a particular area.
How to do on-page optimisation
Finally, optimising the content on your website for both search engines and users is essential.
This process, known as on-page optimisation, involves incorporating targeted keywords into the titles and headings of your pages and in the body of text.
You should also ensure that the content on your web pages is engaging and relevant with no spelling or grammar mistakes.
Write 750 words per page
Optimise the metatags (titles, descriptions, header tags)
Incorporate keywords into image titles and alt tags
Improve your site speed (use this tool – https://gtmetrix.com/)
This will help improve the user experience, leading to higher rankings in SERPs. Additionally, using meta tags such as title tags and meta descriptions can help increase visibility in search engine results pages.
We have seen landscaping businesses generate over 6000 organic clicks a month using local SEO techniques, which is a great way to create more business.
Use a social media marketing strategy
Social media is also a great way to reach more potential customers. Not only can you use it to market your services and attract new leads, but it's also an excellent platform for engaging with existing customers and building relationships.
Social media post ideas
Before and after videos
Images of your team working
Awards you have won
New accreditations
New tips and tricks
New ideas people can use in their gardens
You can post about projects you've recently completed or share tips related to landscaping that will be helpful for people in the industry.
This could include tutorials on creating a pool deck or an outdoor kitchen.
Additionally, you can use social media to connect with influencers in the landscaping niche who have large followings and can help spread the word about your business.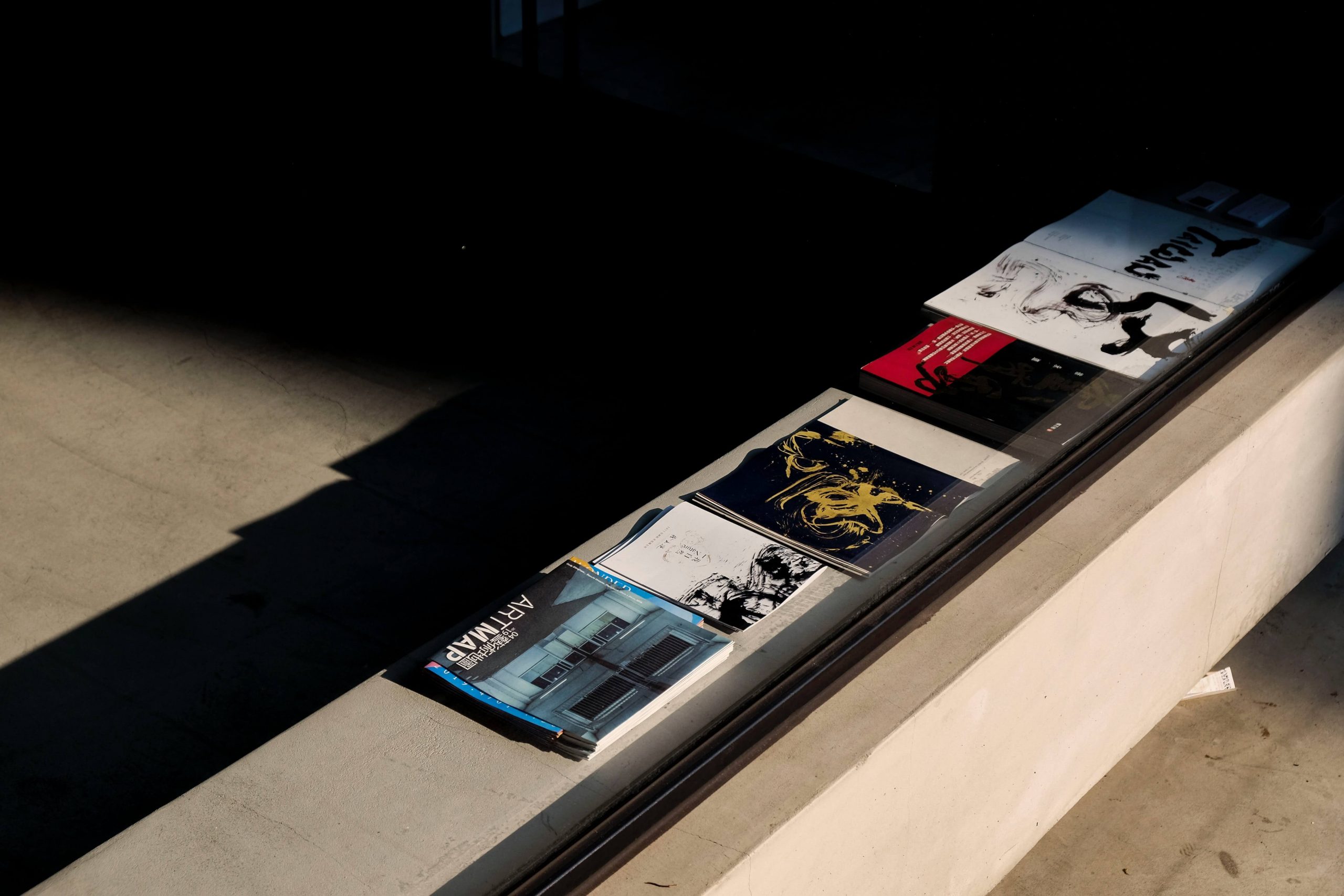 You can use leaflet distribution to reach more potential customers near your business. 
You can use a direct mail campaign and send out leaflets advertising your services and providing information about promotions or special offers you may have available.
Companies to use to deliver your leaflets
Blue Market Media
Offline Marketing
Royal Mail
Leaflets can be distributed door-to-door or in public areas such as bus stops, post boxes, and cafes.
This is a great way to get the word out about your business and reach people who may be off social media or searching for landscaping services online.
Post regularly in the same area will increase your brand awareness, and people will likely call you.
Also, have an offer on the leaflet that creates urgency and makes people want to pick up the phone and call you.
Get a Google My Business listing
Google My Business is a free tool that allows you to create a business profile on Google. You can include information about your business, such as opening times, address, phone number, and website URL.
A Google My Business listing will make it easier for customers to find your business when they search for landscaping services in your area. It will also increase the chances of your website appearing in local searches.
To get access to Google My Business, click here – https://www.google.com/business/ and submit your listing, Google will send you a pin in the post, and you can activate your listing in about four days.
Optimise your Google My Business listing by doing the following
Add logo
Locations you cover
Put in the right category
Get 50+ reviews
Add 100+ images of your work
Add at least two videos
Post on Google at least two times a week
Add images of your team
Add you address
Phone number
Email address
By optimising your Google My Business listing, you will reach more people and get more leads.
Visit gardening trade shows and network
Another way to spread the word about your business is to visit gardening and landscaping trade shows.
These are great places to meet potential customers and connect with other industry professionals.
You can use this opportunity to network and build relationships that could lead to more referrals and customer acquisition. Additionally, you can give away promotional items such as brochures, flyers, or discount vouchers at these events.
Landscaping, Gardening and flower shows in the UK
Harrogate Flower Show
RHS Chelsea Flower Show
Horticulture: Plantsmanship
Glee Birmingham
Futurescape UK
Your Garden in Winter
Terrariums – Growing a Self-Sustaining World
Small is Beautiful – Gardening in confined spaces
Royal Windsor Flower Show
BBC Gardeners' World Live
You will build many good contacts within the industry by visiting these shows and get referral work.
Identify your ideal client
Another critical step in marketing your landscaping business is identifying your ideal client. Identifying who you want to target will help you focus on the right areas and create the most effective campaigns.
Think about what kind of person would be interested in the services you offer, such as those looking for a new outdoor space or people trying to revamp their garden.
Knowing this information can help you create targeted campaigns to reach the right people and increase their chances of becoming customers.
If you don't identify your ideal client, you will end up taking on any work and doing jobs that you don't want to do.
Once you identify your ideal client focus all of your marketing efforts to get in front of them and make them aware of your business.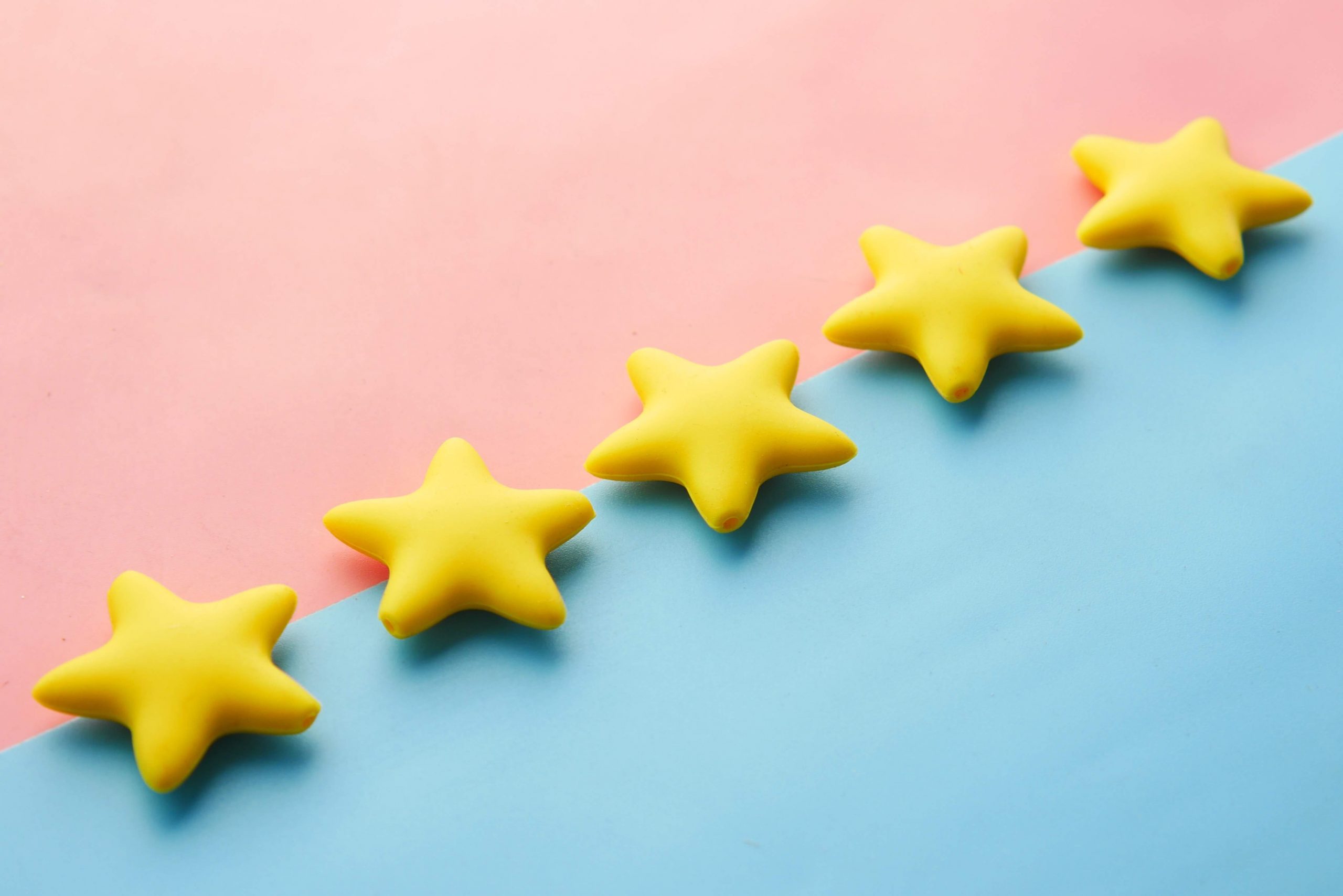 Getting reviews is a great way to inform potential customers about your landscaping services.
When looking for a landscaper, they often search online and read reviews from previous customers before deciding.
Get places to get reviews for your landscaping business
Google My Business
Facebook
Yelp
Trustpilot
Yelp
Checkatrade
Trustatrader
It would help if you encouraged satisfied clients to leave reviews on popular review sites such as Google, Yelp, and Facebook. You can also get them to go reviews on your website or even ask if they would be willing to write a testimonial that you can use in your marketing materials.
Positive customer feedback will help build trust and credibility with prospective clients.
It's also an effective way of proving that you provide excellent service and results, which could help increase the number of leads you receive for your business.
Network with local builders & estate agents
Networking with local builders and real estate agents is also great for getting more leads for your landscaping business.
Builders and real estate agents often have contacts with people looking for landscaping services, so by networking with them, you can increase the chances of getting referral work.
You should offer builders and real estate agents incentives such as service discounts or a commission if they refer clients to you.
This could be mutually beneficial because both parties will benefit financially from the referrals.
Marketing your landscaping business is essential to growing and developing a successful business.
By following the tips above, you can increase your company's visibility, reach more potential customers, and give yourself a better chance of success.
Identifying who your ideal client is, attending trade shows, networking with local builders & real estate agents, and getting reviews are all great ways to market your landscape business. Good luck!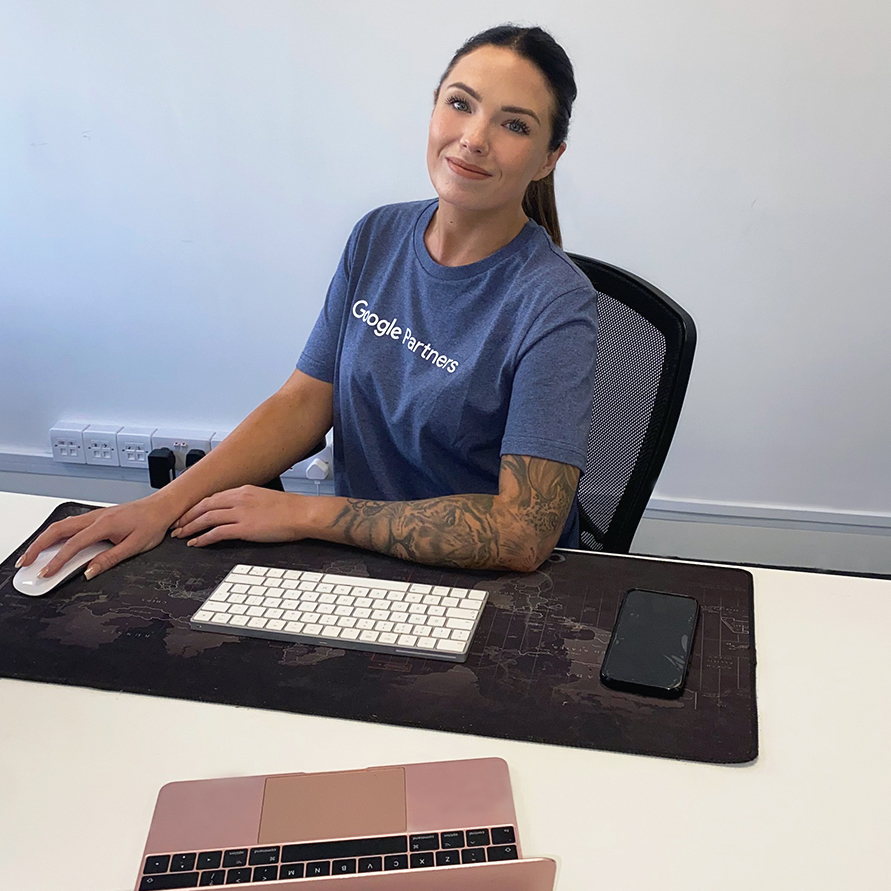 Speak to a construction industry marketing expert
Got a quick question about your marketing. Or you want to run through the details of your next big project. We can help.
Speak to one of our experts today on 01702 668207 or send us a message.