In today's digital age, having an online presence is a must for any business.
A blog is an excellent way to attract potential customers, build credibility, and establish yourself as an expert in your industry. It is great for landscaping SEO and will pull in thousands of organic visitors every single month.
For landscaping companies, a blog is an opportunity to connect with your target market and provide them with valuable information about your services and the industry as a whole. Having this type of traffic pouring through to your website is also a great way to generate more landscaping leads.
In this blog post, we'll discuss the best blog post topics for a landscaping company and the benefits of having a blog for your business.
https://www.youtube.com/watch?v=V50FJA0gikE
Types of landscaping blogs
Showcase Your Portfolio: If your landscaping company has already completed some fantastic projects, why not showcase them on your blog?
Showcase your portfolio through before-and-after images and descriptions, explaining how you addressed a particular outdoor design issue and your strategy to get the final outcome.
Highlighting your portfolio builds trust and shows potential clients your capabilities.
Seasonal Tips: A landscaping company has to be attentive to changes in seasons, plants, and pests.
Offering seasonal tips can help customers understand the necessary maintenance to keep their landscape looking great throughout any season.
Providing informative and relevant content that adds value to people's lives is an excellent way to increase site traffic while establishing you as an authority in your industry.
Sustainability: With increasing number of people caring about the environment, providing sustainable garden solutions through your business is a great way to get people to see your brand.
Blogging about sustainable practices can highlight your business as environmentally conscious and increase your business reputation.
Industry Trends: Landscaping is an evolving industry as, with everything, new tech, techniques, and customer preferences change over time.
Writing blog posts about topics such as mosquito prevention, drought-tolerant plants, gravel gardens, or outdoor living trends is an excellent idea.
Share the latest trends and techniques, as well as educational information that will captivate the interest of existing and potential customers.
Collaboration: Collaborating with other vendors in the industry, such as landscape architects, will help to offer a different perspective on your blog.
You can offer your customers a broader view of things you may not have considered. A partnership with another business will also help to expand your reach and attract new customers.
Landscaping blog topics
Best landscape design software for 2023
The 12 principles of landscape gardening
How to maintain a small garden
Best garden designs for bungalows
11 Amazing Types Of Birch Trees For Your Landscape
9 Best Landscape Fabric Types & How To Use Them
Best large trees for large gardens
Landscape Gardening Ideas
Growing Sunflowers: The Complete Guide to Sunflower Care
Lavender Plant Care – Ultimate Planting & Growing Guide
24 Best Indoor Plants – Find Your Perfect Houseplant
How to Garden – Gardening Basics for Beginners
How to Grow & Care for Weigela Bushes
Front Yard Landscaping Ideas
How to Grow Begonia Plants (10+ Care Tips
16 Best DIY Trellis Ideas
Growing Hollyhocks: Planting & Caring for Hollyhock Flowers
How to Plant, Grow & Care for Peony Flowers
16 Garden Design Ideas For Your Outdoor Space
A Guide to Growing Coleus Plants: Care & Varieties
Best designs for a zen garden
The golden rule of garden design
10 Essential Tips for Designing a Stunning Landscape Garden
The Art of Incorporating Water Features into Your Landscape Garden
Xeriscaping: Creating a Drought-Resilient Landscape Garden
From Start to Finish: A Step-by-Step Guide to Landscape Garden Installation
Exploring Native Plants: Enhancing Your Garden's Sustainability
Creating Tranquility: Zen-inspired Landscape Garden Design
Maximizing Small Spaces: Landscape Ideas for Urban Gardens
Incorporating Edible Plants into Your Landscape Design
The Magic of Hardscaping: Pavers, Paths, and Patios in Gardens
Seasonal Landscaping: Adapting Your Garden to Year-Round Changes
Aesthetic Pruning: Sculpting Your Garden's Trees and Shrubs
Landscape Lighting: Illuminating Your Garden's Beauty
Colorful Allure: Designing Gardens with Vibrant Flower Displays
Sustainable Landscaping: Eco-Friendly Practices for Gardeners
Rock Gardens Unveiled: Design Ideas and Maintenance Tips
Creating Harmony: Balancing Softscapes and Hardscapes in Gardens
Gardening for Wellness: How Your Landscape Can Improve Mental Health
Secret Garden Design: Adding Elements of Mystery to Your Yard
Gardening for Wildlife: Attracting Birds, Butterflies, and Bees
Vintage Garden Revival: Recreating Classic Landscape Designs
Gardening with a Purpose: Designing Meditation and Yoga Gardens
Modern Minimalism: Sleek and Chic Landscape Garden Ideas
Revamping Your Curb Appeal: Landscaping for Increased Home Value
Seaside Garden Inspiration: Bringing Coastal Vibes to Your Yard
Feng Shui in the Garden: Balancing Energy for Positive Vibes
Landscape Playgrounds: Designing Gardens for Kids and Families
Elevating Vertical Gardens: Green Walls and Hanging Planters
Wildflower Wonder: Designing Gardens with Indigenous Flora
Garden Archways and Pergolas: Adding Architectural Elegance
Gardening in Containers: Creative Ideas for Limited Spaces
Landscape Maintenance 101: Keeping Your Garden Pristine
Garden Water Conservation: Smart Strategies for Eco-Conscious Gardeners
The Beauty of Bonsai: Incorporating Miniature Trees in Your Garden
Landscape Garden Accents: Choosing the Perfect Garden Furniture
Rustic Charm: Designing a Cottage-Inspired Landscape Garden
Art in the Garden: Sculptures and Installations as Focal Points
Landscape Garden for All Seasons: Plants That Thrive Year-Round
Medicinal and Herbal Gardens: Growing Plants for Natural Remedies
Symmetry and Asymmetry: Playing with Balance in Landscape Design
Rooftop Gardens: Creating Green Spaces in Urban Environments
Garden Waterfalls and Streams: Adding Serenity Through Water
Landscape Garden DIY Projects: From Planters to Pathways
Garden Pest Management: Natural Approaches to Protect Your Plants
Cultivating Aromatherapy Gardens: Fragrant Plants for Relaxation
Landscape Garden Colour Schemes: Harmonising Plants and Decor
Sculpting Nature: Using Topiary in Landscape Design
Gardening for Foodies: Growing Herbs and Veggies with Flair
Desert Oasis: Designing Lush Gardens in Arid Environments
Garden Fire Pits and Outdoor Entertaining Spaces
Rain Gardens: Harnessing Rainwater for Eco-Friendly Landscapes
Japanese Garden Inspirations: Tranquility and Zen in Your Yard
Garden Focal Points: Creating Visual Anchors in Landscape Design
Landscape Garden for Wildlife Photography: Attracting Critters
Tropical Paradise: Bringing Exotic Plants into Your Garden
Landscape Edging Ideas: Framing Your Garden's Beauty
Landscape Garden for Birds: Planting to Encourage Avian Visitors
Green Roofs: Sustainable and Stunning Garden Spaces
Creating Movement: Using Ornamental Grasses in Your Garden
Garden Nooks and Retreats: Designing Quiet Corners
Soothing Sounds: Adding Wind Chimes and Water Features
Landscape Garden for Pollinators: Nurturing Bees and Butterflies
Modernist Landscapes: Incorporating Contemporary Design Principles
Garden Pathways: Choosing Materials for Functionality and Style
Landscape Garden Inspired by Impressionist Paintings"
Planting for Privacy: Creating Secluded Spaces with Greenery
Ancient Garden Wisdom: Exploring Historical Landscape Designs
Landscape Garden with Heirloom Plants: Connecting to the Past
Garden Ponds and Aquatic Plants: Designing Water Gardens
Landscape Garden Safety: Incorporating Non-Toxic Plants
Edged Elegance: Incorporating Geometric Shapes in Landscape
Garden Arbors and Trellises: Adding Vertical Interest
Landscape Garden for Aromatherapy: Fragrances for Relaxation
Repurposing in the Garden: Turning Old Items into Art
Edible Landscaping: Integrating Fruits and Veggies into Design
Landscape Garden for Family Bonding: Designing Playful Spaces
Vintage Garden Accessories: Adding Antique Charm
Garden Sustainability: Rainwater Harvesting and Composting
Landscape Garden Inspired by Asian Art and Culture
Perennial Gardens: Designing with Plants That Return Yearly
Landscape Garden as Outdoor Meditation Space
Repelling Garden Pests Naturally: Companion Planting Strategies
Landscape Garden for Book Lovers: Designing Reading Retreats
Formal vs. Informal Landscapes: Choosing Your Garden's Style
Garden Remodelling: Revitalising Your Landscape Over Time
Landscape Garden with Drought-Tolerant Succulents
Garden Symmetry: Achieving Balance in Planting and Layout
Landscape Garden Inspired by Mythology and Folklore
Vertical Gardening: Going Up with Green Walls and Vines
Garden Murals and Outdoor Art Installations
Landscape Garden for Astronomy Enthusiasts: Stargazing Spots
Garden Water Conservation: Efficient Irrigation Techniques
Landscape Garden for Pet-Friendly
Blogging is an excellent way to establish your landscaping business as reputable, knowledgeable, and trustworthy, all while sharing important and part of the industry's conversation in today's digital age.
You must focus on providing relevant, timely, informative, and relatable content your target consumers want to read.
By consistently producing good quality blog posts, your blog will gradually attract more traffic, gain backlinks, and, eventually, good organic rankings. As a localised service business, an active blog can be a goldmine of new leads.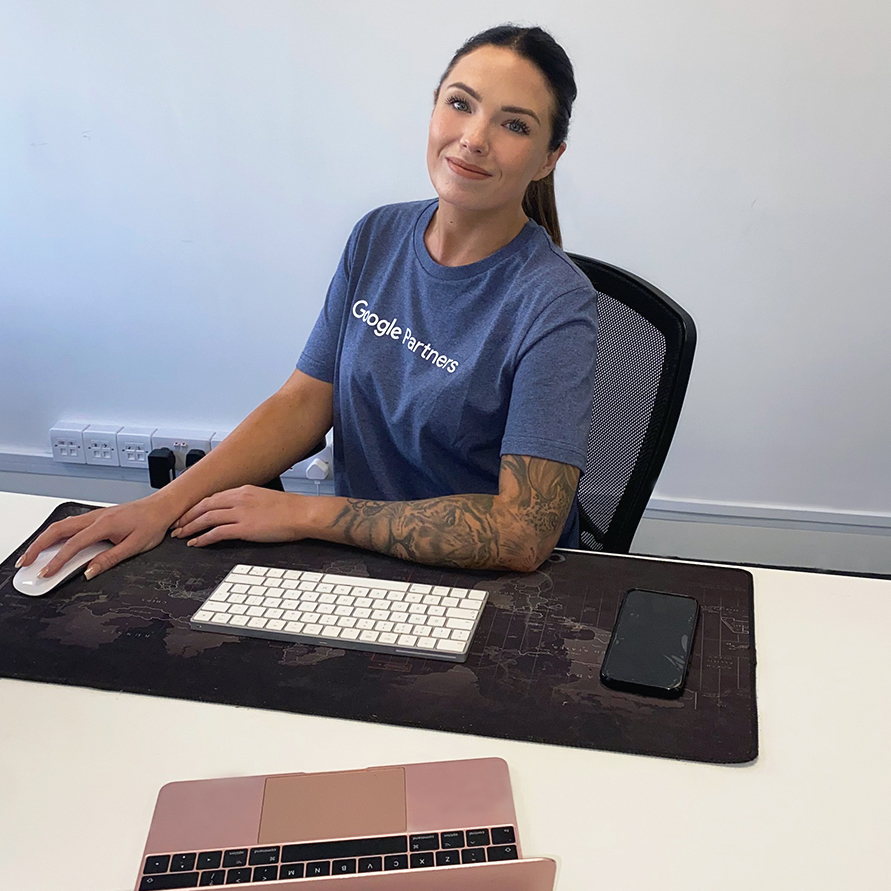 Speak to an expert
Got a quick question about your marketing? Or you want to run through the details of your next big project. We can help.
Speak to one of our experts today on 01702 668207 or send us a message.