https://www.youtube.com/watch?v=RDZa8Nz8m8E
As a landscaper, you know the importance of a well-manicured lawn, stunning hedges, and beautiful flower beds. But does your target audience know about your expertise and your excellent services? If you want to get in front of your dream customers, you must focus on your local SEO strategy.
SEO for landscapers can help you reach your target audience and establish yourself as a top-rated landscaping professional in your area.
In this post, we'll take you through the step-by-step local SEO strategy that you can use to rank your landscaping business higher in search engine results.
Using this strategy, we have got landscapers more leads, reach the top of Google, and they consistently generate more revenue.
Keyword research
https://www.youtube.com/watch?v=jm7GQwLuCgw
The first step in any successful SEO strategy is keyword research. It helps you understand what your target audience is searching for online. Use tools such as Google Keyword Planner, MOZ Keyword Explorer, and Ahrefs to identify profitable keywords for your landscaping business.
These tools help you find long-tail and local keywords that can rank your business higher in relevant searches.
For example, if you are based in London, getting your website ranked for keywords such as 'landscaping London' and 'garden design London' is much more beneficial than trying to rank for general keywords such as 'landscaping services' or 'garden design'.
Some keywords and their search volume:
Gardening services London – 6,600
Garden maintenance London – 4,400
Landscaping companies near me – 880
Also, use tools such as Answer The Public to find keywords that can be targeted with blog posts such as 'How to maintain a garden in the winter' and "Tips for pruning a tree", Google is looking to answer these topics with blog posts, so write in-depth articles to target them.
Create Quality Content
Once you've identified the best keywords to target, it's time to create quality content around those topics and keywords.
Your content should also be optimised with the targeted keywords so that search engines can easily index them.
For local service, pages write around 500-750 words per page and for blog posts, around 1500-2500 words per blog post.
Always ensure that the content you are writing is better than the content already at the top of Google.
A great tool to help you optimise content is Surfer SEO; this tool allows you to compare your content with the top-ranking pages and score your page content out of 100, implement the tools' optimisation suggestions and over time, you will outrank the top-ranking pages.
Submit to Google My Business
https://www.youtube.com/watch?v=8qf-ruwHXTw
1. Create a Google My Business Account: Visit the Google My Business website (https://www.google.com/business/) and click on 'Manage Now'. Sign in to your Google Account. If you don't have one, you'll need to create one. 
2. Enter Your Business Information: Input your business name and click 'Next'. Then, Google will pull up suggestions if any businesses have a similar name to yours. Enter the location of your business (or the local areas you cover if you don't have a physical location), your business category (e.g., 'Landscape Designer' "landscape architect" or "gardener"), and your contact information. Make sure all the information is accurate and up-to-date.
3. Verify Your Business: Google needs to verify that your business is legitimate. They'll either text you or send a postcard with a verification code to the business address you provided. Once you have received it, log in to your Google My Business account and enter the code.
4. Optimise Your Listing: Once verified, optimise your listing by adding a business description, hours of operation, and photos of your work and encouraging happy customers to leave reviews. We have a complete guide below on how to optimise the listing.
Remember, Google My Business is a free tool and keeping your listing updated increases your chances of showing up in Google Maps, Local Pack, and organic rankings. So, make sure you regularly check and update your listing as needed.
Optimising Your Google My Business Listing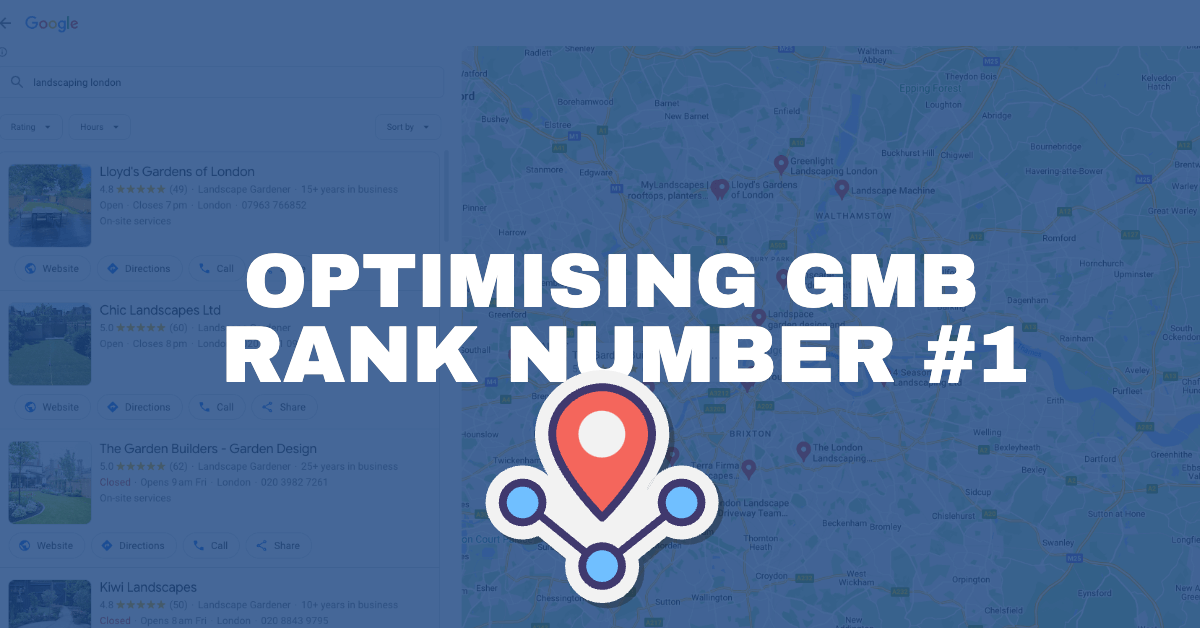 After verification, optimising your Google My Business (GMB) listing is essential to enhancing your online visibility. Here are some key steps to follow:
1. Add a Detailed Business Description: Google allows up to 750 characters in your business description. Use this space to outline your services, areas of expertise clearly, and to highlight what sets your landscaping business apart from your competitors. Use keywords also related to your business in the description, for example "landscape gardening" "garden design" and "garden experts".
2. Use Relevant Categories: Categories help determine how Google will index your business. Always choose the most specific category available (e.g., "Landscape Designer") and add additional categories if they apply to your business. A great tool to help you do this is pleper.com, we use this tool to find additional categories and increase the exposure of the listing. This increases leads and traffic.
3. Update Your Operating Hours: Ensure your operating hours are always up to date. Include special hours for holidays to keep your customers informed.
4. Manage and Respond to Reviews: Positive or negative, responding to reviews shows that you value customer feedback. Encourage your customers to leave a review after a service. Remember, a higher number of positive reviews improves your business ranking. You should always aim at being the best reviewed in the local area, if your competitor has ten reviews, make sure you have 15+.
5. Add Regular Posts: Google My Business allows posts with photos, text, and a call to action. Regular posts can help keep your audience engaged and aware of your services. Post events in the business, qualifications you have earned and new offers. This will show Google that you are active and they will rank you higher. 
6. Use Photos and Videos: Visuals are compelling. Upload high-quality images and videos of your landscaping projects. A 360-degree virtual tour can also be a unique way to showcase your work. Customers first look at your work, so make sure it is the best work you have done. We see a lot of landscaping businesses come to us that need to generate leads, but their work displayed online is either very poor-quality images or very old work. Always showcase your very best work.
7. Add Products and Services: If applicable, make use of the Products and Services feature. This provides customers with a quick overview of what you offer. This is also a great opportunity to fill your listing with lots of keywords to rank for.
8. Use Google My Business Insights: This tool provides valuable data on how customers find your listing, their actions, and other trends. Use these insights to fine-tune your listing for better engagement continuously.

By optimising your GMB listing, you will significantly improve your landscaping business's online visibility, attracting more potential customers and generating more leads.

By optimising your GMB listing, you will significantly improve your landscaping business's online visibility, attracting more potential customers and generating more leads.

Importance of Directory Citations and Finding Niche Relevant Directories

Directory citations, or online references to a business's name, address, and phone number, are critical in improving your website's visibility and local SEO. They help establish your business's authenticity and credibility, making it easier for customers to find your services.

Here's why:

1. Boosts Local SEO: Directory citations, especially those with a consistent NAP (Name, Address, and Phone number), are a key factor in local SEO ranking. They amplify your presence on the internet and signal to search engines that your business is authentic. This sends good signals to Google that you are where you say you are, and they will rank you higher. Get your business posted on at least 120 good quality directories and on 20+ niche directories. (directory list here)
2. Enhances Visibility: When your business is listed in an online directory, it increases the chances of being discovered by potential customers who use these directories to find services.
3. Improves Reputation: Directories with review capabilities allow customers to rate and review your business, providing social proof and improving your reputation. It's a great way to cover the first page of Google with reviews when a customer types in your company name
4. Increases Traffic and Sales: Increased visibility and improved reputation lead to more website traffic and potentially more sales.

When it comes to finding niche-relevant directories, it's about quality over quantity. For a landscaping and driveways business, listing on relevant directories can directly influence your visibility to the target audience. By niche relevant sites we mean websites like https://www.homeandgardenlistings.co.uk/ or location-specific directories like http://www.londondirectory.co.uk/.

Here are some steps for finding these directories:

1. Competitor Research: Identify where your competitors are listed. This can provide valuable insights into potential directories you may have overlooked. Use Ahrefs (click here) to see what websites your competitors are listed on, and then reach out to their sites and get your business on them.
2. Keyword Search: Use keywords related to your niche (like 'landscaping', 'garden design', 'driveways') along with 'directory' to find potential listing opportunities on Google.
3. Check Relevance: Ensure that your chosen directories are relevant to your industry and local area. The more specific the directory, the more targeted your audience will be, and the higher Google will rank you with these links.
4. Analyse the Directory's Authority: Use SEO tools to check the directory's domain authority. A high authority score indicates that the directory is respected and will provide valuable backlinks. Always go for sites that have a domain authority of 10+. Use this tool to check the directories domain autority (https://moz.com/domain-analysis).

Remember, directory citations and finding niche-relevant directories aim to improve your online visibility. Be consistent with your NAP information across all platforms and regularly update your listings.

Link Building on Authority Sites – Guest Posting:

Link building is an essential part of SEO. Guest posting on high-authority sites in your niche can help you earn quality backlinks to your site.

This not only boosts your website's ranking but also helps establish trust and authority in the landscaping industry.

Locating Guest Post Opportunities and Submitting Links for a Landscaping Business

Finding guest post opportunities for your landscaping business involves research, networking, and understanding your industry's digital landscape. Here are some steps to guide you:

1. Identify High-Authority Sites in Your Niche: Start by creating a list of authoritative websites, blogs, and digital platforms that focus on landscaping, home improvement, and related topics. You can do this by performing a search with keywords related to your industry (like "landscaping blog", "home improvement website", "garden design blog") along with terms like "write for us", "submit a guest post", or "contribute an article". Do these searches on Google and it will pull up tons of potential sites to get listed on.
2. Engage with Industry Influencers and Bloggers: Networking with bloggers and influencers within your niche can open doors for guest posting opportunities. Engage with them on social media, comment on their posts, and express your interest in guest posting.
3. Utilise Guest Post Marketplaces: Platforms like Guestpost.com, FatJoe.com and NoBS Marketplace connect businesses with bloggers looking for guest content.

Once you've identified potential sites, it's time to submit your guest post:

1. Understand the Site's Guidelines: Before submitting a post, make sure you understand the site's guest post guidelines. These guidelines often guide the preferred content length, style, tone, and link policy.
2. Pitch a Relevant and Engaging Topic: Your pitch should include a brief introduction, a list of potential topics that you could write on, and an explanation of why these topics would be beneficial for the site's audience. You can send a pitch by either email or by filling out the contact form on their website.
3. Draft Quality Content: Once your pitch is accepted, write a high-quality, original post for their website. Include a relevant link in the post back to your website. For example, use the keyword "landscape architect" and then link that to your website's landscape architect pages.
4. Follow Up: If you are still waiting for a response within a week or two, follow up. Repeat this process on other websites once your post has been put on their website and is live. Over time your website will build authority and rank a lot higher on the search engines.

Technical SEO

Technical SEO is the process of optimising the technical aspects of your website to improve its visibility and ranking. This includes improving website speed, mobile-friendliness, website architecture, and other technical factors. Ensure that your website is easy to navigate and user-friendly to rank higher in search engine results.

Implementing and Fixing Technical SEO on Websites

Understanding and implementing Technical SEO is vital for a well-optimised website. Here are some steps to guide you:

Website Speed: Page load speed impacts user experience and search engine rankings. Use tools like Google's PageSpeed Insights to assess your website speed. Optimise images, reduce unnecessary plugins, and implement browser caching to improve load times. Another tool you can use and the one we always use is GTMetrix, this will give you a detailed overview of why your website is running slow and the steps you can take to improve it.
Mobile-Friendliness: With more people using mobile devices, it's critical your site is mobile-friendly. Google's Mobile-Friendly Test can identify areas for improvement. Consider using a responsive design which adapts to different screen sizes. Over 50% of your traffic will be coming from mobile devices so make sure it looks great on a mobile.
Website Architecture: A well-structured site helps search engines understand your content. Ensure your site has a logical hierarchy and use internal linking to connect relevant content. Have top-level navigation on the website, making it easy for people to find what they want.
XML Sitemap: An XML sitemap lists all pages on your site, helping search engines find and index your content. Most website platforms have tools to generate a sitemap. Remember to submit your sitemap to Google Search Console.
Secure Sockets Layer (SSL): SSL encrypts data between your website and its users, enhancing security. SSL is a ranking factor, and many browsers warn users about sites without SSL. Install an SSL certificate on your server to switch your site to HTTPS. You can do this through your hosting provider, simply go onto a live chat, and they will show you exactly how to do this. 
Fix Broken Links: Broken links can hurt user experience and SEO. Use tools like Google Search Console or Ahrefs to find broken links and either fix or remove them. Use this tool to find broken links – https://ahrefs.com/broken-link-checker
Duplicate Content: Duplicate content can confuse search engines and dilute ranking signals. Use tools like Siteliner to find identical content and consolidate or remove duplicates.
Structured Data: Structured data helps search engines understand your content and can result in rich results. Use Google's Structured Data Markup Helper to add structured data to your site. 

Remember, Technical SEO is not a one-time process. Regularly review and update your website to maintain optimal performance and search engine visibility.

Get reviews on other platforms

Reviews play a critical role in influencing consumer behaviour. Encourage satisfied customers to leave reviews on your Google My Business listing, Yelp, and other relevant review sites. 

Positive reviews can help increase your business's visibility, build trust and improve your Local SEO.

Best Places to Get Reviews for a Landscaping Business

For landscaping businesses, specific websites offer excellent platforms for collecting customer reviews. These reviews not only provide valuable feedback but also help to build credibility and trust with potential customers. Here are some of the best places to accumulate reviews:

1. Checkatrade: This UK-based platform is a trusted source for anyone looking for trade businesses. As a landscaping business, you can create a profile, and customers can post their feedback about your services. Checkatrade's rigid vetting process only approves reputable trades. Thus positive reviews here can significantly boost your business's image.
2. Google My Business: Google My Business is a powerful tool for local businesses. It's the first point of contact for anyone searching for your business on Google. Encourage your clients to leave reviews here as they can help improve your business's visibility in local search results and give potential customers an immediate look at your track record.
3. TrustATrader: TrustATrader operates similarly to Checkatrade, providing a reliable platform for tradespeople and consumers. Your landscaping business can benefit from having a profile on TrustATrader, where customers can leave reviews about the quality of your work. A strong presence here can significantly enhance your reputation and encourage more conversions. 

These platforms serve as critical touchpoints in your customer's journey, and positive reviews here can be the determining factor for potential clients when choosing a landscaping business.

SEO for landscapers is critical for building a thriving landscaping business in your locality. By following the step-by-step local SEO strategy we have outlined, you can improve the visibility of your website, attract more leads, and establish yourself as an authority in the landscape industry.

Ensure you leverage all the tips we have shared and continuously update your SEO strategy to stay on top of the game.

Speak to an expert

Got a quick question about your marketing? Or you want to run through the details of your next big project. We can help.

Speak to one of our experts today on 01702 668207 or send us a message.