Are you looking for roofing web design examples? You've come to the right place! This blog post will showcase some of the best roofing company websites out there. We'll provide tips on how you can create a website that will attract customers and help your business grow. So whether you're a roofer looking for a new website or just curious about what other roofers are doing, this blog post is for you!
Why is it essential to have a roofing website?
As a roofer, you know that first impressions are essential. Your potential customers will often judge your business based on your website. They may not take you seriously as a business if you don't have a professional website. They may also be unable to find you when searching for roofers in their area.
A well-designed website can help you attract more roofing leads and customers. It can also help increase your revenue. Businesses with websites earn an average of 20% more than businesses without them.
If you're not sure where to start, there are plenty of roofing website design examples out there to inspire you. Please keep reading to see some of our favourites!
https://www.youtube.com/watch?v=yjCs0Wg9x8I
What makes a great roofing website?
A great roofing company website should be easy to use and answer any potential customers' questions. It should also showcase your work in the best possible light. Here are a few more things to keep in mind when designing your website:
Use high-quality images: Potential customers want to see what you're capable of. Use photos of the best work on your website to show them what they can expect if they hire you.
Include testimonials: Customer testimonials are a valuable asset. They show potential customers that you're trustworthy and provide good services. Make sure to include some on your website!
Use calls to action: Calls to action tell potential customers what you want them to do, this could push the user to a get a quote page or roofing calculator page. Calls to action should push the user to wherever you want them to go on your website and tie into how you collect leads for your business.
Optimised for mobile devices
As more and more people use their mobile devices to browse the internet, it's essential to ensure your website is optimised for them. This means ensuring it loads quickly and is easy to navigate on a smaller screen.
If your website isn't optimised for mobile, you will miss out on potential customers.
So how can you make sure your website is optimized for mobile? Here are a few tips:
Use responsive design: This design ensures that your website changes size on all devices, from laptops to smartphones and tablets.
Keep it simple: When it comes to mobile design, less is often more. Make sure your website is easy to navigate, and calls to action are big buttons.
Make sure it's fast to load
As we mentioned earlier, one of the most important things for your website is that it loads quickly. A slow website will discourage potential customers from sticking around and decrease your chances of converting them into leads.
There are a few ways to make sure your website loads quickly:
Use a content delivery network (CDN): A CDN stores copies of your website in multiple locations worldwide. This way, when someone tries to access your website, they can do so from the area that's closest to them, which will help improve loading times.
Optimise images: Large images can take a long time to load. Make sure you're using smaller image files and compressing them before you upload.
Speed test your website: Use GTMetrix to speed test your website. Using this tool will show you the issues and steps you need to take to increase the speed.
Local landing pages
If you want to attract local customers, your website must have local landing pages. Local landing pages are pages such as roofing services in the local area. These pages will help you show up for different locations and get more local leads.
To create a local landing page, start by listing all the areas you serve. Then, create a separate page for each location and include relevant information such as:
The services you offer in that area
Any specialities or qualifications you have
Contact information, including your phone number and address
Links to your social media profiles
Customer testimonials or reviews
Here are some excellent roofing web design examples and what we like about them.
LP Roofing Services (One Base Media design)

What we like about this website:
The website uses high-quality images to showcase the work and has clear calls to action in the website banner. This pushes people through to the contact page to enquire. The website is also very fast, scoring an A on GT Metrix.
Roofing company websites need to use high-quality images because potential customers want to see what you're capable of. This website does a great job of displaying its work attractively.
Including calls to action on your website is a great way to push potential customers towards your desired goal, whether getting a quote or scheduling an appointment. This website uses calls to action effectively in the banner and throughout the site.
Prime Roofing (One Base Media design)

What we like about this website:
This website has an excellent design. It's clean and modern with a focus on the services they offer. It also shows the target location in the banner so customers know exactly what place the company covers. We were also a bit creative with the main navigation and put this below the banner on the website.
The website uses high-quality images to showcase the quality of its workmanship.
No1 Roofing (Not One Base Media Design)

What we like about this website:
With the year of establishment in the banner and the accreditations under the banner, the website instantly builds trust. The services are also nicely laid out when you scroll down.
The website has a great design. It's modern and uses high-quality images. The company has put their Checkatrade and Google reviews on the homepage, which is always good to see.
You can also find a list of the locations they cover and a very detailed lead generation form on the website.
Aspect Roofing (Not a One Base Media design)

What we like about this website:
At first glance, it's easy to see that Aspect Roofing is a reliable and trustworthy roofing company. Their website is well-organized and provides detailed information about their services. The photos are also very professional, further reinforcing the notion that this is a reputable business.
This website nicely lays out the services in columns; when you click through them, they have dedicated pages for each service. The customer reviews are clearly displayed on the website to gain users' trust.
London City Roofing (Not One Base Media Design)

What we like about this website:
Website users can immediately see this is a good company from the video in the banner, which shows the staff working on a project.
The website also has the service "roofing" and the location in the domain and company names. This makes it clear what they do and where they do it. The contact form in the banner is also an excellent idea for collecting leads.
Overall, we think that this roofing website does a great job at promoting its business and services. We especially like everything is clear and concise, making it easy for potential customers to understand what London City Roofing can offer them. Great work!

Chris Ball Roofing (Not One Base Media Design)
What we like.
What we like about this website is that it is roofing-focused. Most roofing websites try to be a one-stop shop for all things home improvement, but this website does a great job of zeroing in on roofing services. This makes it easier for customers to find what they need without getting overwhelmed by too many options.
The website is also easy to navigate. The contact details are placed at the top of the page, and the navigation bar lists all the roofing services offered. This makes it easy for users to find what they're looking for and also helps with roofing SEO.
London Roofing Specialists (Not One Base Media Design)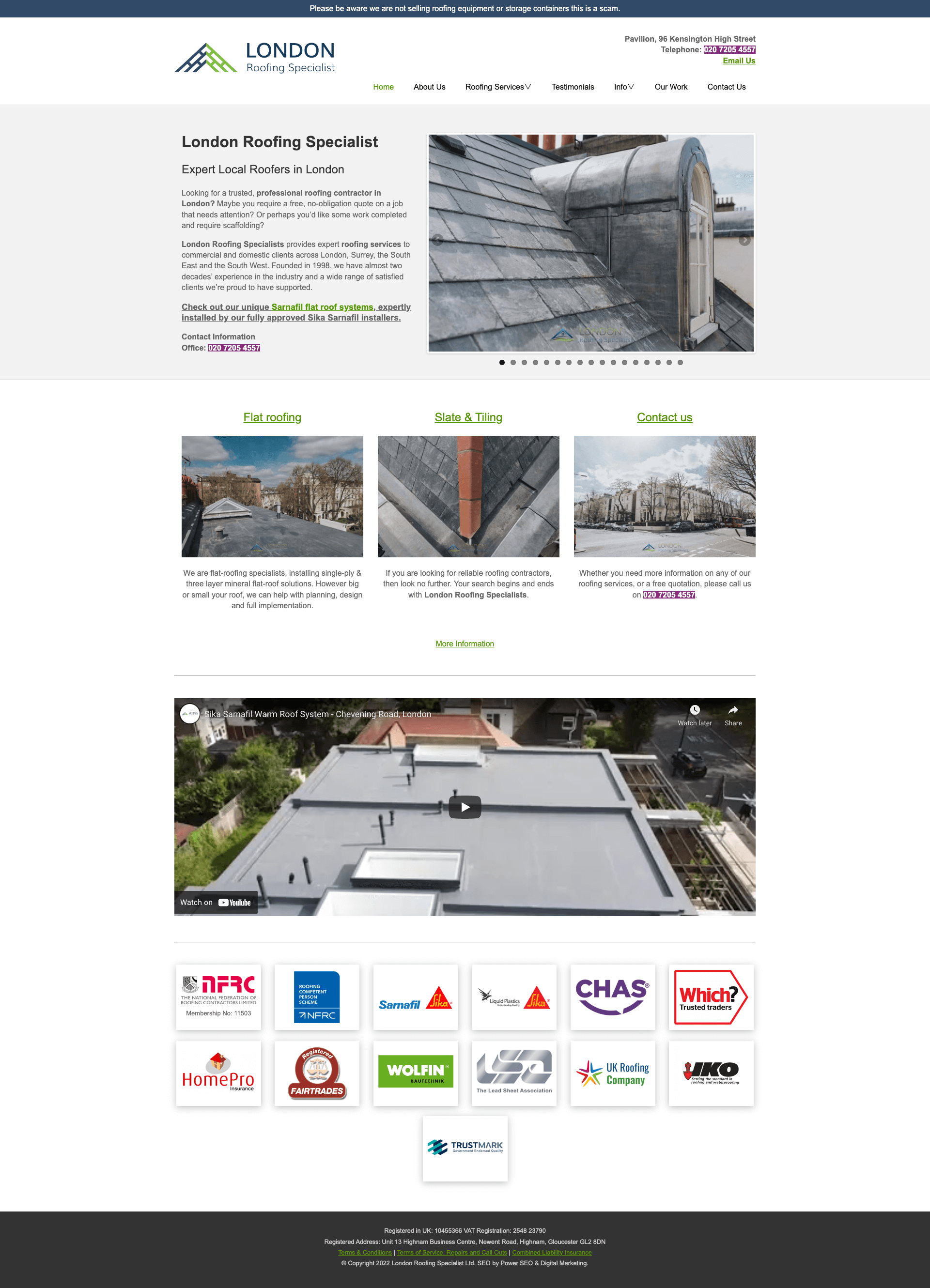 What we like about this website:
This website is very straightforward and does a great job promoting the roofing services London Roofing Specialists offer. We like how the services are divided into categories (flat, slate and tiling, lead work, fascias and soffits, roof ventilation, scaffolding) to make it easy for customers to find what they need.
The website also uses high-quality images to show off the work that they've done and some nice drone footage of a project. This is always a good idea because it helps build trust with potential customers. Overall, we think this is a great roofing website that does an excellent job of highlighting all the essential information.
Mike Horizon (Not One Base Media Design)

What we like about this website:
Mike Horizon has a spotless and modern website that does a great job of promoting its roofing services. We love the slideshow in the banner, which is a great way to show off some of the work that they've done.
The website is also easy to navigate. The roofing services are divided into categories, and the locations are also all in the navigation. This makes it good for the search engines to index and rank the location pages, making it easy for customers to find what they need.
The contact form is also prominently displayed on the homepage, making it easy for potential customers to get in touch. Overall, we think Mike Horizon has done a great job with their website, and we're impressed with all that they have to offer.
My Home Improvement (Not One Base Media Design)

What we like about this website
We particularly like the fast drone footage in the banner, and the review is also a great touch to add trust to the website.
In addition to the website's continuous calls to action and USPs, the online calculator provides an instant quote for customers.
Overall this is one of our favourite websites out of all the ones listed.
Am Still Roofing (Not One Base Media Design)


What we like about this website
We like the main banner headline and the fact it mentions they have been a family-run business since 1974. This is great because it builds trust, and one of the most important things your website needs to do when someone lands on the page is build trust.
This is also a great video in the banner and excellent CTAs throughout the content.
Some other things we like about this website include.
The blue and red colour scheme
The overall design
The use of whitespace
The way the team is shown on the website
the live chat
The image of the founder and his moto
the roof repair video highlights
The testimonials section
The FAQs section
Blake Roofing (Not a One Base Media design)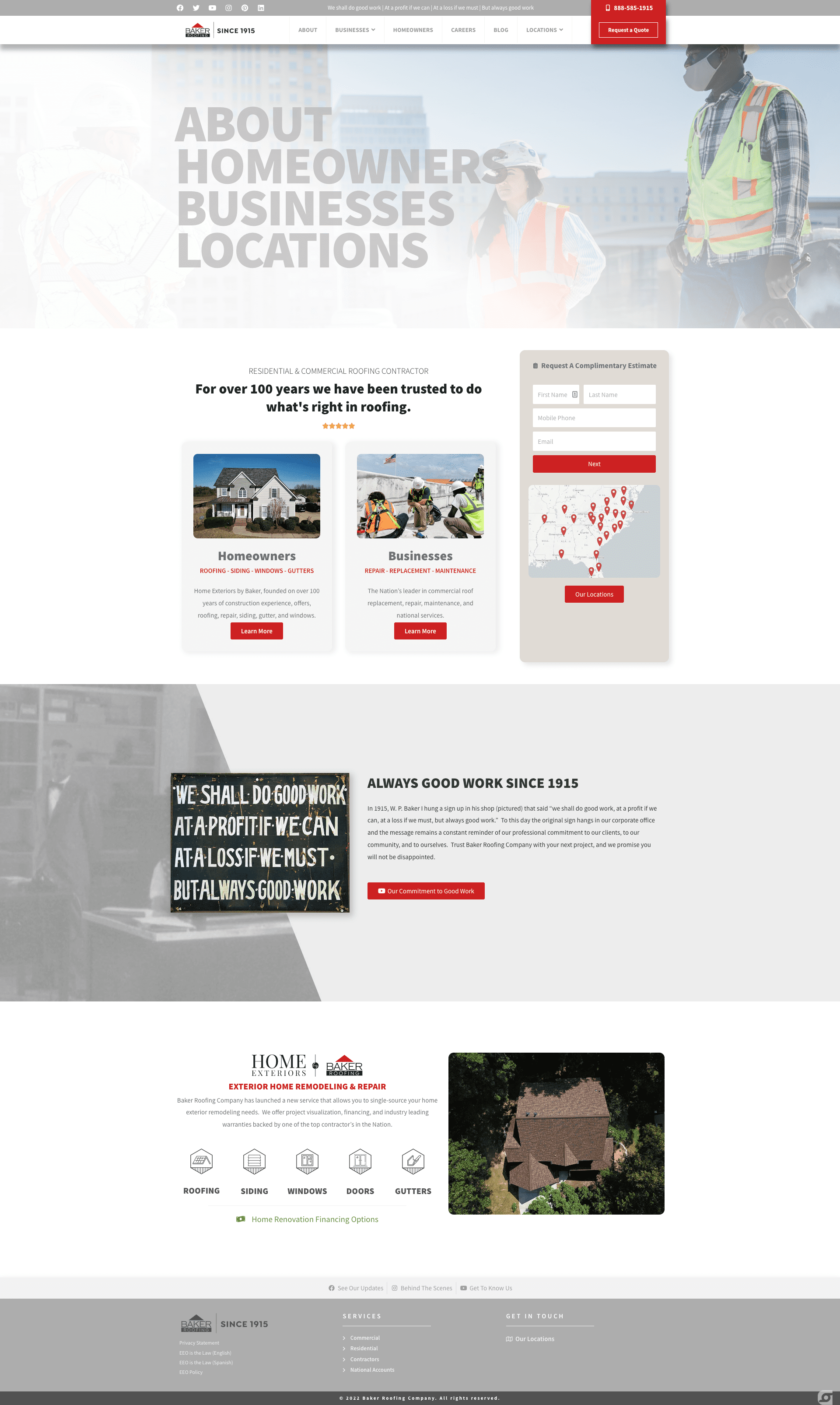 What we like about this website
The big banner looks excellent, and we also like the request for a quote button at the top of the header. This offers an instant quote for the customer. We also like the bot feature, where you can ask questions, and there are preset answers it will say back to you. Bots are becoming more and more popular in website design.
All these elements work together to create a well-rounded website.
CMR Construction & Roofing (Not a One Base Media design)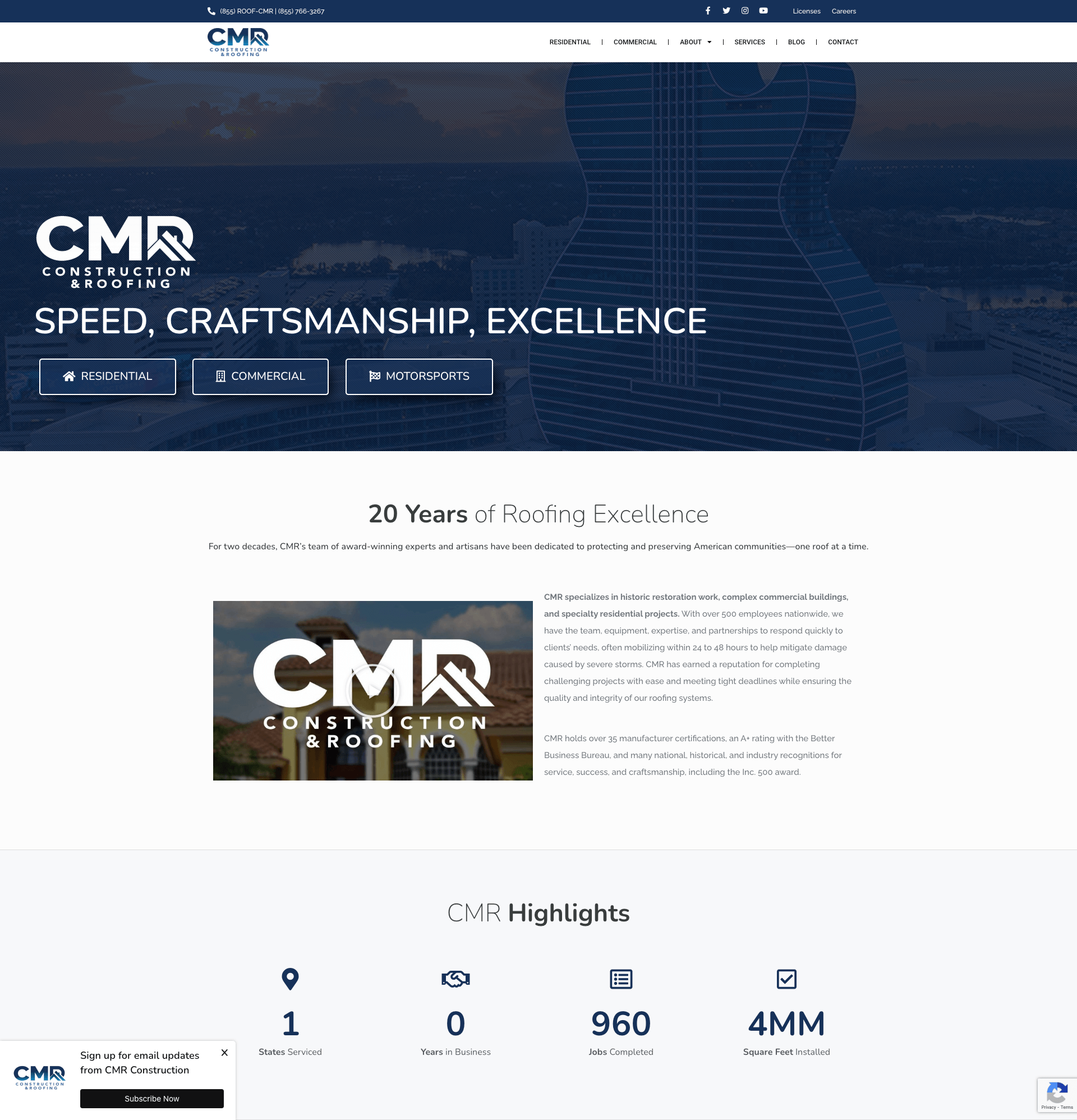 What we like about this website
As you can see in the banner, the boxes are displayed in a way that links directly to the different categories within their services, such as residential, commercial, and motorsports.
They also showcase the high-end details of their work in the video. It's clear from this website that these guys are the real deal.
It also has.
A modern design that looks professional and trustworthy
Lovely use of the colour blue throughout
Easy to navigate menus with clear links to each page
High-quality images and videos that show off the work
First American Roofing (Not a One Base Media design)

What we like about this website:
This website has everything we roofing contractors need, from effective use of reviews in the banner from Facebook, yelp and Google. A great call to action to get a free estimate. Lovely use of images of the work and lists all the services in the navigation. It also has a feed of recent projects they have worked on, which goes into great detail about the work carried out. This website has very good website design and branding.
Roofing website design FAQ
How long will my website take to build?
It really depends on the roofing website design company you use and how much content you already have prepared. We recommend having at least 30 pages of content ready for a roofing website before starting the project.
This will help the roofing website design team understand your roofing business and what services you offer in your area.
If you don't have any content, no worries! We can help write content for your roofing website as part of our roofing marketing services.
On average, a roofing website will take anywhere from 12-16 weeks to complete depending on the size and complexity of the site.
A simple roofing website with just a few pages can be completed in as little as eight weeks.
How many pages does my website need?
Again, it depends on the roofing company and what services you offer. A good rule of thumb is to have one page for each roofing service you offer. For example, if you specialize in residential roofing, commercial roofing, and solar roofing, you should have at least three pages on your website.
If you have a lot of services or products, you may need more than one page per roofing category. For example, if you sell both shingle roofs and metal roofs, you may want to have two pages – one for shingle roofs and one for metal roofs.
The bottom line is that your website should have enough pages to cover all of your roofing services. Before we start work on your website, we will plan out all the pages you need and suggest them to you.
How long does it take to rank on google?
The answer to this roofing SEO question is a little more complicated. It depends on your roofing company's website, the keywords you are targeting, and the roofing competition in your area.
If you have a brand new website, it will take some time to rank on google. On average, it takes about six months to start seeing results from SEO. However, if you have a well-optimized website targeting low-competition keywords, you could start seeing results in as little as three months.
To summarise, there is no one-size-fits-all answer to this roofing SEO question. The best way to find out how is to get us to analyze the performance of your current website and we will give you an estimated time.
What if I don't have many pictures of my work?
We highly recommend using your own images and having as many professional photos on your website as possible. Professional photos will make your roofing website look more polished and will help you attract more customers.
However, if you don't have any professional photos, no problem! We can help you find high-quality stock photos that will fit your roofing website perfectly. Just let us know what kind of photos you need and we'll take care of the rest.
Why will people choose my website over my competitors?
There are a lot of roofing websites out there, so it's essential to make yours stand out from the rest. Here are some of the things that will make people choose your website over your competitors:
– A well-designed website: first impressions matter! If your roofing website looks dated or unprofessional, people will be less likely to use your services. Our roofing website design experts will ensure your site looks impressive and represents your roofing business in the best light possible.
– Unique selling points: what makes your roofing company different from all the others? Do you have any unique selling points that will make people want to use your services? Be sure to highlight these on the website. We can help you choose USPs for the business and ensure you offer something better than the rest.
Why should I hire a website design company rather than build it myself?
There are many platforms to build your website, but some out-of-the-box templated services can be clunky and take up much of your precious time.
A roofing website design company will save you time and money in the long run. We know how roofing websites should look and what needs to go on them to attract customers. We will also do all of the roofing website maintenance for you so that you can focus on running your business.
In short, hiring a roofing website design company is a wise investment for any roofing business owner who wants to succeed online. Contact us today to get started!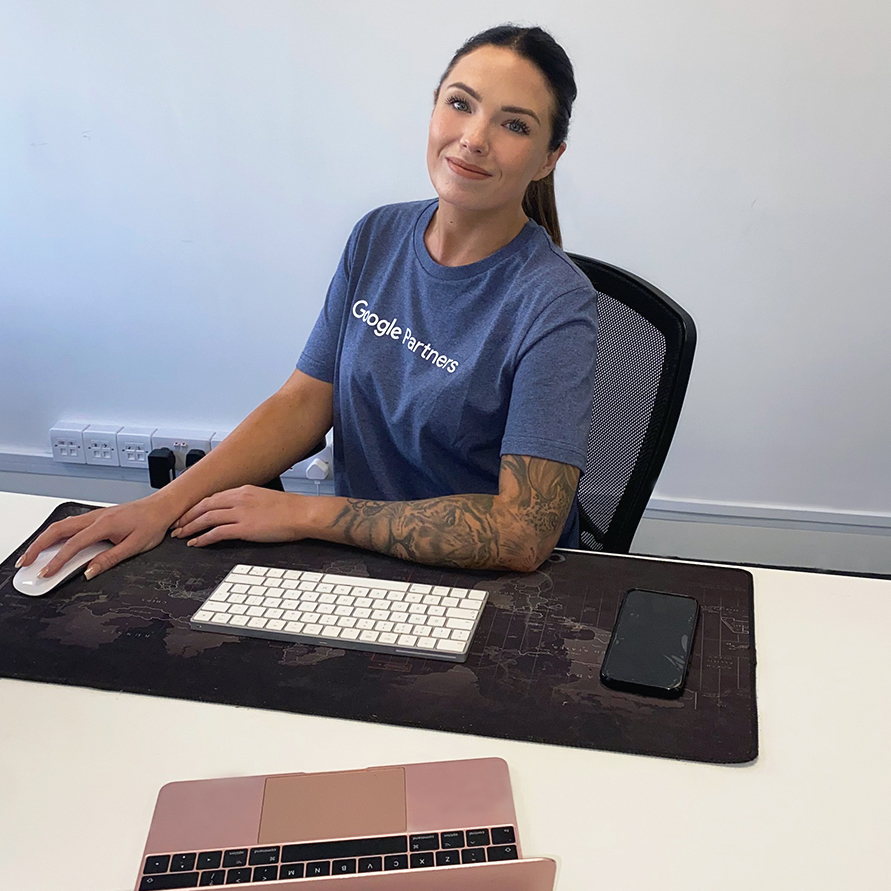 Speak to an expert
Got a quick question about your marketing? Or you want to run through the details of your next big project. We can help.
Speak to one of our experts today on 01702 668207 or send us a message.