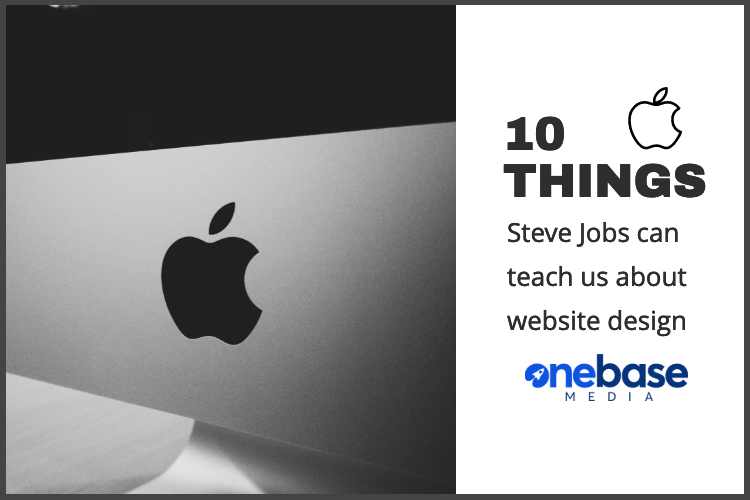 There's no denying that Steve Jobs' innovations and design cues have shaped technology. Today, his legacy lives on through the products that his company, Apple, has developed.
You might not think it, but he can teach us a lot about web design! Okay, so everyone knows that Steve Jobs wasn't a web designer. What we do know is that his vision for the future of technology was a big success. Here are ten examples that the co-founder of Apple can teach us about web design:
1. The user interface of a website needs to be easy to follow
Perhaps one of the biggest lessons we can learn from the great man is about UI design. Look at any of today's Apple products and you'll notice one thing. The user interface is easy to follow and intuitive.
2. The back-end code needs to get structured well
As time goes on, websites will need updating or refreshing in some way. If a new designer takes on an existing site, one problem can hamper their efforts. And that is the underlying HTML code, of course! Well-structured code makes it easy for designers to understand the flow of page content.
3. We must use the right fonts for the job
Typography plays a huge role in the success of any website. Jobs was instrumental in the development of TrueType fonts. It's a typography standard that we all still use today. A website can only be beautiful if we use fonts that are breathtaking on the screen – not just in print.
4. Simple is better
Want to know the biggest secret to a successful website? The answer is simplicity! Steve Jobs was a big fan of keeping things simple. It's a successful vision that got reflected in virtually all Apple products. And it's a design lesson that also benefits website design.
5. Attention to detail matters
It doesn't matter how small a design flaw appears. It's likely that website visitors will pick up on that mistake. Believe it or not, poor design elements, no matter how small they are, can have a significant impact on conversions. An interesting lesson we can learn from Steve Jobs is that attention to detail is critical. Irrespective of how important a designer thinks it!
6. A website isn't just about design
One thing even non-Apple fans can agree on is that the company's products are stylish. But, there's no point having a stylish website if it hasn't got any decent content!
7. Social proof is important
Steve Jobs cared about what people thought of his products. His obsession with form and function made Apple the top tech company that it is today.
When it comes to web design, social proof is important. We can learn from Jobs that it's important to add some social proof to a website. Doing so increases consumer confidence. Examples include things like testimonials and independent reviews.
8. It's important to focus on a specific goal
One of the biggest mistakes in web design is blurring the end goal for the design and content. Jobs had a clear focus when developing his products. And that's something we should follow when it comes to web design.
9. Think outside of the box
One of the reasons Steve Jobs was such a successful visionary was down to one thing in particular. He thought outside of the box, as it were! The same rule can get applied to web design.
10. Know your customer
A successful business will only grow if it understands the needs of its customers. No-one knew that better than Steve Jobs. A successful website must cater to the needs of its visitors.