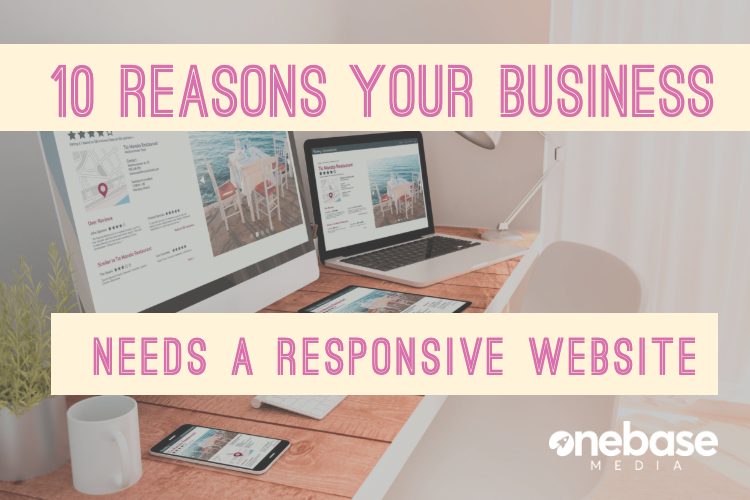 So you are probably asking yourself what is Responsive Web Design? Well, it's a method of designing and coding a website that provides a prime viewing experience across a wide range of devices, from mobile phones to desktop computers.
They are designed to increase the ease of reading and navigating without having to scroll, resize or pan as often. It allows the website to offer the same user experience no matter what device a user may be using.
Now you may be thinking so why do I need Responsive Web Design? So, here are 10 very important reasons why you should ensure your web design is responsive.
Recommended by Google.
Not very long ago now Google announced that having a responsive web design will improve your SEO.
The main reason Google favours this is because they use a single URL, making it easier for them to crawl and index the content in your domain.
It also offers better user experiences and by now you should know user experience is high on Google's list of SEO criteria.
Mobile/Tablet Usage will Continue to Rise.
The use of mobile and tablet devices will continue to increase, most people now have a mobile device on them at all times.
However many businesses have not yet picked up on this trend of increasing percentages of mobile and tablet internet users.
And the increasing use of the internet on mobile and tablet devices being the main force behind the creation of responsive design.
Over 195 million tablet devices were sold in 2013, meaning that responsive design has never been so important for those looking to optimise their online content.
Improved Local Search Rankings.
Google has already stated that responsive web design will improve your SEO, however Google has suggested that mobile optimised, responsive sites are certainly featuring in localised search results.
This is of a huge significance to high street retailers and local businesses, as it means with a responsive design website, rankings would increase.
Increased Mobile SEO Performance.
In terms of SEO, one of the main challenges posed by having a separate mobile site is you need to build the authority of this site from scratch.
And unfortunately most separate mobile sites do not rank very well in search engines, like Google.
So, getting your website redesigned as responsive will allow you to focus on SEO for one single site, meaning any links will be redirected to one domain.
Saves Time and Money.
A huge benefit is that adopting a responsive design will save you time and money.
It saves time because you are not deciding to get a designer to create an additional stand-alone mobile site, it also saves time when it comes to managing and maintaining the site.
And it saves you money because the cost to pay for developing and maintaining one website is less than having two, meaning it will result in a considerable saving of money, which could potentially be spent elsewhere on something like SEO.
Improved Local Speed on Mobile.
According to Google Page Speed Developers Standards recommend that the content above the fold on a mobile device should load in under 1 second, while the whole page loading in under 2 seconds.
When users have to wait longer for a page to load,m they will most likely leave your site and choose to go elsewhere, which is why having a responsive design is important.
Easier to Manage.
A problem with having separate desktop and mobile sites is that you are creating twice the amount of work for yourself.
Maintenance of the site will take longer and you will have to create two separate strategies for things like marketing and SEO, which means having double the amount of costs.
It makes more sense to invest in a responsive website design that will be quick to update and easier to manage.
Social Shares with More Impact.
If your site is responsive you can build social shares from just one URL and when the sites does get shared or wherever the links are viewed (on mobile, tablet or desktop) all of the content will be clear and easy to navigate.
Social shares impact SEO, having multiple versions of the same page will weaken the impact of any shares.
Better Online User Experience.
Responsive design just gives an overall better user experience for all users.
The reason for this is because it means users don't have to fool around with zooming, shrinking and panning text and images on the screen, instead all of the content automatically adjusts to the screen size of the device.
This makes it easier and more convenient for users to read and navigate on your site, here are some statistics to back up why this is so important;
According to Google's Think Insights on Mobile if a user arrives at your site and is disappointing or doesn't see the content they want, then there's a 61% chance they will leave and head to a different site.
When a user has had a positive experience with your mobile website, that individual will be 67% more likely to buy a product or use a service.
48% of users stated to Google that when a site doesn't function on their mobile device it makes them feel that the company doesn't care for the business.
Consolidate Analytics.
With a single responsive site it means that there's no longer a need to track user journeys, conversion paths, funnels and re-directions between multiple versions of your site.
Analytics tools like Google Analytics are now optimised to handle multiple devices and responsive reporting.
Have you got a responsive design website? Well if not I would start considering it, as it will make a big difference in all of the above.
Responsive design is only going to grow and get bigger as the amount of mobile and tablet devices increases, so be sure to discuss responsive design when designing your website.