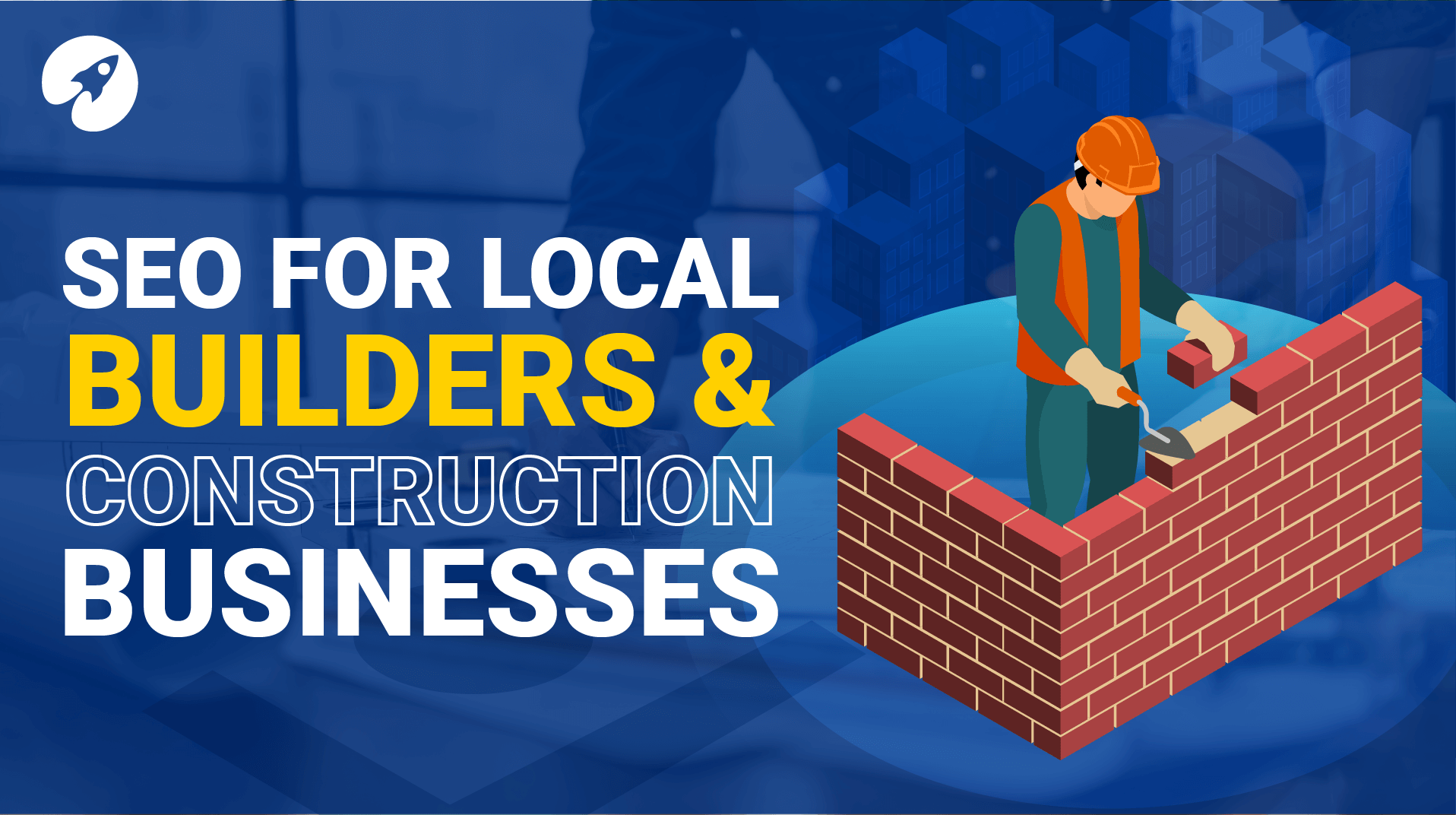 Introduction:
Are you looking forward to dominating the Google search in 2023?
Do you want to level up your search engine optimisation game and get more leads, sales & conversation for your business?
If your answer to the above two questions is yes, you have landed on the right spot.
In today's blog post, we'll walk you through the SEO process for local builders & construction companies, allowing them to dominate the search engine rankings and get maximum business from Google searches.
Whether you have been in the construction business for a decade or just started, this blog will give you surefire tips to level up your construction SEO game in 2023 & beyond.
Following are some highlights of the post:
Why do local builders & construction companies need SEO?
On-page SEO techniques
Off-page SEO techniques
Technical SEO
Google My Business optimisation & a lot more
So, get yourself a cup of coffee, sit back & relax as we dive deep into the blog post.
Why Local Builders Need SEO?
Google search "best restoration companies in town, county" or "best roofing companies town, county". You need to see your website ranking on top of Google for these keywords to avoid losing business to your competitors.
This is where search engine optimisation, or SEO, comes into the picture.
Search engine optimisation is the process of better optimising your website's web pages & content with the best practice so that you can rank your site on Google to get more traffic, leads, conversions and sales.
Most local builders or construction companies have about 10-15 pages, each with a few lines of content.
This is a great start, but to stand out in the market and rise above your competition on Google, you need more content-rich pages.
With the help of search engine optimisation, you can level up your online marketing game and take your construction business to awesomeness.
#7 On-Page SEO techniques for local builders
#6 Off-Page SEO Techniques For Local Builders
#5 Technical SEO
#4 Google My Business Page
#3 Create Or Optimise Google My Business Page
#2 Get Some Awesome Reviews
#1 Citations
#7 On-Page SEO Techniques For Local Builders
On-page SEO, also known as on-site SEO, is the process of performing SEO activities on your website, web pages or content.
Most local builders and construction companies overlook this process and regret it later.
So, to stand out from the crowd, leverage the on-page SEO to the fullest.
Here are some on-page SEO factors that you need to take into consideration.
Keywords Research
Keyword research is the pillar of the entire SEO campaign.
It can either make or break your SEO game. So, make sure you pay attention to this process.
The rule of thumb for this process should be to find the best possible keywords that relate to your business and have a decent search volume with low competition.
Sounds too tricky?
To help you make the process easy, you can leverage some best keyword research tools in the market, which include Ahrefs, SEMRush or Ubersuggest.
Pro Tip: Try and target more long tail keywords, which generally include 3-4 words. These keywords are easy to rank and have decent search volume as well.
Title & Meta Revamp
You are done with keyword research and have a bucket of 10-15 keywords for each service page.
Now is the time to work on your title & meta descriptions.
The title tag is another important factor that will help the search engine and users better understand the context of your web page ranking on Google.
Create a catchy yet SEO-optimised title tag with your targeted keywords that will entice the user to click on your web page more than your competitors.
Pro Tip: Include your targeted keyword at the beginning and keep the title tag's character within 65.
Watch this video to write the perfect meta title and description.
Speaking of meta descriptions, you can keep them within 160 characters and include your targeted keywords and some secondary keywords for which you want to rank.
Remember: Meta description will appear differently than you have written it.
Google picks meta descriptions as per their own whims and fancies.
Heading Tag Optimisation
To rank on Google, your web page content should be optimised appropriately, and also the users should be able to read it clearly without any hassle.
You must include proper heading tags and optimise them with your targeted keywords whenever needed.
Although the heading tag has slightly lost its relevance in ranking content on Google, including one or two will give you an edge over your competitors.
Following is the best pattern to follow for heading tag optimisation:
Heading 1 [Use only once or twice in your content]
Heading 2 [Can be used multiple times; we suggest 5-10 depending on the content length]
Heading 3 [Can be used multiple times]
Pro Tip: Always include your targeted keywords in your heading tag.
Content Optimisation
Here's another essential on-page SEO factor determining whether your content will rank on Google.
Content optimisation is the heart of your entire SEO campaign. It can take your SEO game to a whole new level and open the floodgates of online traffic for your website.
Content optimisation includes but is not limited to having keywords in your content, sprinkling keywords, heading optimisation, user experience, content flow, content structure, multimedia and much more.
A great tool we use for on-page content optimisation is Surfer SEO.
This tool will suggest how many headings a page needs and which keywords you will need to use.
Pro Tip: Try to create helpful content for users and not for search engines.
Website Speed Optimisation
Website page speed is a ranking factor. Don't believe us? Check out the image below from Google's webmaster guidelines.
This update came in 2018, and since then, website speed has been a ranking factor for mobile searches.
Site speed not only impacts your ranking but the overall business performance as well.
An excellent and fast-loading website with a hassle-free user experience will assist the users in taking action fast, leading to more conversions.
Here are some guaranteed tips for skyrocketing the speed of your website:
Use superfast hosting Compress all your images and leverage your browsing cache (Use TinyPng) Keep your content free from too many multimedia elements Minify CSS and JS files Reduce server response time & avoid long redirect chains.
To test your website speed, use the speed testing tool GTMetix.
Page Experience
Page experience is nothing but a set of signals that Google uses to measure how web users perceive the experience while interacting with the website, web page or any content.
This is valuable information for Google, and it helps determine which website should be ranked better on search engines.
Page experience is measured in terms of bounce rate, the average on-site session, time spent by a user on-site and a lot of information that Google directly fetches from Google Analytics.
For example;
A bounce rate of below 90 indicates better ranking and positioning on Google SERP.
Pro Tip: To improve the page experience of the website, you can include images, FAQ sections, videos, infographics and audio files on your website or content.
Alt tags
Image alt tags are also an essential factor for on-page optimisation. You can get organic traffic not only from Google SERP but also from Google Image Search.
Did you know? Around 1 billion people use Google images daily.
This indicates a huge potential to drive traffic via Google image search.
However, this can only be successful if you have leveraged alt tags in your images.
Using image alt tags, you can optimise your images for search engines.
In fact, it also helps visually impaired individuals better understand your content's context.
Pro Tip: Include your targeted keyword in all the images, but make sure to make them unique.
Internal Links
Internal links are hyperlinks from one page to another on the website site. They are the real secret sauce to levelling up your rankings in no time.
Yet internal linking needs to be given due respect for local builders & construction companies who want to dominate search engine rankings.
Internal link helps to pass link juice or authority from high-ranking webpage to low-ranking webpages.
Using the correct internal linking strategy, you can easily rank all your low authority web pages, create a better user experience, decrease the bounce rate of your website, improve the conversion rate and most importantly, help search engines to crawl better and index your site.
Here's an example of internal link building, let's say you have written a blog post titled "The best ideas for small lofts, " which ranks very highly on Google.
If you have keywords scattered throughout the content link "brickwork" or "electrical work" and have service pages dedicated to these services, you will want to link the keywords to your service pages.
This will pass link juice, and Google will rank those pages higher.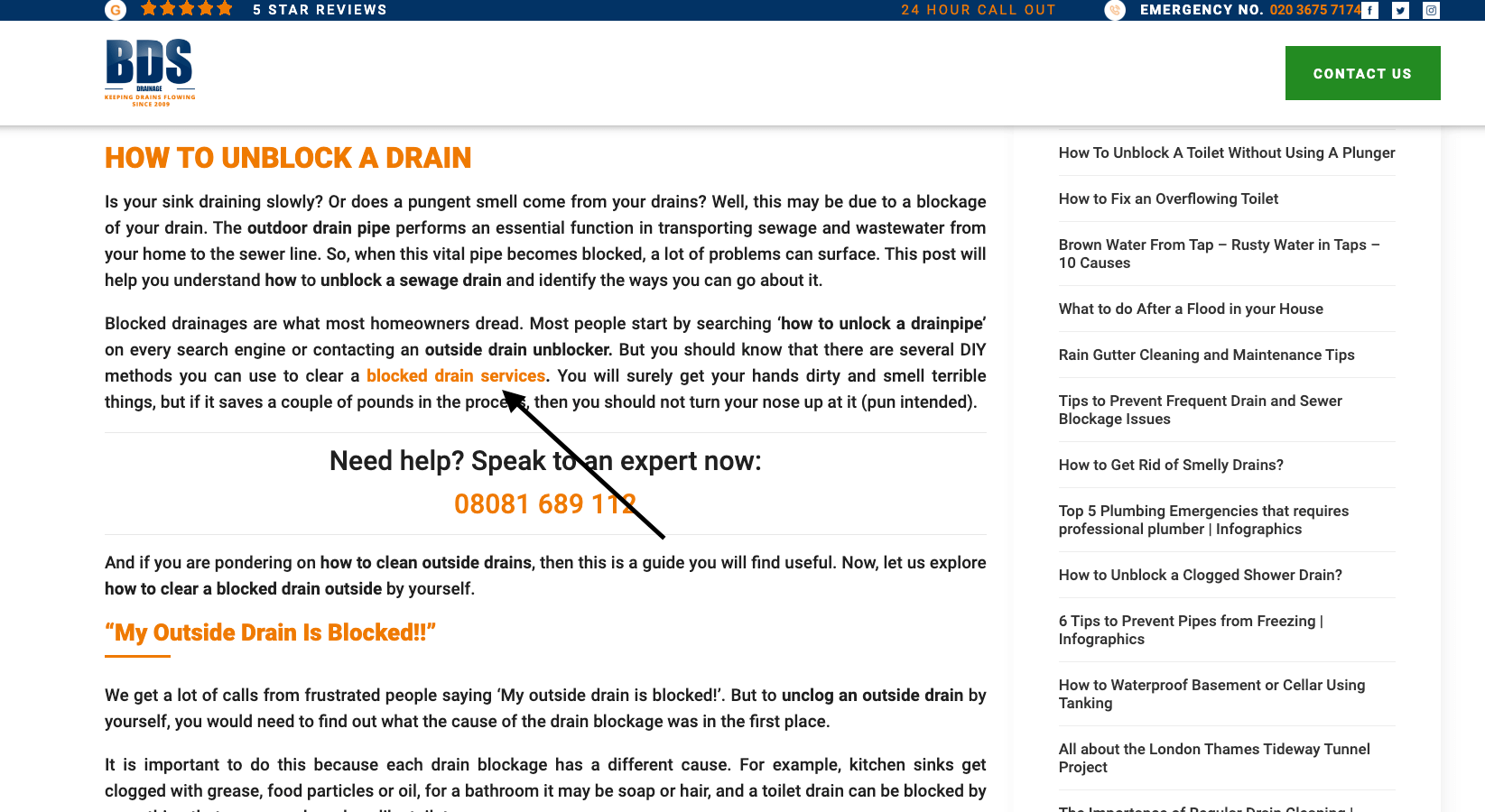 Here are some tips for leveraging internal links for better rankings:
Link from high-ranking webpages
Keep a balance between exact match anchor and generic anchor
Keep internal links do-follow
Add internal links to the footer section of the website
#6 Off-Page SEO Techniques For Local Builders
Whether you agree with us, off-page SEO determines 90% of your website's ranking.
Rand Fishkin, one of the top minds in SEO, researched in 2019 with 1500+ professionals from the SEO field and surveyed to find out which is the most important metric that Google takes into consideration for ranking a website on top of SERP.
And guess what? The quality of backlinks pointing to a website was listed as the 2nd most crucial factor.
Below listed are some techniques to build high-quality contextual backlinks to your site.
Guest Posting
Guest posting tops this list because it is still one of the most powerful and guaranteed ways to build high-quality backlinks to your site.
By contributing valuable content to another's website, you can get a link back to your website.
Most webmasters think of guest posting as the most difficult link-building technique. However, this is different. If you follow the right method and play your cards wisely, you can contribute many guest posts and level up your SEO game.
Below are some tips for guest posting:
Reach out to bloggers with a relevant and stunning pitch Always add value to your guest post content and make it exceptional for the webmaster Leverage keyword modifiers to find websites that accept guest posts.
Here are the keyword modifiers:
+ "write for us"
+ "Submit an article"/" Submit a guest post."
+ "contribute guest post"
+ "contribute to our blog"
+ "become a guest blogger"
+ "guest blogging guidelines"
+ "contributor guidelines"
Pitch for guest posting: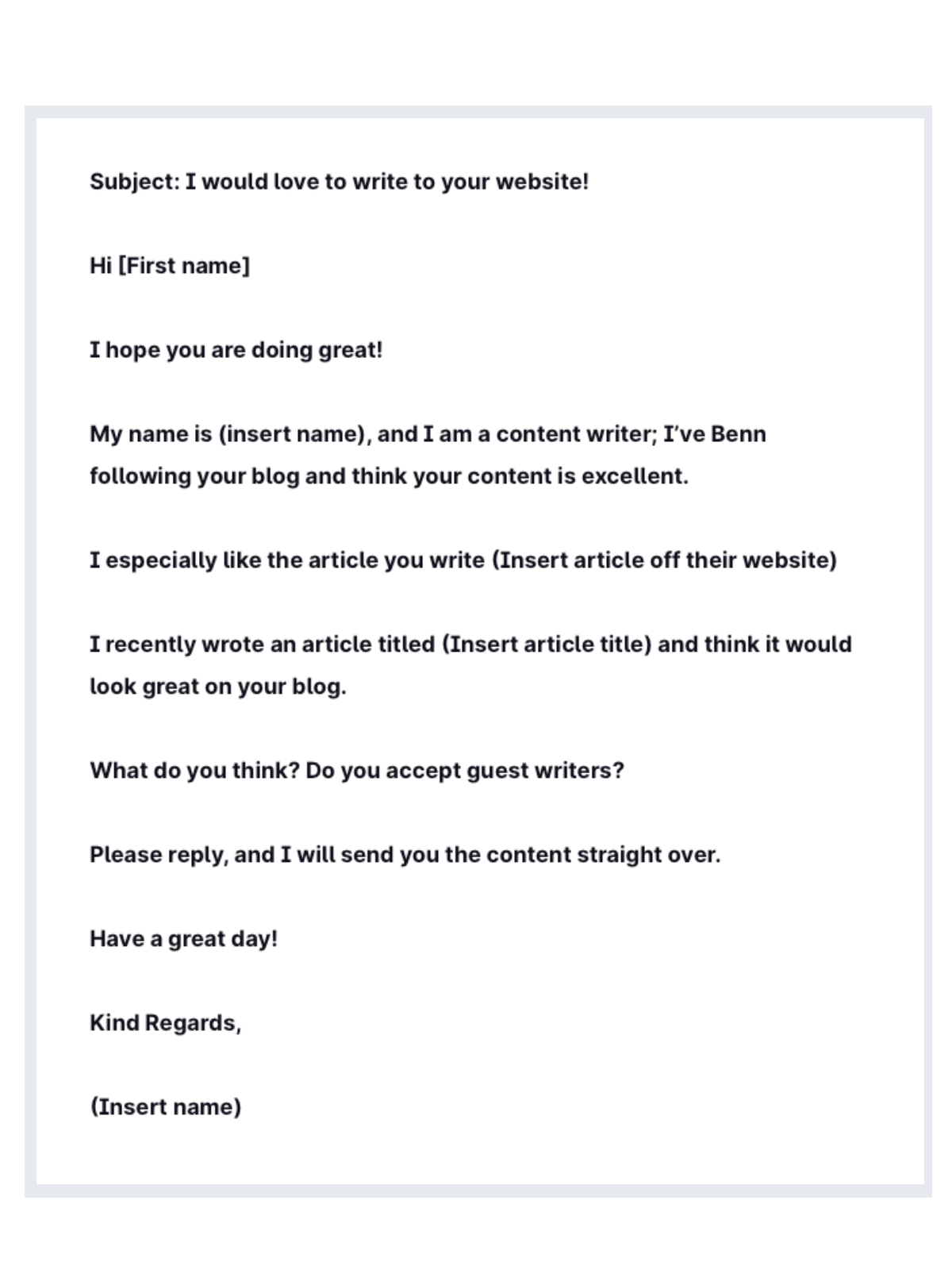 Relationship-Based Link Building
As you can conclude by its name, relationship-based link-building establishes a mutual relationship between bloggers.
It is similar to reciprocal links, with the only difference being the involvement of high-quality websites and bloggers with years of experience.
Example of relationship-based link building;
You own a website, www.londonplumber.co.uk, and you reach out to a blogger for link building who owns www.allaboutinlondon.com.
In this case, you can ask for a backlink by contributing an article on www.allaboutinlondon.com and in return, you can also give a backlink to www.londonplumber.co.uk by mentioning the name of the blogger or linking to any relevant article.
Here are a few things to keep in mind:
Relationship-based link building only works with a website with high DA and good traffic.
Reach out to only niche-specific bloggers who own top-notch website.
You can check the website statistics using the Ahrefs tool.
Paid Links
As the name says, paid links are nothing but sponsored posts on other websites.
The hard truth is many website owners will give not give you links for FREE.
So, if you have got the budget, you can go with paid links and say goodbye to all the hassles of guest posting, relationship-based link building and blogger outreach.
Third-Party Link Exchange
A plethora of websites on the internet offer author accounts for sale.
You can become a contributing author for such websites by paying a small fee.
But how is this going to help with link building?
Here's how?
Get an author account for one such website with good traffic and high DA.
Reach out to all the authority bloggers & webmasters in your niche and ask them if they are seeking free backlinks.
Most of the time, they'll say YES, and you can contribute their article on the website for which you have an author account.
In return, you can ask them for a link back from their website to your business website.
This is a win-win situation for both parties without hurting Google's webmaster guidelines.
A great way to find websites that accept guest posts is by doing a Google search for the following:
Construction "Write for me."
Local builders "write for me."
Construction "guest posts"
Construction "guest posts"
This will pull up thousands of websites that accept guest posting.
Directories Submission
This is the age-old technique of creating backlinks to your site by submitting your business information to various online directories. This technique works like a charm to level up your local SEO game.
Directories are nothing but an online portal that lists businesses under various categories. This listing helps customers to find relevant companies near their locality.
Here's one classic example of a directory-based backlink:
You can see the website link in the bellow right-hand corner. It is a no-follow link, but it will surely help you in local SEO.
Forum Submission
Do forum backlinks still work in 2023? Not as much as they used to work in the early 2000s.
Internet forums are nothing but discussion websites where link-minded people can register and discuss any niche-specific topic, product or service they seek.
You can create forum links by answering the questions asked by users or by creating your profile.
Once you have created your forum profile, you can fill out all the relevant information and mention your website URL, as seen in the above image.
#5 Technical SEO
Let us now understand the essential technical SEO factors for local builders and construction companies.
Technical SEO involves auditing and fixing minor technical glitches on the website.
If you do not have a website development background, this process may require help from a professional developer.
But in this article, we will give you the skills to identify the errors so you can give them to develop and know they are being done correctly.
First of all, go to your SEMRush account and set your website up as a project, now go to the website audit feature and run a technical audit.
The tool will now show you a list of errors and warnings; click this to see the issues.
Give this to a developer and ask them to fix them.
Once they are completed, update the tool on SEMRush, which will confirm the changes.
Below are some technical SEO strategies you can leverage for SEO for local builders & construction companies.
Schema Markup
If you want to help search engines like Google to understand better and read your web page content, then implement Schema or Structured Data Markup.
Although Scheme Markup does not have any direct relation with website ranking, they can surely help with increasing the CTR of your website.
Use this tool to check your Schema markup – https://validator.schema.org/
Mobile Responsiveness
Did you know? The mobile-friendliness of the website is also a ranking factor.
Meaning mobile-friendly sites would be given preference in ranking on SERP over websites that are not mobile-friendly. In the year 2018, Google came up with the mobile-first indexing update.
You can always check the mobile-friendliness of a website using Google's mobile-friendly test too. This tool would scan your site and check the mobile version and would give you some suggestions to make your site more mobile-friendly.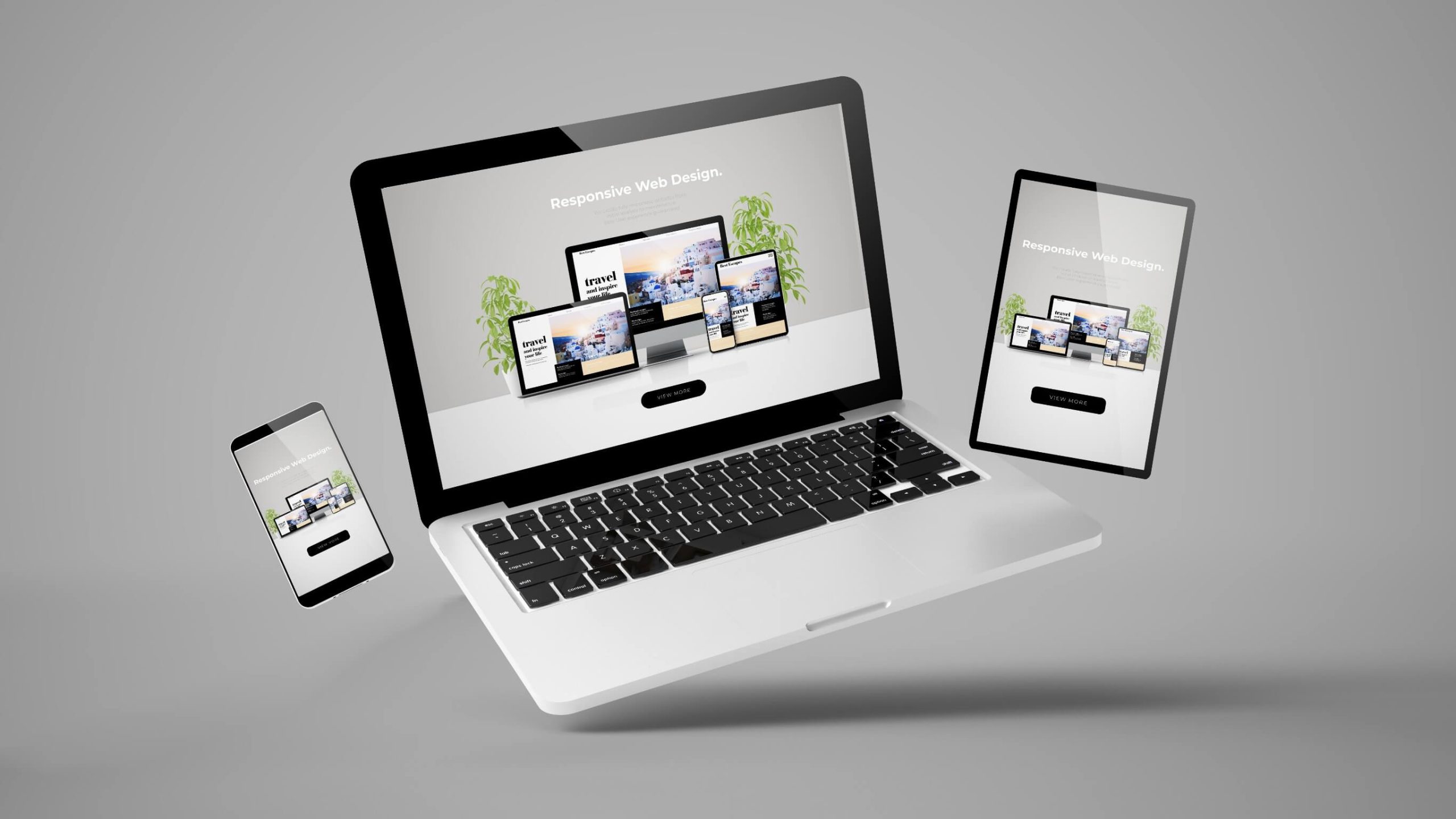 Crawl Audit Using Screaming Frog
If you want to level up your on-page and technical SEO game, start using Screaming Frog or SEO Spider tool. Trust us; this is the only SEO tool that will scan your site in and out and give you relevant suggestions for improving your on-page and technical SEO game.
404 Error Check
Status code 404 indicates that the webpage does not exist anymore. If your site is built around WordPress or a similar content management system, ensure that your 404 page is SEO optimised by a somewhat similar structure. Also, try to give options to users to visit similar pages, making navigation easy for them.
This way, you can also help the web crawler easily crawl and scan your website.
SSL Check
Yes, website security is also a ranking factor. Don't believe us? Read this blog post from Google, or check out the image below.
In 2014, Google came up with an update that all websites must install HTTP or SSL certificates if they wanted a higher organic ranking on SERP. With this, Google will create a safe and secure web-surfing experience for its users.
Pro Tip: You can contact your domain name or hosting provider to install an SSL certificate. SSL certificates are generally free of cost.
Page Indexing Issues
If Google does not index your web pages, your entire SEO effort will fail. All your essential service pages, blog posts, contact us pages, about us pages, terms and conditions pages and product pages must be crawled and indexed by Google.
You can check the crawling and indexing status in Google Search Console, a free tool to help you fix minor technical glitches on your website.
#4 Google My Business Page
Google My Business is fantastic for all the local builders and construction companies; the best part is that it is free.
This is the only tool to help your customers find you on Google Search and Maps for location-specific keywords.
Below are some tips mentioned to optimise your Google Business Profile better.
#3 Create Or Optimise Google My Business Page
First things first, you need to create and optimise your Google Business Profile and get it verified.
This is the crucial step to attract the attention of local customers and Google to level up your rankings.
For several businesses, especially in construction, Google My Business has played a pivotal role in local SEO.
Here is the list of things that you need to optimise your Business Page:
Business description
Product & services
Primary and secondary categories
Business logo
Website Link
Geotagged photos
Working hours
CTA button
Images of the team
Manage Your NAP [Name, Address & Phone Number]
This is the most crucial aspect of Google My Business. Your business's name, address, and phone number should be the same across all your online properties, including your website, social media profiles, local directory listings and Google Business Page.
#2 Get Some Awesome Reviews
Before making any purchase, customers often check for online reviews to determine whether they are making the right decision.
Positive reviews won't just help you increase your sales and conversion, but they will also help you level up your local SEO rankings because reviews are a ranking factor for local SEO.
So, try to get as many positive reviews as well.
#1 Citations
Local citations are yet another ranking factor for local SEO. We have already discussed online directories in the off-page SEO technique above. You can submit your business information and website on such directories and create high-quality citations for your site.
One important point is to have consistent business information on all the local directories while submitting the listing.
Conclusion:
In 2023, SEO remains a vital aspect of any local builder's marketing strategy. With billions of searchers taking place on Google every day, optimising your website for SEO is essential for improving visibility, generating leads, and driving conversions.
Following the tips outlined in this guide, local builders can improve their website's search engine rankings and attract more national and local customers.