Today, everyone knows to get more leads. You need a strong presence on Google.
Every day, Google processes over 8.5 billion searches (thats 99,000 a second), creating a digital tapestry of human curiosity.
Among these searches, a staggering 46% carry local intent—people seeking products, services, or information nearby.
This emphasises the crucial need for a Google My Business (GMB) listing. GMB enhances your online presence, making you easily discoverable to local searchers.
It showcases essential details like address, operating hours, and customer reviews, building trust and credibility.
With a GMB listing, your business taps into the massive pool of local searches, connecting you with potential customers precisely when they're looking for what you offer.
One of the best ways to get more of these people searching to see your business is by fully optimising your Google My Business listing.
Its free and user-friendly and is a great way to manage your online presence and connect with local customers.
In this comprehensive guide, we will delve into the key strategies and best practices to fully optimise Google My Business listing and harness its potential for driving growth.
Non-optimised profile vs fully optimised Google My Business profile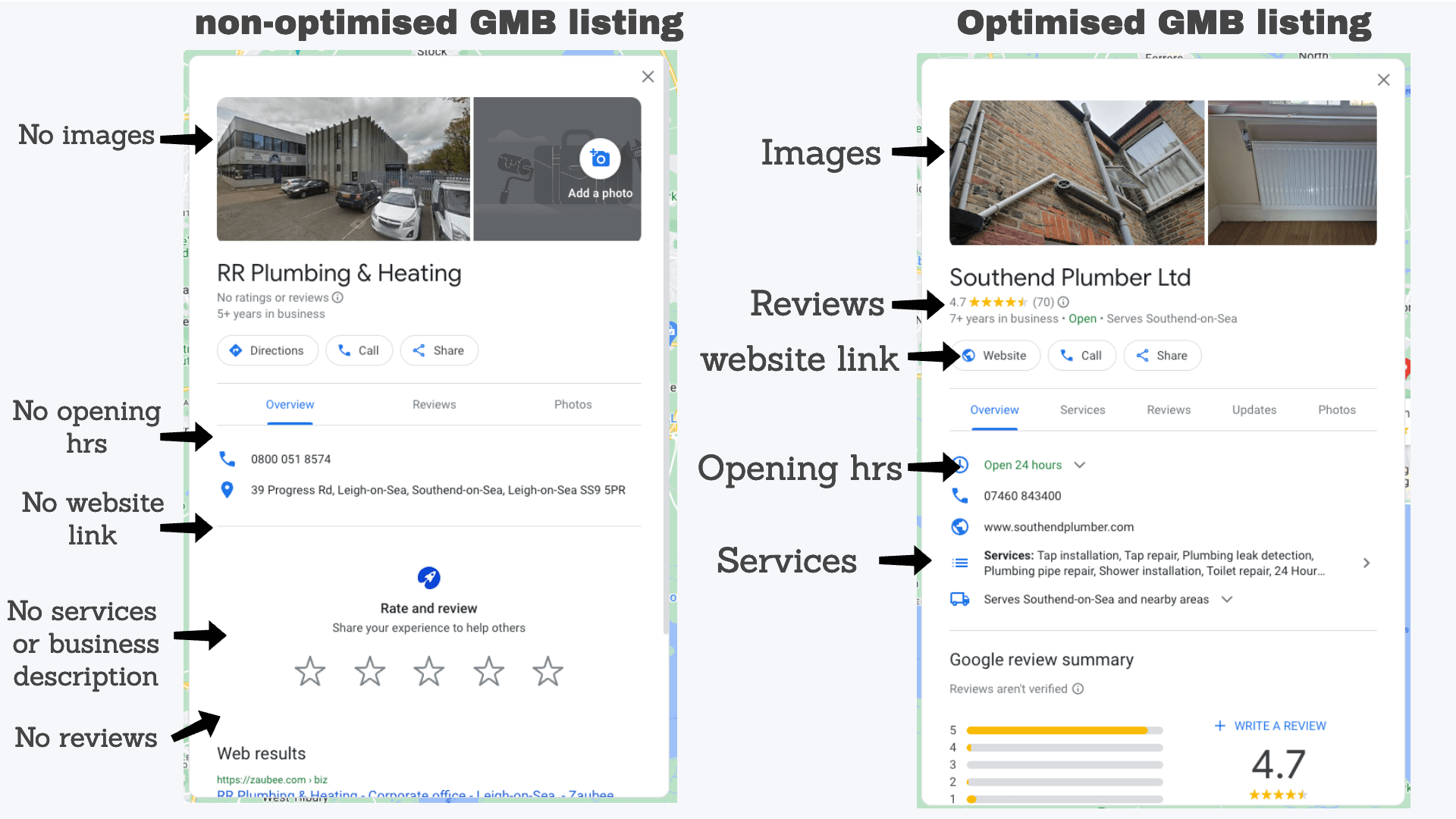 To provide you with a clearer picture of your objectives and the underlying strategy, let's compare a unfinished Google Business Profile with that of a fully optimised Google My business profile.
Understanding the Importance of Google My Business
Google My Business is more than just a listing on Google Maps; it serves as a dynamic hub where potential customers can learn about your business, discover your products or services, and access crucial information such as your address, phone number, business hours, and reviews.
Optimising your GMB listing enhances your chances of appearing in local searches, showing up on Google Maps, and attracting nearby customers.
Having a strong Google My Business presence is a great way to build trust and get more local customers.
Claiming and Verifying Your Google Business Profile
The first step to optimisation is claiming ownership of your Google My Business listing. This involves verifying that you are indeed the business owner or authorised representative.
The verification process typically involves receiving a postcard with a verification code at your business address or receiving a phone call to your business number.
Google are slightly stricter now with the verification process; after years of companies setting up fake profiles to get more exposure for their business, they now even want video proof of you walking into your premises to verify the listing.
This may seem a bit over the top, but it makes the platform far more credible.
How to claim your Google business listingHow to claim your Google business listing
Create a Google Account (or Sign In): If you don't already have one, you'll need to create one. If you have an account, sign in to it.
Go to Google My Business: Visit the Google My Business website: https://www.google.com/business/
Enter Your Business Name: Enter the name of your business. Make sure to use the official and accurate name that you are using for your business everywhere on the web.
Choose Your Business Category: Select the appropriate category that best describes your business. This helps Google understand what your business offers. You can update and add more categories later, but for now, add your main one.
Enter Your Business Location: You can either add a physical location or indicate that you deliver goods and services to customers. If you have a physical location, enter the address if you don't, specify the areas you serve.
Add Contact Information: Include your business phone number and website URL. This information helps customers get in touch with you.
Verify Your Business: Google must verify that you're a legitimate business owner. This is where you receive your postcard or, phone call, or email. Follow the instructions for the verification method you choose.
Once you are verified, this is how to optimise your Google My Business listing fully
Once your Google My Business listing is verified, there are several steps you can take to optimise it and make the most of its features fully.
Here's a comprehensive guide on how to optimise your Google My Business listing:
Complete Business Information
Ensure that all your business information is accurate and up to date. This includes your business name, address, phone number, website, and hours of operation.
Add Business Description
Write a brief and compelling business description that provides an overview of your products, services, and what makes your business unique. Include keywords about your company, a great way to do this is by doing keyword research first and then including these keyword variations in your description.
This will help you get found for more keywords and you will get more traffic and leads.
Select the Right Categories
Choose relevant categories that accurately represent your business. Google will understand your business better and show it in relevant search results. Use tools like Pleper.com and GMB Everywhere to fully optimise the categories.
Upload High-Quality Photos and Videos
Add high-quality photos and videos that showcase your products, services, premises, and staff. Use clear and attractive visuals to give potential customers a glimpse of your business.
The best photos are of staff, premises, before and afters and products.
Utilise Google Posts
https://www.youtube.com/watch?v=iiIebxCUgLQCreate regular posts highlighting special offers, events, promotions, and updates. Posts can include images, descriptions, and calls to action to encourage engagement.
Collect and Respond to Reviews
Encourage customers to leave reviews on your Google My Business profile.
Respond to positive and negative reviews to show your engagement and dedication to customer satisfaction.
You want to get more reviews than any competition in the top 3 of the map pack. Get more reviews and a better star rating.
Add Attributes
Utilise attributes to provide additional information about your business, such as accepted payment methods, accessibility features, and unique offerings.
Enable Messaging
Allow customers to send messages directly to your business through your Google My Business listing. This can facilitate quick communication and inquiries.
Set Up Booking or Appointments
If relevant, integrate a booking or appointment scheduling system with your listing, allowing customers to book services directly from your profile.
Local Citations and Consistency
Consistency is vital regarding your business's name, address, and phone number (NAP) information. Ensure that your NAP details are accurate and match the information on your website and other online directories. Post your website on local directories and niche directories.
By doing this you will send more signals to Google that you are located where you say you are, and Google will rank your map listing higher.
Using Google My Business Website
GMB offers a simple website builder that allows you to create an essential website using the information from your listing.
While not a replacement for a full-fledged website, it can be a valuable supplementary online presence or a cheap alternative.
Create Questions and Answers
Ask and answer common questions about your business to provide helpful information to potential customers.
Use Google Insights
Regularly review the insights provided by Google My Business. This data can give valuable insights into how customers find and interact with your listing.
Geo-Tagged Photos
Add geo-tagged photos to your listing. These images include location information and can further enhance your local SEO. Use online geo-tagging tools to get the longitude and latitude of your photos. this will show Google where the picture was taken, and they will rank you higher.
Regular Updates
Keep your listing current by updating it whenever there are changes to your business information, services, or products.
Website Link and Booking Button
Ensure that your website link is correctly set up and that any booking or call-to-action buttons are functional.
Monitor and Adjust
Continuously monitor the performance of your listing and make adjustments based on insights and customer feedback.
Stay Consistent
Ensure consistency in your business name, address, and phone number across all online platforms, including your website, social media, and other directories.
Optimising your Google My Business listing improves your online visibility and helps potential customers make informed decisions about your business.
By providing accurate information and engaging content, you can create a positive impression and attract more customers to your business.
Ongoing tasks for optimisations for visibility in local search results
Ongoing optimisations for more visibility on Google My Business (GMB) are crucial for several reasons: you will get more traffic and a lot more local leads. The main things to update regularly are Google posts and adding more reviews. Here's how you do that.
Posting on Google My Business:
Types of Posts: Google My Business allows you to create different types of posts.
What's New: Updates about your business, promotions, events, etc.
Events: Promote upcoming events or webinars.
Offers: Highlight special offers, discounts, or deals.
Products: Showcase specific products with images and descriptions.
Creating a Post:
Log in to your Google My Business account.
From the dashboard, click on "Posts" in the left-hand menu.
Choose the type of post you want to create.
Add relevant content, images, event details, or offers.
Include a call-to-action button (e.g., "Learn More," "Book Now") with a link.
Optimise Posts:
Use high-quality images that represent your business well.

Write clear and concise content.

Use relevant keywords to improve search visibility.
Include a compelling call to action.
Post Scheduling:
GMB does not have built-in post-scheduling, so you must manually publish posts.
However, you can use third-party tools to schedule GMB posts in advance.
Getting More Reviews
Encourage Reviews:
Provide excellent products/services to encourage positive reviews naturally.
Train your staff to ask satisfied customers for reviews.
Include a call-to-action in your email signature and on receipts.
Make It Easy:
Provide clear instructions on how to leave a review.
Create a direct link to your GMB review page using the Google Place ID or a URL generator.
Engage and Respond:
Respond to all reviews, both positive and negative, professionally.
Express gratitude for positive reviews and address concerns in negative ones.
Monitor and Manage:
Regularly check your GMB account for new reviews.
Set up notifications to be alerted when new reviews come in.
Use In-Person Prompts:
Place signs in your business encouraging customers to leave reviews.
Train staff to mention reviews during customer interactions.
Incorporate Reviews in Marketing:
Showcase positive reviews on your website and social media.
Share customer testimonials that highlight their experiences.
Follow Google's Guidelines:
Don't incentivise or pay for reviews, as this violates Google's policies.
Don't post fake reviews or use review-generating services.
Regularly engaging with your GMB listing, posting updates, and actively seeking reviews can enhance your online presence and reputation.
Remember that consistency is key, so set aside time each week or month to manage your listing effectively.
Google My Business (GMB) offers numerous benefits to businesses, particularly those with a local or physical presence. Here are some of the key advantages:
Increased Online Visibility: GMB listings appear prominently in local search results and Google Maps, making it easier for potential customers to find your business.
Free Advertising: GMB is a free tool that allows you to showcase your business information, images, and updates to a broad audience.
Accurate Business Information: Keep your business details up to date, including name, address, phone number, and hours of operation, ensuring customers have accurate information.
Engagement with Customers: Respond to customer reviews and questions, fostering a sense of trust and showing potential customers that you value their feedback.
Customer Reviews and Ratings: Positive reviews can enhance your reputation and influence customers' decisions. Addressing negative reviews demonstrates responsiveness and dedication to customer satisfaction.
Visual Content Showcase: Share images and videos of your products, services, and business environment, helping customers get a visual sense of your offerings.
Google Maps Integration: Your business location is displayed on Google Maps, making it easy for customers to find you when they're nearby.
Insights and Analytics: GMB provides insights into how customers discover your business, their actions, and other valuable data for refining your marketing strategy.
Google Posts and Updates: Create posts to announce events, promotions, and news. These posts appear in your GMB listing, catching customers' attention.
Mobile Accessibility: GMB is mobile-friendly, allowing customers to find your business online.
Local SEO Boost: A well-optimised GMB listing can improve your local search engine rankings, increasing your chances of being discovered by local customers.
Booking and Appointment Integration: If applicable, integrate booking and appointment scheduling directly into your GMB listing, making it convenient for customers to make appointments.
Attract Nearby Customers: As local searches grow, having an optimised GMB profile can help you attract nearby customers.
Insights into Search Terms: Gain insights into the keywords and phrases customers use to find your business, helping you tailor your content and marketing efforts.
Credibility and Trust: Having an active and well-maintained GMB listing adds credibility to your business and makes it easier for customers to trust your offerings.
Direct Customer Engagement: Through messaging, customers can communicate directly with your business, making inquiries and getting quick responses.
Overall, Google My Business is a versatile tool that provides businesses with a range of benefits, helping them connect with customers, improve their online presence, and drive foot traffic and sales. It's a must-have for any business looking to succeed in today's digital landscape.
Conclusion
A well-optimised Google My Business listing is a powerful tool for local businesses looking to increase their online visibility, attract more customers, and establish credibility. By following these strategies and best practices, you can unlock the full potential of your GMB listing and enjoy the benefits of a thriving online presence. Keep in mind that the digital landscape is ever-evolving, so staying up-to-date with the latest features and trends on Google My Business will help you maintain a competitive edge in your local market.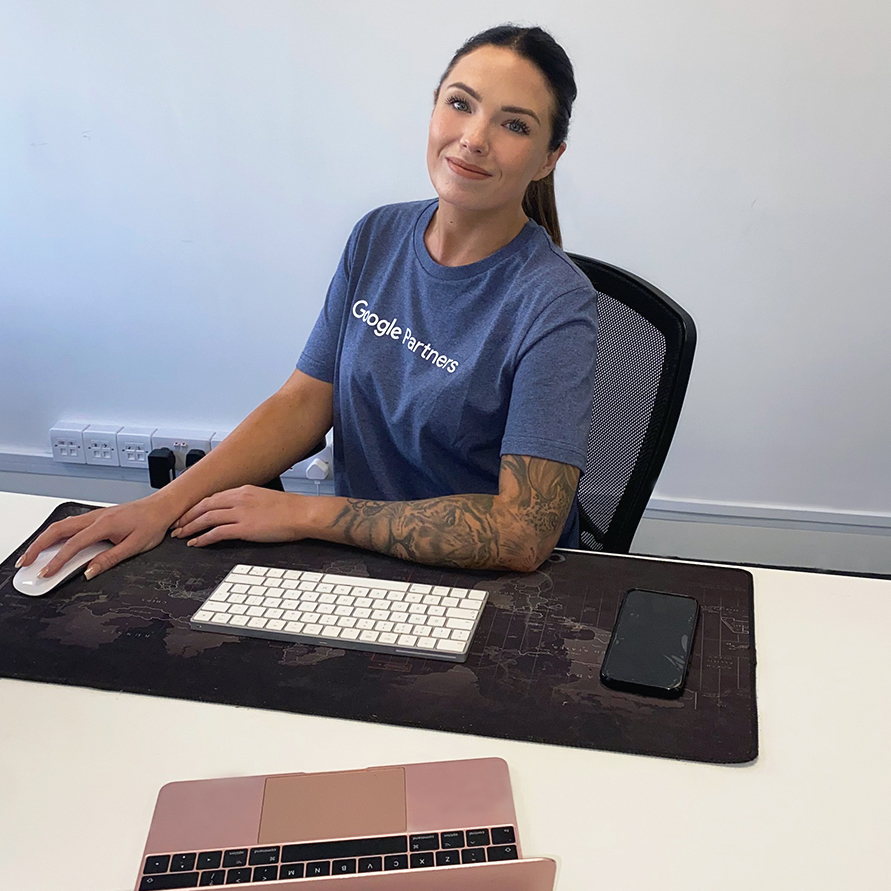 Speak to a construction industry marketing expert
Got a quick question about your marketing. Or you want to run through the details of your next big project. We can help.
Speak to one of our experts today on 01702 668207 or send us a message.