Are you looking for an honest Jasper AI review? Do you want to save more time while writing content? If yes, you are at the right place. Jasper AI is a writing tool that harnesses the power of AI technology to help you write better content in any niche.
In today's blog post, we will take you through an in-depth review of Jasper AI.
Following will be the highlights of this blog post:
What is Jasper AI
History of Jasper AI
Features of Jasper AI
Pros and cons of Jasper AI
Jasper AI customer support
History Of Jasper AI
Founded by Dave Rogenmoser and Chris Hull in 2021, Jasper AI is a top-rated artificial intelligence tool that helps businesses, web admins, marketers and companies of all types to unleash the true potential of their content marketing efforts. Jasper was launched to help companies to unlock their creative potential by creating website copies, blog posts, sales copy, email newsletters, brainstorming new ideas, writing better content and building AI-powered businesses.
The tool has over 105,000 active users that leverage the platform for various purposes. Recently, the company also raised $125 million at a valuation of $1.5 billion. The funding will help Jasper build core products and improve customer experience.
Unlike many other AI marketing tools, Jasper is more advanced and leverages the best language model in the world, which would help you to create fantastic content at 10X speed.
https://www.youtube.com/watch?v=KP3MmHSKDvI
Features Of Jasper AI
1. AI writing tool
The number 1 feature of Jasper is its ability to work as an AI writing tool. From social media copies to website content, from long-form blog posts to small & catchy captions, this tool can do it all at a lightning-fast speed. 
With this feature, you can unleash the true power of AI writing and take your content marketing efforts to a whole new level. 
You can easily switch between Jasper's 50+ writing skills, such as blog introduction, conclusion, creating FAQs, storytelling and much more, to build top-rated content that converts and ranks well on Google. 
On top of that, Jasper's integration with the Surfer SEO tool will allow you better to optimise your content from an SEO point of view.
With such excellent tools and add-ons, you can make your content writing work like a charm. Also, you don't need to spend thousands of dollars on hiring writers; that makes no sense. 
2. Jasper chat
As the name says, Jasper Chat is an AI-based chatbot that will help you to generate ideas, revise your copy and even help you write content. With this feature, you'll feel like having a natural conversation with a human friend. You can use several different prompts like:
Write a blog post 
Summarising the content
Write social media ad copies
Explain what SEO is 
Come up with a song about…
Create a blog outline 
The Jasper Chat has extensive knowledge of various topics, niches and industries. Its bot has crawled billions of articles, forums, video scripts and content on the internet to help you create the best. This also allows Jasper Chat to converse with you like an average human. 
When Jasper curates content for you, it does not pick knowledge from specific or outside sources but aggregates from over a billion data points. It comes up with the best possible outcome for your given prompt. 
Unlike ChatGPT, Jasper Chat is new, more conversational and more accurate at interacting with commands and humans. You can converse with the AI Chat instead of giving it strict prompts and commands. 
3. Chrome extensions
Jasper AI is also available as a Chrome extension to make things easier for you, allowing you to create better content 10X faster by integrating it with your workflow. It works everywhere online with WordPress, Google Docs, Gmail, YouTube, Hubspot, Salesforce, and more.
4. Integrations
Do you want to skyrocket your content marketing efforts? Do you need help creating top-rated content from an SEO point of view? If you answer yes, Jasper integration with Surfer is here to help you. With the help of Jasper and Surfer, you can write SEO-friendly content, make your content workflow more efficient and write blog posts in no time.
Here are the steps to leverage Jasper and Surfer:
Login to your Jasper account, navigate the workplace settings, and then turn on the SEO mode. Once you turn on the SEO mode, it will show you a green banner.

 

Go to the editor of Jasper and create a new document to start with. 
On top of the document, you'll see the SEO mode option. Click on that option and open the Surfer SEO dashboard, which you'll see on the left side of the document.
To leverage the Surfer SEO tool, you must log into it via your paid Surfer Account. 
After logging in to your paid account, you need to refresh the document page of Jasper. Once you restore it, you can use Jasper and Surfer to create SEO-friendly content.
 https://www.youtube.com/watch?v=KymWTCnAAaM
5. Templates
Here's introducing the best feature of Jasper AI, which is writing templates. There are more than 50+ writing templates or building blocks of Jasper. Each template is designed to help you write great content for different cases. Each template is unique and will allow you to create content with different styles, tonality and guidelines.
For example, one template will help you create AIDA content that stands for attention, interest, desire and action. In this template, you'll find fields for company and product details, product description and tone of voice. After you enter all the information AI tool will give you suggestions and create the content as per the AIDA framework.
Similar to the AIDA template, there are many templates like text summarisers, paragraph generators, product descriptions, creative story writers, blog post outlines, content improvers, blog topics and ideas generators, content rewriters, sentence expanders, blog conclusion writers and a, lot more.
6. Jasper art
How about creating AI-based art and images? With Jasper Art, you can create high-quality images and graphics in seconds. This feature will turn your imagination into unique photos and pictures within the blink of an eye. 
You need to describe what kind of image you have in mind, select from a wide range of styles, and your art will be ready in a few minutes. You can save the picture, share it and use it however you want. All the images curated will be 100% copyright free.
You don't need to hire a graphic designer for your next creation. Leverage this feature and create high-quality 2K images without wasting time and effort. 
7 . 29 languages 
Last but not least, Jasper AI supports more than 29 languages, including Chinese, Dutch, Swedish, Italian, Greek, Portuguese, Spanish, French, German and many more. With this feature, you can create content in your native language and get it ranked on Google.
Pros Of Jasper AI
Now that you have learned about Jasper AI's features, it is essential to understand some of the pros and cons too. 
1. Fast writing
The first and foremost benefit of Jasper AI is that it will help you write content at lightning-fast speed. 
You can think of Jasper as a tool in a writer's arsenal that can help speed up your entire content marketing workflow. From curating ad copies to writing long-form content, from writing social media captions to stunning emailers, Jasper AI can do it all at 10X fast speed.
Jasper AI is also significant for brainstorming ideas quickly. Today, most AI writing tools allow you to input a general topic, and it will generate a handful of relevant pointers for you. This is especially useful for small businesses that generate recurring content and run tight on the content marketing budget.
2. Error-free
No matter how good your content writer is, human-written content will always have specific grammatical and syntax errors. However, Jasper AI is different. 
As mentioned earlier, Jasper is an AI writing tool that leverages technology's power to write content without grammatical errors. In fact, Jasper goes the extra mile to make your content more transparent, engaging and compelling. 
3. SEO optimisation
Yes, 100% correct. Jasper AI can also help you with SEO and organic search marketing. 
One technique is using Jasper to write SEO-friendly titles, meta descriptions, URLs, and heading tags for you. It will give you a plethora of options to choose from. You can also create FAQs and conclusions for your blog post and content. 
It can also summarise an article while keeping the SEO value intact. For example, you can paste an entire essay in Jasper Chat and ask the tool to write the best-suited title and meta description. You can even ask to write multiple labels and meta tags to choose from or that you can tweak to make it more human-written.
4. Cost saving
While this is not 100% true, AI writing tools like Jasper can help to reduce certain costs by allowing you to downsize some roles in the marketing department. For example, you might only need a few writers to write SEO titles, meta descriptions, and ad copies for Facebook and social media. 
For some technical-oriented articles, you can solely depend on AI writing tools. 
That means you only partially depend on Jasper. Always remember this AI writing tool will only help you create human-written content.
5. Writing headlines and titles 
Headlines and titles are the most crucial part of the article. An excellent and stunning headline will help you reduce your website's overall bounce rate and keep the audience engaged throughout the content. The sad part is that developing good headlines and titles for your article or content is challenging. 
But with the help of Jasper AI, you can generate loads of catchy, SEO-friendly and optimised headlines and titles for your article. However, you'll need to get thoroughly familiar with the Jasper AI to get the proper title or headline. The more information you give in the prompt, the better the output. 
And even if you need the perfect headline or identification, you can always tweak your wording and combine the results to create the best title for your next article.
6. Make the content more engaging
Jasper AI is an advanced AI-based writing tool that can curate sentences and phrases like professional content writers. It goes beyond making content easy to read, crips, more exciting and convincing, especially with the highly technical topics. So, if you want to write a compelling article about technology with no writing experience, you can leverage Jasper AI. 
For instance, you can easily create readable updates on a medical research project or explain complex scientific topics to someone without training. Additionally, some tools make content in any specific tone you. 
You can make it a formal, narrative, creative or informative blog post with many pointers. For example, you can write about updates in the world of technology or explain more complex technical terms to someone who needs more training or experience. Moreover, you can also set the tonality and style of the writing as promised. 
Cons Of Jasper AI
Now let us look for some of the drawbacks of Jasper AI in this review
1. Google is against AI content
Content created by Jasper AI won't help you with ranking on Google. Regarding automatically generated content, Google's guidelines are consistent and clear. The search engine giant says, "Using automation to generate content to manipulate search rankings violates spam policies". 
This indicates that using Jasper to level up your SEO game is a big NO. 
That being said, you can always use the tool to create helpful content. However, it is produced. If AI-generated content does not add value to the end users, it won't rank on Google and vice-versa. 
2. Copy content issues
Jasper AI tool constantly scraps the internet for examples of well-written content, which could be better for SEO and against Google's guidelines for helpful content. AI writing tools will tweak the content, change certain words here and there, and deliver outdated content that will be useless. 
Most of the content generated by AI tools will have plagiarism issues. However, you can change them by adding words and sentences to make them more unique. 
3. Lacks human emotions 
AI-generated content lacks human personality, emotions and nuances behind the content. AI writing tools can only learn from what they are trained to do, while humans have more extensive knowledge of the subject and can indeed write more about a specific topic at which they have the upper hand. 
Remember, a top-rated writer can add emotional value to the content and make it more humanised. 
Summary
In conclusion, exploring the capabilities of Jasper AI has been an enlightening journey into the world of AI writing tools. With its remarkable ability to generate coherent and contextually relevant content across various domains, Jasper AI has certainly established itself as one of the leading AI writing tools in the market.
The flexibility and adaptability of Jasper AI are particularly impressive, allowing users to generate blog posts, articles, and even creative pieces with relative ease. Its natural language processing capabilities and vast knowledge base enable it to produce high-quality content that rivals human-generated writing.
However, whilst Jasper AI offers an exceptional level of assistance, it is important to acknowledge that it is still an AI tool and not a substitute for human creativity and critical thinking. It may struggle with complex or nuanced topics, and its content generation should always be reviewed and edited by human writers to ensure accuracy and maintain a personal touch.
Furthermore, the best AI writing tool ultimately depends on individual needs and preferences. Different tools may excel in specific areas, such as language proficiency, specialised industry knowledge, or creative writing styles. It is essential to consider the specific requirements of your writing projects and experiment with multiple AI writing tools to find the one that aligns best with your goals.
In conclusion, while Jasper AI stands out as a powerful and versatile AI writing tool, it is crucial to strike a balance between harnessing its capabilities and incorporating human expertise to achieve the finest results.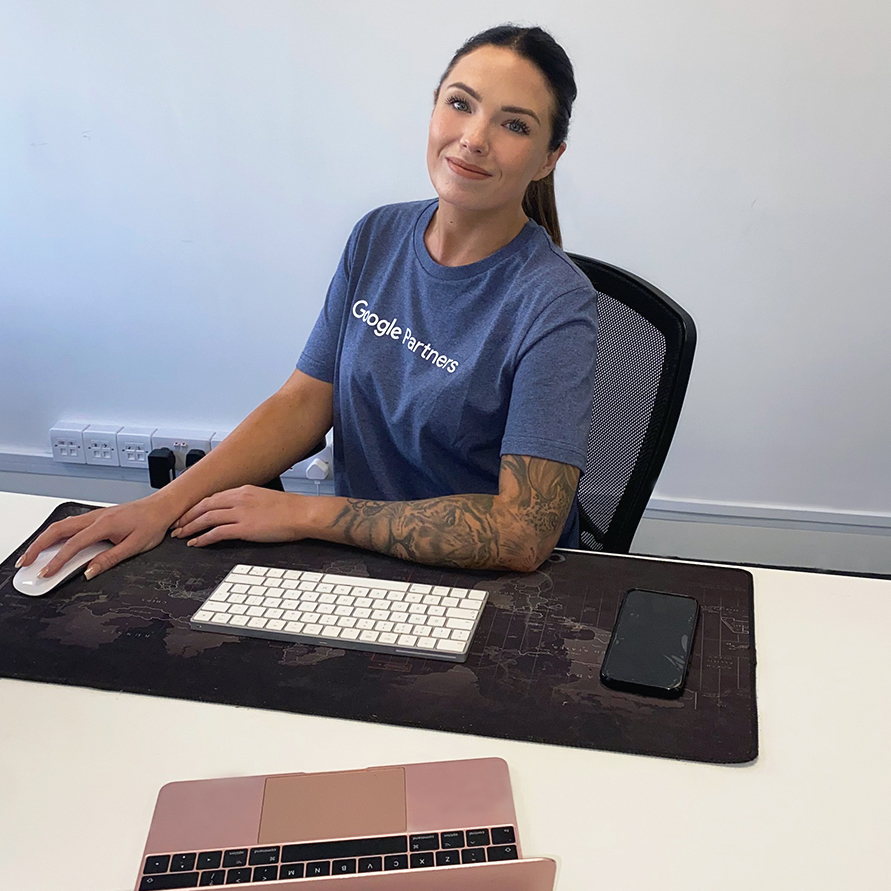 Speak to an expert
Got a quick question about your marketing? Or you want to run through the details of your next big project. We can help.
Speak to one of our experts today on 01702 668207 or send us a message.