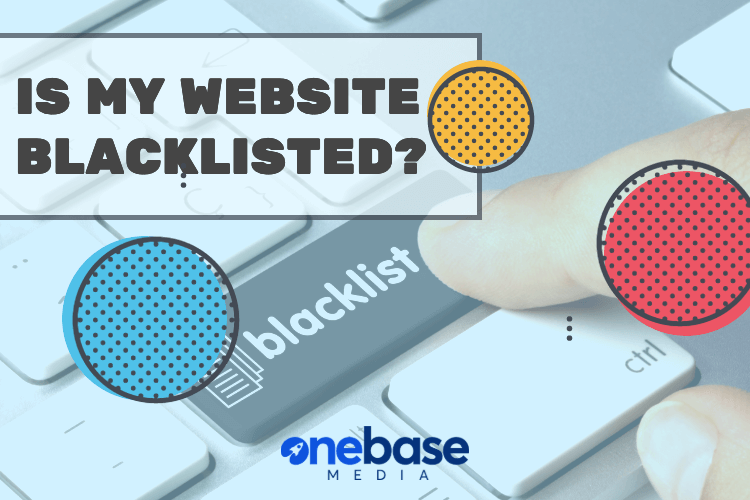 On a daily basis, Google can blacklist around 10,000 websites who they think could spam or maliciously harm their visitors, which is why you may be wondering the following question: "is my website blacklisted by Google?"
Being blacklisted is a topic that concerns all website owners and is one of the worse things that could happen to any business who relies on the internet for their income.
This is why it is handy to know how to check if a website is blacklisted, to know how a website becomes blacklisted, along with knowing what rules to follow to gain blacklist removal.
What Happens When You Are Blacklisted?
Are you blacklisted? If you are unsure, there are many different telltale signs that you can pick up on, such as the amount of traffic your website usually receives could significantly decrease, along with emails that you send to your customers could bounce (in this case, you may also receive a message saying that the email bounced due to abuse, in which case they may assume that you are sending your customers spam).
If your website has been infected with malware, (which will lead to Google blacklisting your website) then you may realise your website has been blacklisted due to the warning message Google will provide your visitors with when they try to access your website, saying that your website could be dangerous to their computer. Meanwhile, you should also receive a message from Google, explaining how your website has some malicious software and explaining the process you should follow to get your website running smoothly online again.
How Do You Get Blacklisted?
There are many reasons that could make Google want to blacklist you, so we are going to list the main reasons so you know how to avoid situations like this from happening:
• Website Maintenance:
One simple way to get your website blacklisted, is by not maintaining your website enough, which is why it is crucial to constantly ensure that you website is active and regularly updated.
• Masking Keywords:
Are you thinking of sneakily hiding keywords of you website page, or are you already doing this? Well if that is the case, then it is time to stop before you are put on the Google blacklist!
• Website Linking:
While linking your website visitors to other websites that they may be interested in, is always a good way to improve your site and to become more active online, at the same time, you need to ensure that you are not leading your visitors to website pages that are spam or malicious to their visitors.
• Be Original:
We have all heard of the rule ever since we started school, not to copy other peoples work and we have been taught this rule for good reason. Not only do people enjoy reading new and fresh content, but copying other peoples content is a breach of copyright. Save yourself the hassle of having angry authors contact you and getting de-indexed from Google and take the time to write your own content.
How Can I Tell If My Website Is Blacklisted?
Generally, if you have been blacklisted, you would soon notice, due to it having an impact on the amount of traffic that your website receives, which therefore would have an impact on your sales if you are a business.
However, if you want to double check to see if your website is blacklisted, we have prepared five tools that help by providing you with a blacklist website check:
1. Google Webmaster Tools
To use Google Webmaster Tools, you will need to create an account, however it is an extremely useful website with plenty of tools to be able to keep an eye on your website (if you own a blacklisted website, you will be able to tell from the sudden decrease in the amount of visitors who come to your website).
Not only will you be able to tell how many people have visited your website each day, but there is also the handy diagnostics tool where you have many options like Malware, Crawl Errors along with HTML Suggestions.
2. Site Check
Site Check is a website blacklist checker that you know you can rely on considering the amount of followers they have on social media.
With all of their social media accounts up to date, their Facebook page has 12,412 followers, while their Twitter page has an astonishing 18.9k followers!
With an up to date blog, there will be plenty to read, whether it is about security, hacking or fixing WordPress sites.
Site check ensure they do a thorough blacklist check through your website, while also checking for malware, website errors and seeing if your software it out-of-date.
3. What Is My IP
With an active Facebook and Twitter account, What Is My IP are IP address experts who are able to thoroughly check your URL or IP address to see if it is in the list of DNSBL (Domain Name Blacklist) or SURBL systems.
These systems are both used by email system administrators who try to prevent spam emails from reaching their destination.
The different systems work different areas of spamming and blacklist management, which is why using them both creates a highly efficient job of checking to see if your website is blacklisted.
4. Maine Host
Maine Host is all about helping their customers in every way possible. From live chats available online, emailing, phoning them up, even with their blog being regularly updated along with social media.
This is a busy website who know how to interest their visitors with plenty of information prepared for them to read.
5. Inmotion Hosting
Inmotion Hosting provide a thorough job of checking to see if your domain name or IP address is in any of the popular blacklisted website lists that they have access to. They do a great job at making sure their clients are able to get in touch with them easily, by providing a phone number, the option to Skype along with support chat. They also have an up to date Twitter account and LinkedIn account, along with a YouTube channel filled with videos for you to watch.