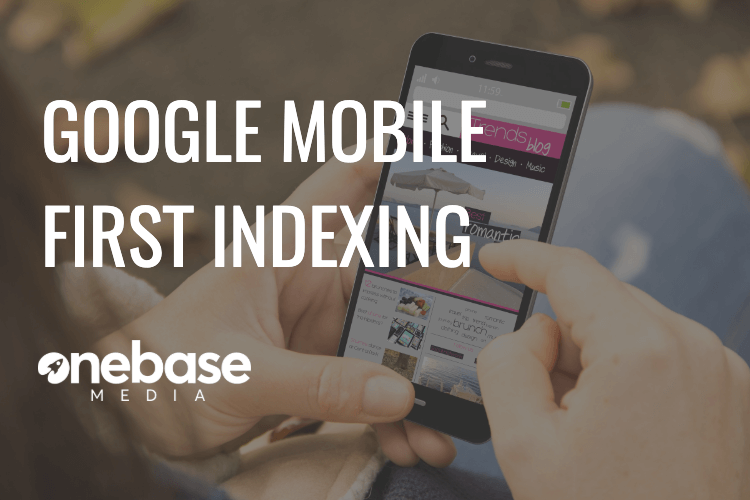 Google's Mobile First Indexing: Start Optimising Your Website for a Mobile Audience.
By now we know that Google runs through your site to add pages to its index and in the past Google surfed your site as desktop users… Now Google will do this as a mobile user.
You might not realise this but your site my present a completely different display to mobile users versus desktop users – for example links on your site that appear on a desktop might not appear on a mobile device, leading to this being bad for business because Google isn't able to follow links causing your website to be optimised and ranked badly.
So the bottom line? When performing SEO, ensure it is optimised for mobile first!
Why is Google using a mobile first index?
The answer is very simple… Mobile devices in this day and age have become very popular!
It has been reported by Google that more than 50% of search queries globally come from mobile devices.
So ensuring your site is mobile friendly has become even more important now as Google are acting on this by ranking your site based on mobile friendliness.
You might now be asking yourself… What if I don't have a mobile friendly site?
You can relax a little! Google will still surf your site using the desktop version as well, while the mobile first index is in testing. Therefore your site can still be indexed even though it's using a mobile user agent.
But a little bit of advice for you is… if you want to make a statement online you need to have a mobile responsive site.
Will Google have different indexes for mobile and desktop?
For now, yes it will! As Google grows confident in the mobile first index they do plan on them only have one, which will obviously be based around mobile content.
So do you need to make improvements on your site for the mobile first index? If so I would make those improvements beforehand to ensure when your site is surfed by the mobile first crawler it shows it is optimised for mobile devices.
How can I tell if Google sees my mobile pages?
You are able to do this by using the Fetch and Render tool in the Google Search Console.
By specifying the mobile:smartphone user agent, once the fetch and render is complete, you are able to see what Google sees when surfing your site.
Is any of your content missing? If it is be sure to look into this and fix it as quickly as possible, then run the tool again.
This allows you to ensure your site is optimised properly so when it comes to Google searching through your site, you are therefore ranked well, more than you would have been if you had left it how it was.
Will mobile first indexing change rankings?
Google have said that it shouldn't dramatically change the rankings of sites; however they have said that right now it is too early to tell due to it still being testing.
Although, if your site is not mobile responsive to the audience, you shouldn't expect it to be ranked well for particular keywords. So making changes to your site for this new process will be a great help.
When does the mobile first indexing begin?
Well, Google have already started implementing the mobile first crawler, but they have stated it will take a few months before full implantation takes place.
They are still testing the code, and will continue to roll out more searches over time as it gains confidence; resulting in only one index being used once the mobile first index is working fully and achieving what Google wanted.
So what's the main thing we have learnt from all this? For starters Google has realised that more searches are being done on mobile devices and will therefore start ranking your site through the mobile first index, so you need to ensure your site is mobile friendly.
Google still currently has the desktop crawlers in place alongside the mobile first crawlers, however when a full implantation is complete this will change, having an effect on your site if you haven't done anything to make it mobile friendly.