Embarking on a construction business journey is a challenging feat. It demands much more than a sturdy hammer and a good set of blueprints. Aspiring entrepreneurs in the industry must overcome many obstacles, including budgeting constraints, strict deadlines, team building, and the arduous task of procuring contracts.
But fear not! In this captivating blog post, we'll dive deeply into the world of construction business coaching and uncover the industry's most sought-after experts. Each coach boasts unique skills and approaches that set them apart from the rest. Brace yourself for valuable insights and inspiration that will help take your construction business to greater heights.
Why is it essential to have a coach?
Starting and running a successful construction business is a challenging task. The industry is highly competitive, and entrepreneurs must walk through complex challenges, from managing budgets and timelines to hiring and training employees. This is where a construction business coach comes in – an experienced professional who can provide valuable guidance and support to help business owners achieve their goals.
One of the key benefits of working with a construction business coach is gaining access to a wealth of knowledge and experience. These coaches have often been in the industry for many years and have seen and overcome many challenges that construction business owners face.
They can guide everything from securing financing and negotiating contracts to managing projects and building a successful team.
Every business owner has areas where they can improve, whether in project management, marketing, or financial planning. A coach can help identify these areas and provide strategies to address them, ultimately helping the business become more efficient and profitable. A construction business coach can also help entrepreneurs identify and address their weaknesses.
Another key advantage of working with a construction business coach is accountability. When working with a coach, business owners are accountable for their actions and goals.
This can be especially valuable for entrepreneurs struggling with self-motivation or staying on track. A construction business coach can provide regular check-ins and feedback, keeping the owner focused and motivated towards their goals.
Lastly, a construction business coach can provide a fresh perspective on the industry and the business. As entrepreneurs become immersed in their day-to-day operations, it can be easy to lose sight of the bigger picture. A coach can help business owners step back and see the business from a new angle, identifying opportunities for growth and improvement that may need to be noticed.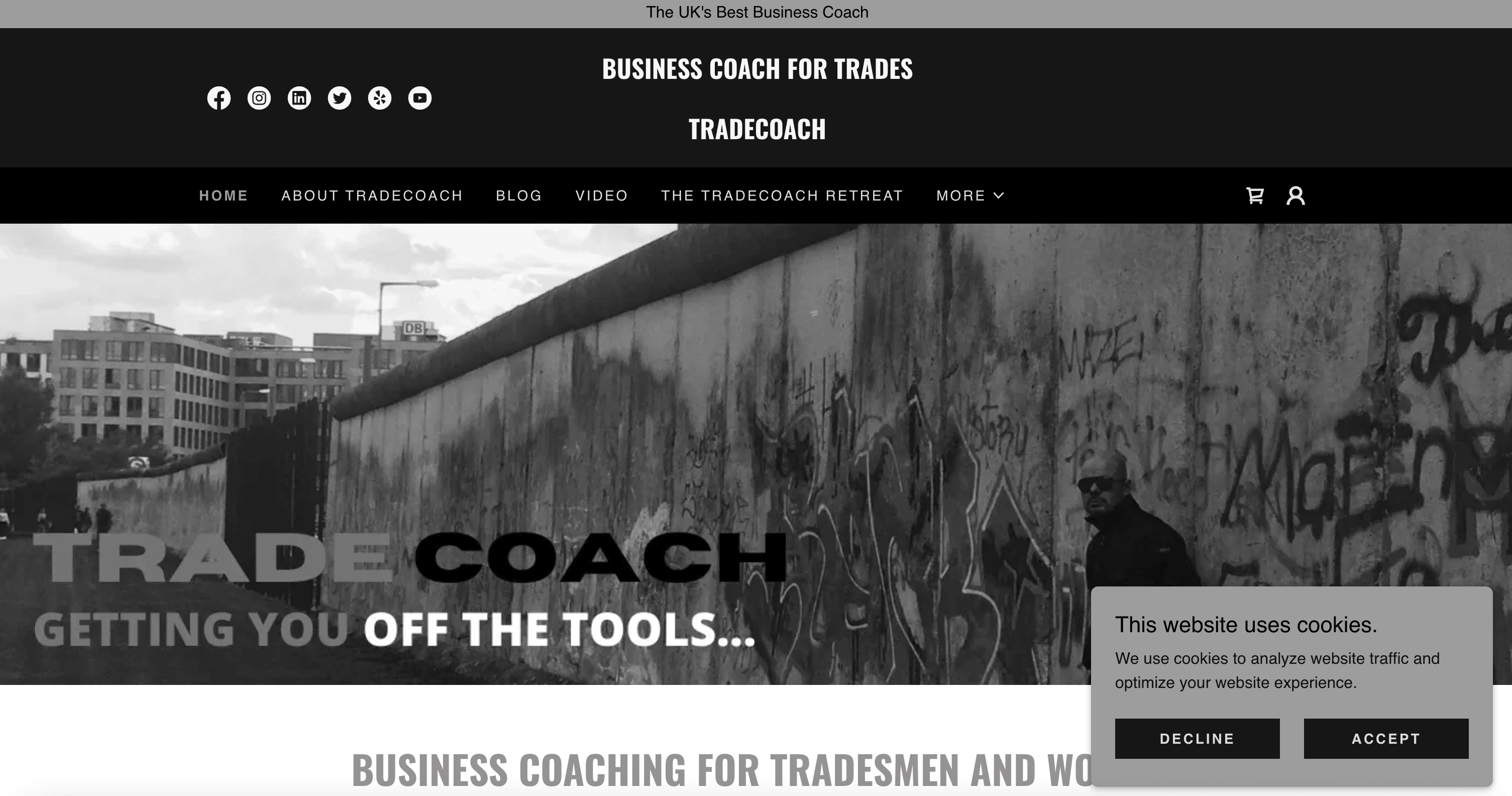 Daren Henderson never thought he would become a business coach. In fact, it was something he had been doing for years without even realising it. It wasn't until a business mentoring retreat in Tuscany, Italy, where he was invited to come along and learn, that he was able to see his true potential as a coach.
During the week-long retreat, Daren found himself inadvertently coaching the other attendees. His natural ability to guide fellow business owners was immediately recognised by the group and their mentor, Barry Randall. They encouraged Daren to pursue a career in business coaching full-time, and he took their advice to heart.
Daren has a unique and impressive background in entrepreneurship. He started his own construction company from scratch with no experience and just a handful of leaflets. Despite the challenges, he grew the company to over £1million in turnover with approximately 35% net profits before eventually selling it. This experience, combined with his coaching expertise, sets him apart from other business coaches in the industry.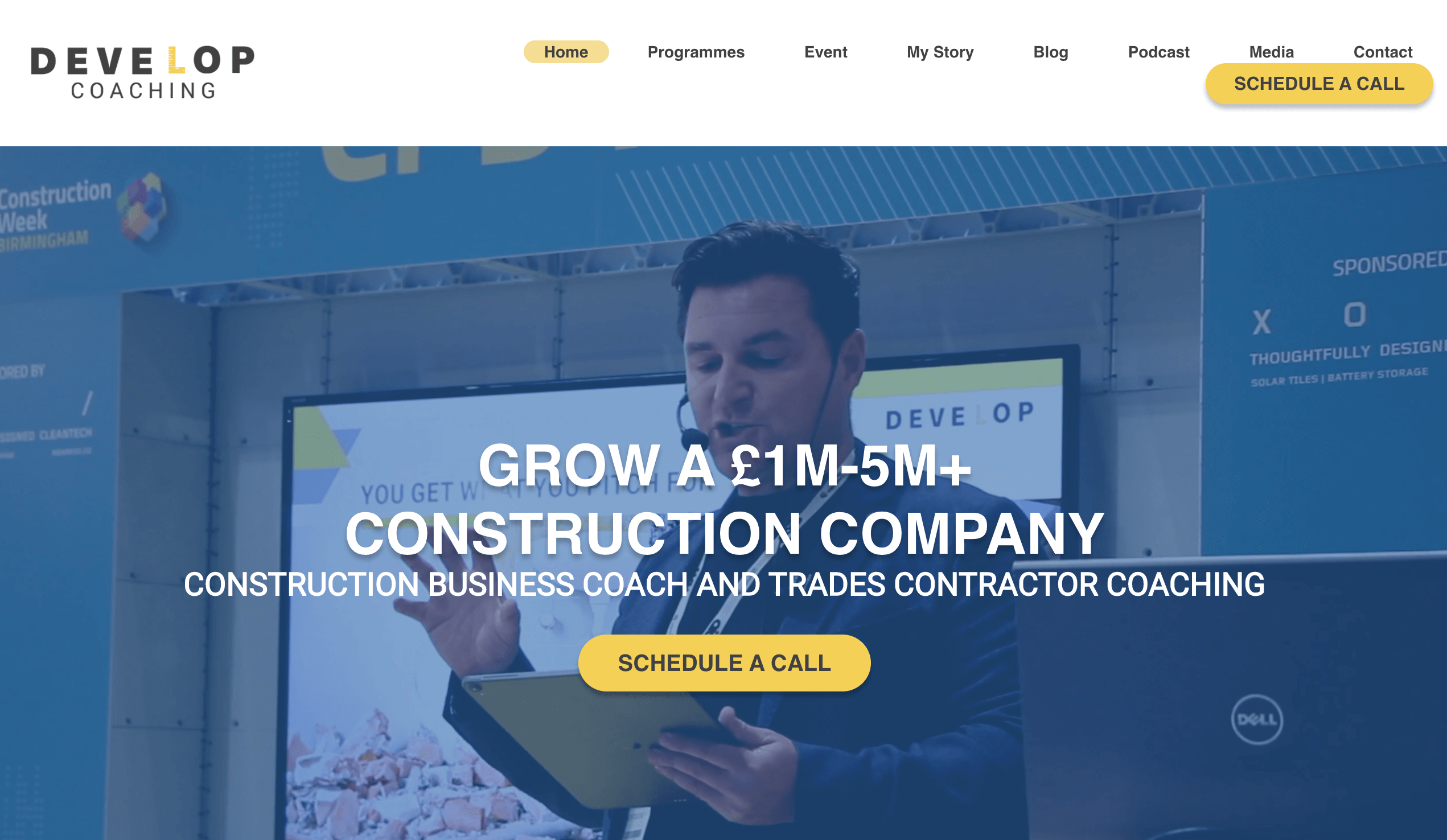 Greg Wilkes is a highly successful entrepreneur with over 30 years of experience in the construction industry. He has created multiple £1m+ companies and experienced the industry's highs and lows, giving him a unique perspective on building and growing successful businesses.
Despite his success, Greg has also experienced the lows of the construction industry, including the recession of the early 1990s and the more recent economic downturn caused by the COVID-19 pandemic.
However, thanks to his entrepreneurial spirit and ability to innovate and think creatively, he has always been able to bounce back and adapt to changing market conditions.
Today, Greg is a highly respected business coach and mentor, helping other entrepreneurs and business owners to achieve their goals and build successful companies. He profoundly understands the construction industry and his coaching programs are specifically designed to help construction business owners and leaders navigate the industry's challenges and build successful, sustainable businesses.
In conclusion, Greg Wilkes is a highly successful entrepreneur with a wealth of experience in the construction industry.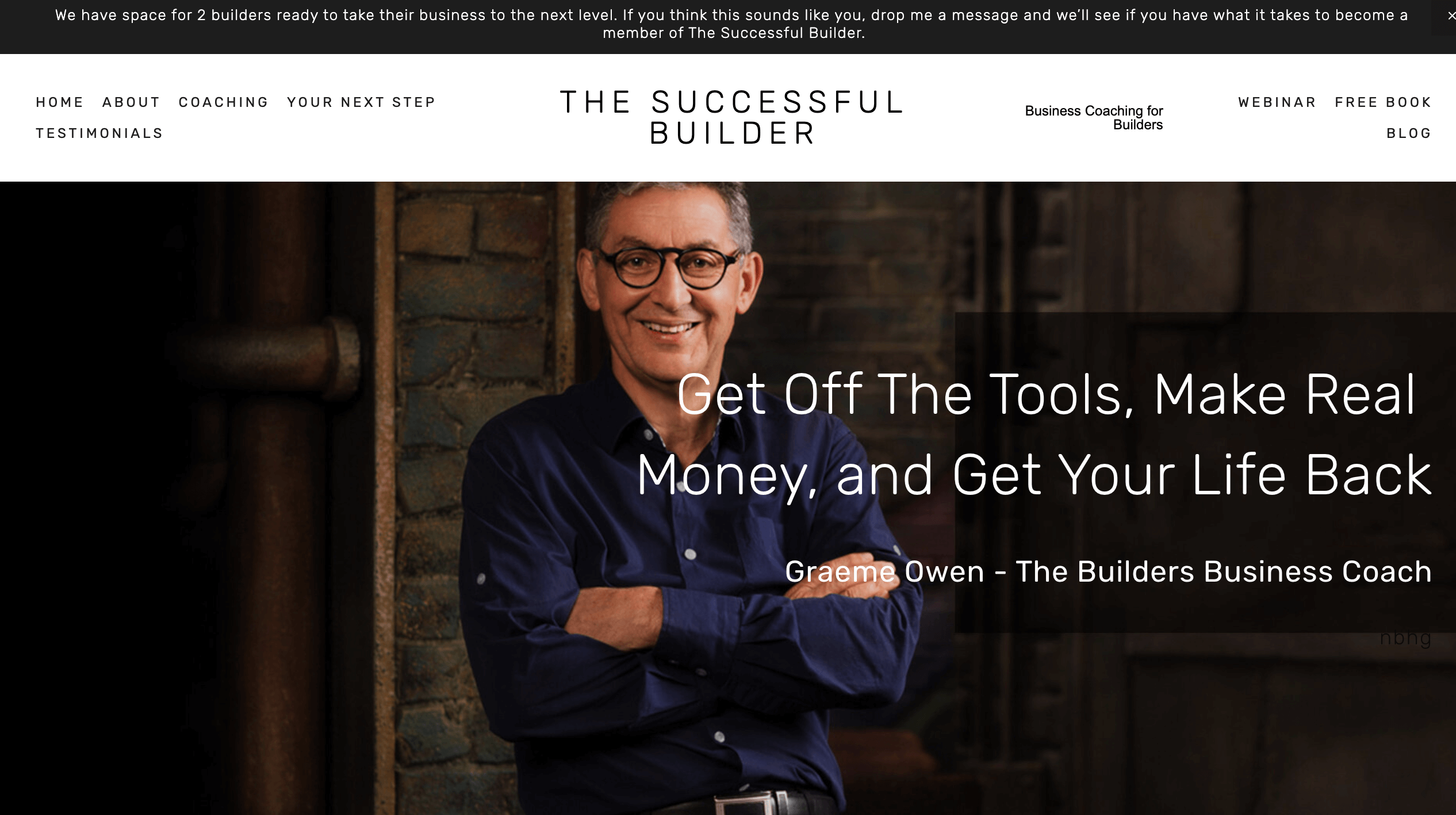 As the Director of The Builder's Business Coach, Graeme Owen's mission is to empower builders in developed countries to train and assist growing communities in designing and building permanent family homes where children and families can feel safe and secure. His goal is to positively impact society by creating strong, sustainable communities through the power of construction.
To achieve this, Graeme offers coaching and mentorship to qualified builders, helping them build secure and profitable businesses while becoming contributing members of their community. He believes that by empowering builders to succeed in their businesses, they can make a more significant impact on their communities and the world.
He also encourages and promotes involvement in community development organisations, such as Habitat for Humanity, to provide opportunities for builders to give back and make a difference in the world. By participating in these organisations, builders can use their skills and expertise to help those in need and make a lasting impact on their communities.
At The Builder's Business Coach, Graeme Owen is committed to creating a better world through the power of construction.
By empowering builders to build successful businesses and giving back to their communities, Graeme believes he can make a brighter future for everyone.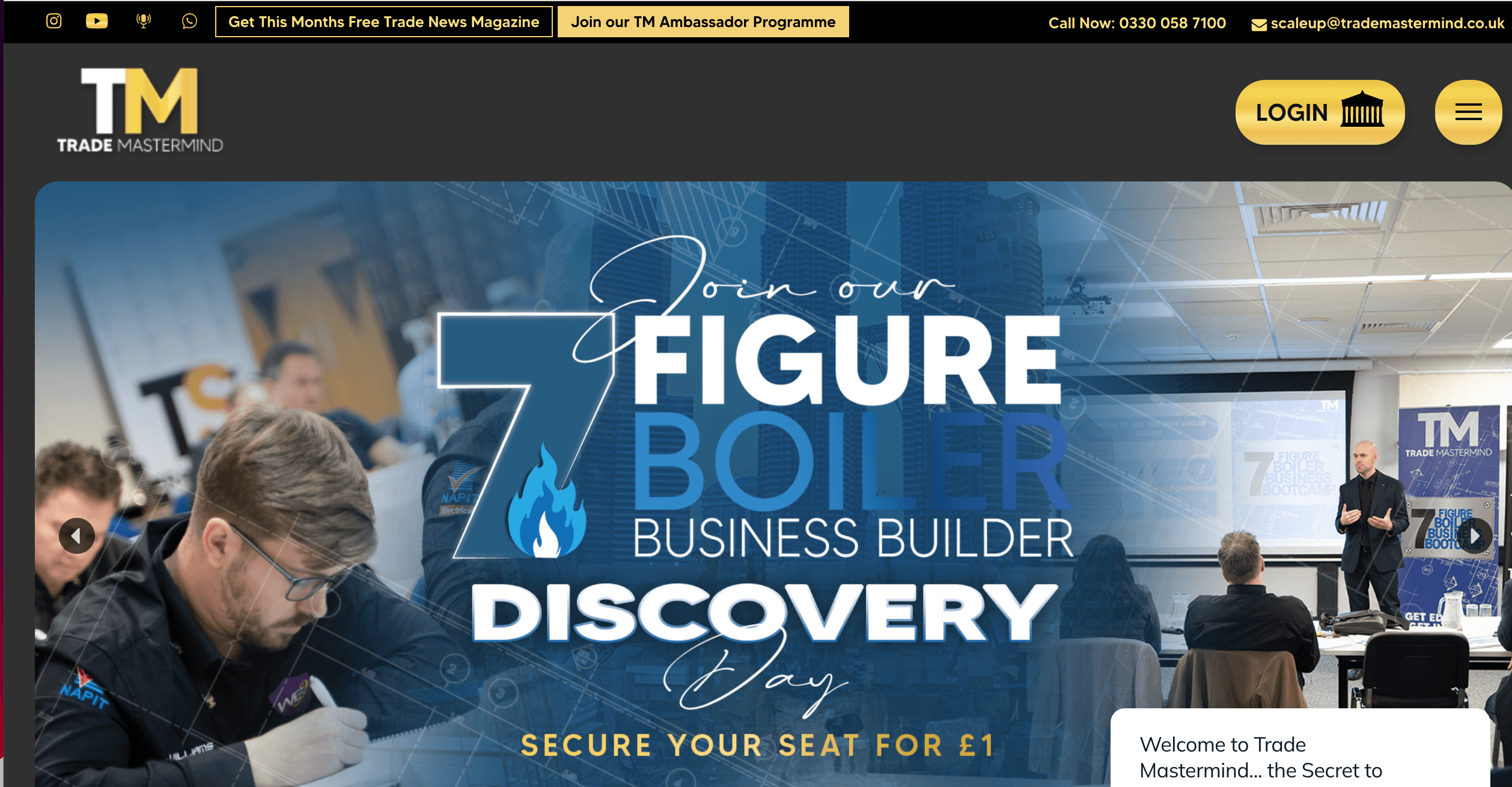 Joseph Valente is a true visionary leader, founder, and winner of the hit BBC Show – The Apprentice.
His journey began as a 15-year-old boy who was expelled from school. Despite this, he fought to the top and became a successful businessman.
The Trade Mastermind & Coaching Academy results from Joseph Valente's hard work and dedication to the construction industry. His program provides coaching and mentorship to individuals who want to start or grow their businesses in the construction industry. Joseph's goal is to help them build a solid foundation for their business, develop strategies for growth, and establish a profitable and successful company.
Joseph is not just a successful businessman but also an acclaimed author. He has written two books: "Expelled From The Classroom To Billionaire Boardroom" and "The Entrepreneurial Apprentice," in which he shares his personal story and provides practical advice for entrepreneurs looking to start and grow their businesses.
Joseph's dedication to the industry and passion for helping others make him an exceptional mentor and leader.
Through his work with The Trade Mastermind & Coaching Academy, he inspires new entrepreneurs to achieve their dreams and build successful businesses in the construction industry.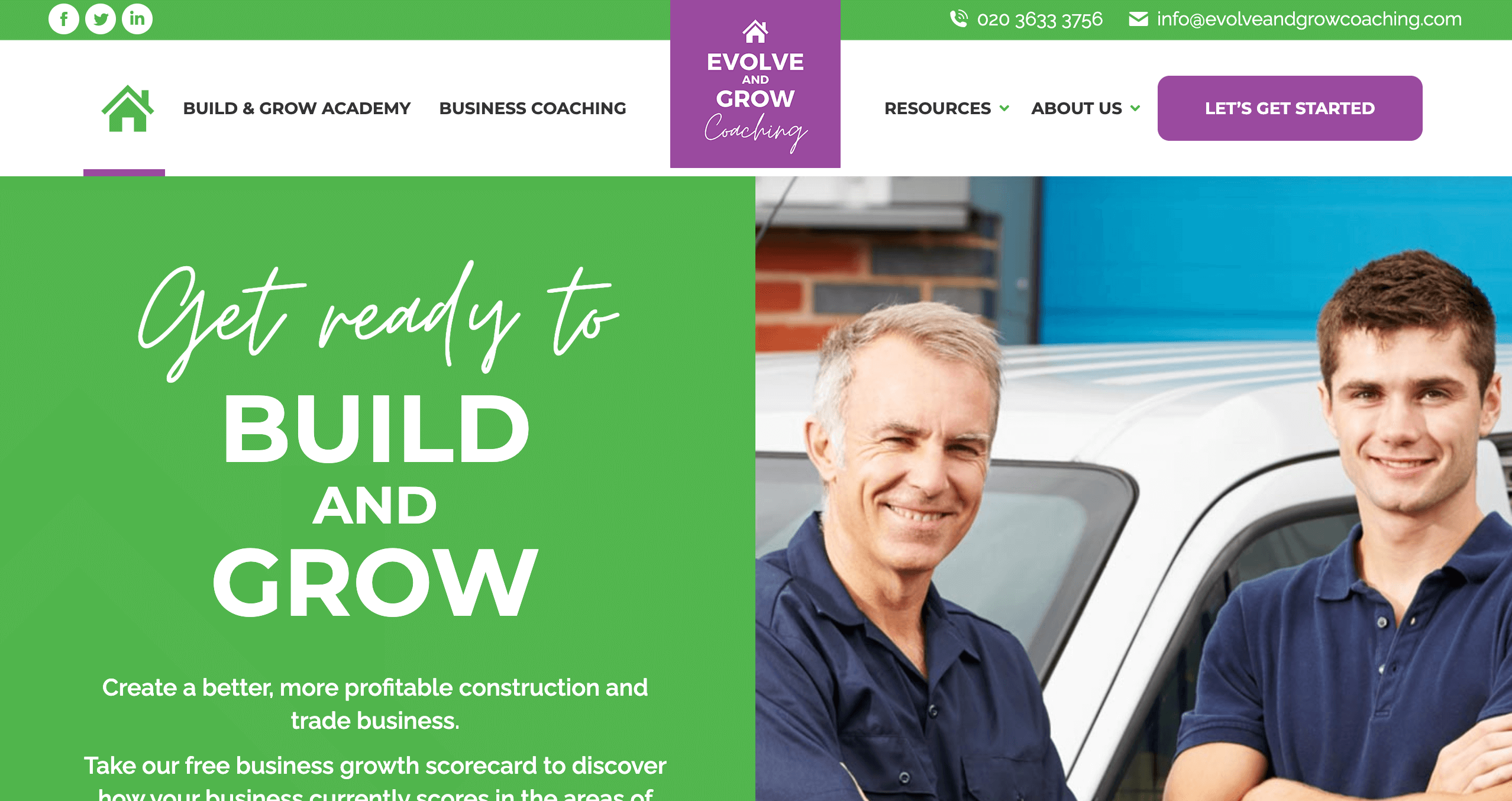 Alison Warner is a business coach specialising in working with construction and trade business owners. She focuses on helping her clients grow their sales, build better client and team relationships, and develop more valuable businesses. Alison is passionate about creating better businesses with her clients and helping them reach their full potential. She believes business coaching and development is like WD40 for your business, making it run smoothly with fewer bumps.
Before launching Evolve and Grow, Alison worked with some of the UK's most well-known brands, including Starbucks and Pizza Express.
However, she found her true calling in working with the building and construction industry due to the vast amount of untapped potential she saw.
Alison compares discovering the untapped potential in a business to finding a plug and filling a hole, often with a system or back-of-house resource, which results in the industry taking off.
She is dedicated to helping her clients identify and fill those gaps and achieve their goals through coaching and development.
In 2015, she formed a specialist division called Build and Grow for this sector. She also created the BUILD system, a 5 step system designed to help business owners identify the gaps in their businesses and implement the necessary systems and processes for growth.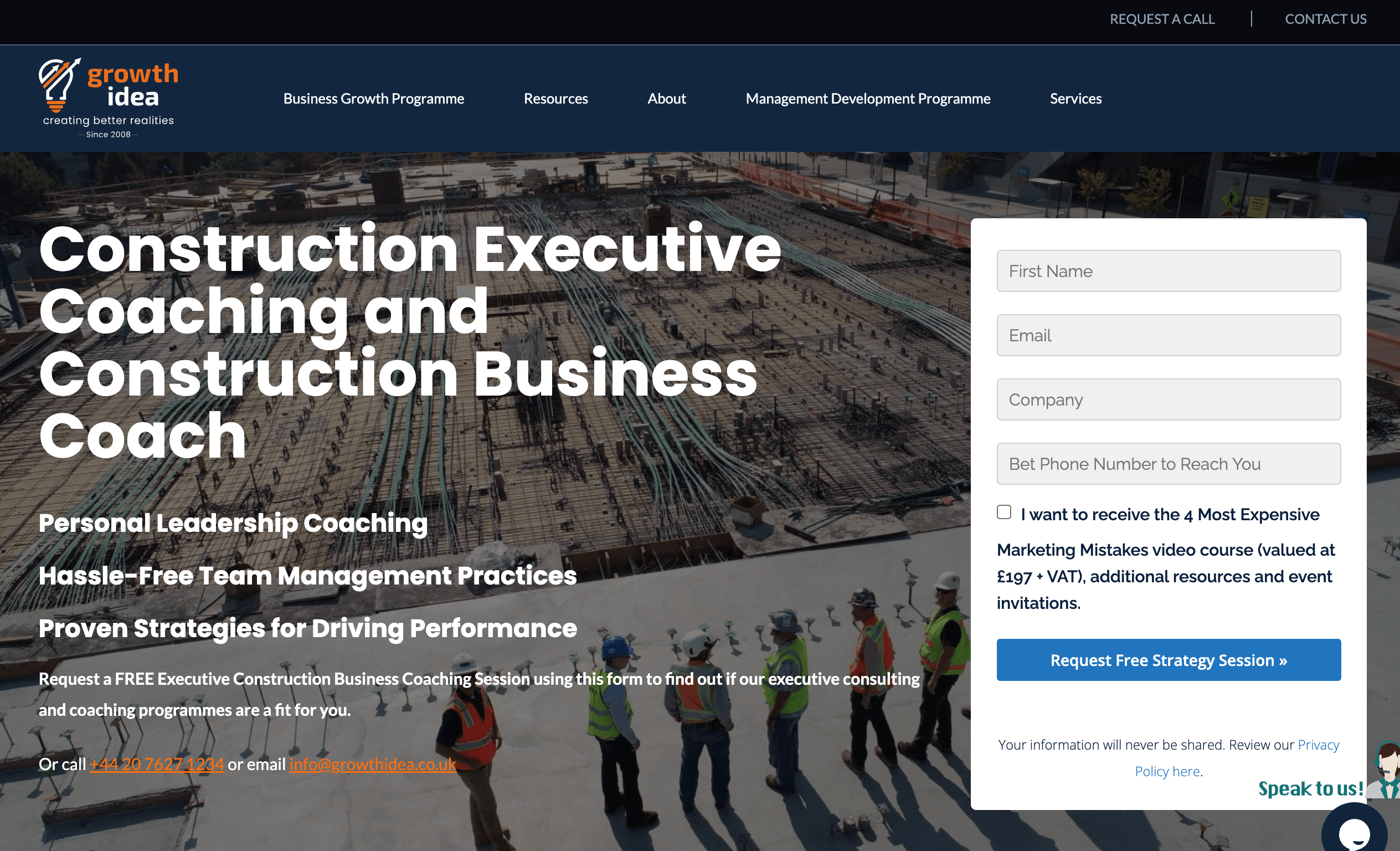 Shweta Jhajharia is a renowned expert in Business Value Building and the mastermind behind the unique 6M Model. She is well-respected for her impactful, intelligent, and results-driven approach that empowers business leaders to unlock their potential and achieve meaningful, higher goals. Through her coaching, leaders can significantly boost profitability and long-term value while becoming better leaders and individuals.
She has earned over 70 accolades from external organisations and industry panels, including awards such as Outstanding Businesswoman of the Year, Global Best Client Results, Hall of Fame Coach, and Enterprise Coach of the Year.
She has also been featured in 127 media outlets and publications. Her blog is rated as the top blog in the category of business coaching in the UK, and her book, Sparks: Ideas to Ignite Your Business Growth, is a best seller of all time.
Shweta's innovative High Performing Executive (HPeX) program uniquely combines a Board of Directors, world-class peer coaching experience, and a robust Non-Executive Leadership team. Members enrolled in this program have achieved measurable personal and professional growth alongside their business growth, with an average asset value increase of 214% within 18 months.
Shweta's programs are backed by her 6-month ROI guarantee, where clients receive a refund of the difference if they do not generate the agreed return on investment.
Shweta's success results from her hard work, honesty, commitment to delivering results, and uncompromising care. Over the past decade, Shweta has honed her coaching skills, providing practical and purposeful coaching, keynote talks, workshops, consulting, guidance, and a success mindset to nearly 1,000 businesses and individuals. Her clients have achieved significant personal and business growth, with numerous prestigious awards won at the Global and EMEA level.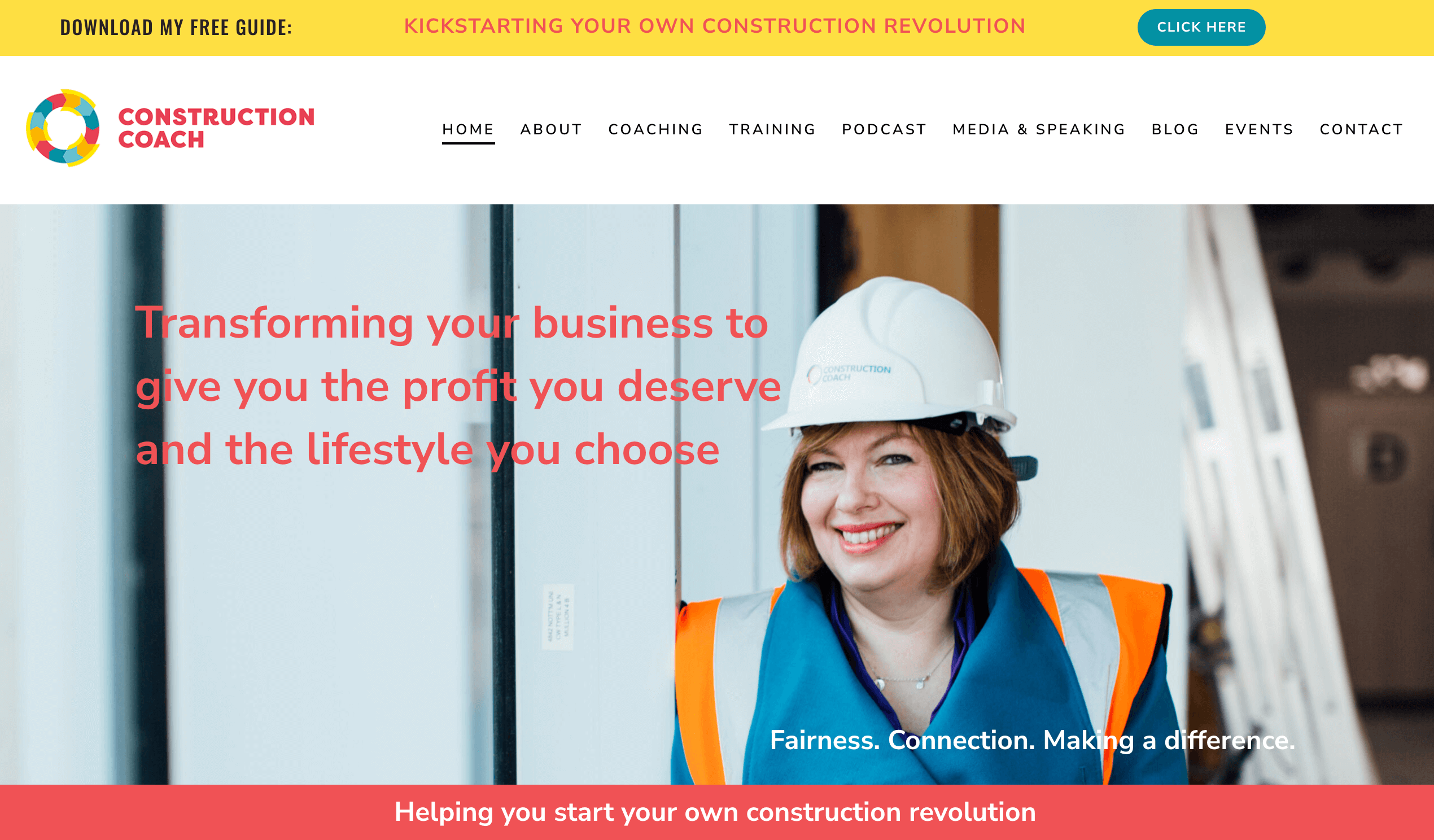 Here's an introduction founder of Construction Coach Maria Coulter, an award-winning Business Coach from the North-East of England. Maria is known for her straight-talking style, which has helped her achieve incredible client results.
In 2009, Maria was a project manager in the construction industry in the middle of a recession.
She witnessed unfair behavior and felt the pressure to be someone she wasn't. Maria knew that things needed to change and decided to seek the help of a coach. Through coaching, Maria discovered that her number one value was fairness.
She realised that the construction industry could and should be better than it was.
The positive impact of coaching on Maria's life inspired her to become a coach herself. She started her own construction business coaching company, focusing on working with small and medium enterprises (SMEs) in the industry. Maria's unique blend of coaching, quantity surveying, project management, and risk management skills has significantly impacted SMEs like yours.
As a business coach, Maria helps business owners and directors start construction businesses. She has developed a coaching tool that enables her clients to quickly make changes and achieve their goals.
Her passion for fairness and her drive to make the construction industry a better place has made her an award-winning business coach. Her clients have achieved remarkable results under her guidance and her coaching program.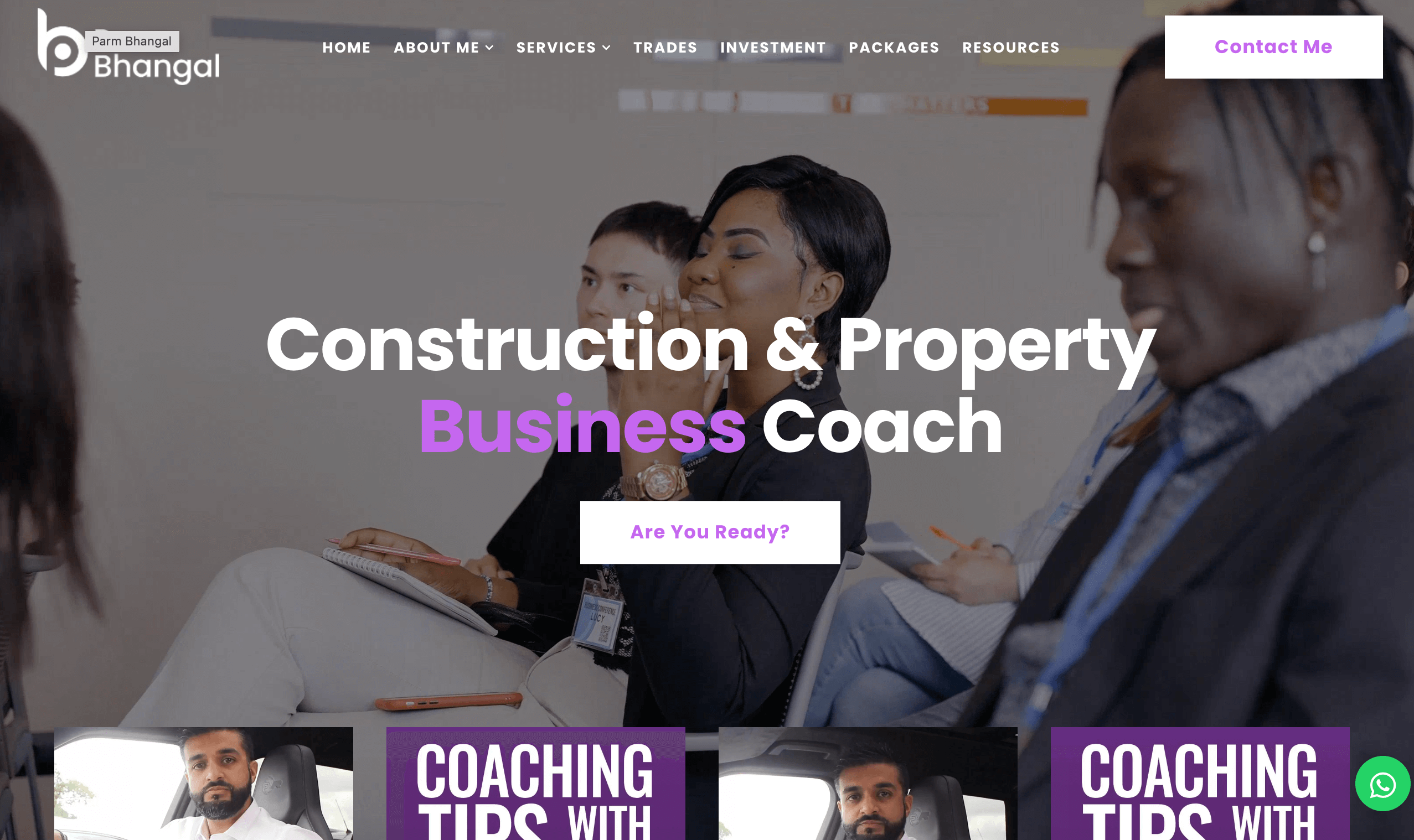 Param Bhangal specialises in coaching construction and property businesses, helping them develop strategic plans to maximize their profits, improve team communication and increase efficiency. His approach is collaborative, working closely with clients to understand their unique challenges and goals and designing a customised coaching program that addresses their needs.
As a Certified Construction & Property Business Coach, Param offers various services, including business strategy development, team training, financial management, and project management coaching. His mission is to provide his clients with the tools and resources they need to succeed and to help them build a thriving business that is sustainable and profitable for years to come.
If you're looking for a coach who can guide you through the complexities of the construction and property industry, Param would be honoured to work with you. With my extensive experience and proven track record, he can help you overcome obstacles, implement best practices, and achieve the success you deserve.
Following are some of the awards and recognition that Param has won.
Small Business Of The Year 2019 – Bhangals Construction Consultants
Business Of The Year Less Than 50 Employees 2019 – Runner Up – Bhangals Construction Consultants
Employer Of The Year 2019 – Bhangals Construction Consultants
High Growth Business Of The Year 2019 – My Build Estimate
Business Person Of The Year 2018 – Parm Bhangal, Bhangals Construction Consultants
High Growth Business Of The Year 2018 – Runners Up – Bhangals Construction Consultants
Young Business Person of the Year 2017 – Parm Bhangal, Bhangals Construction Consultants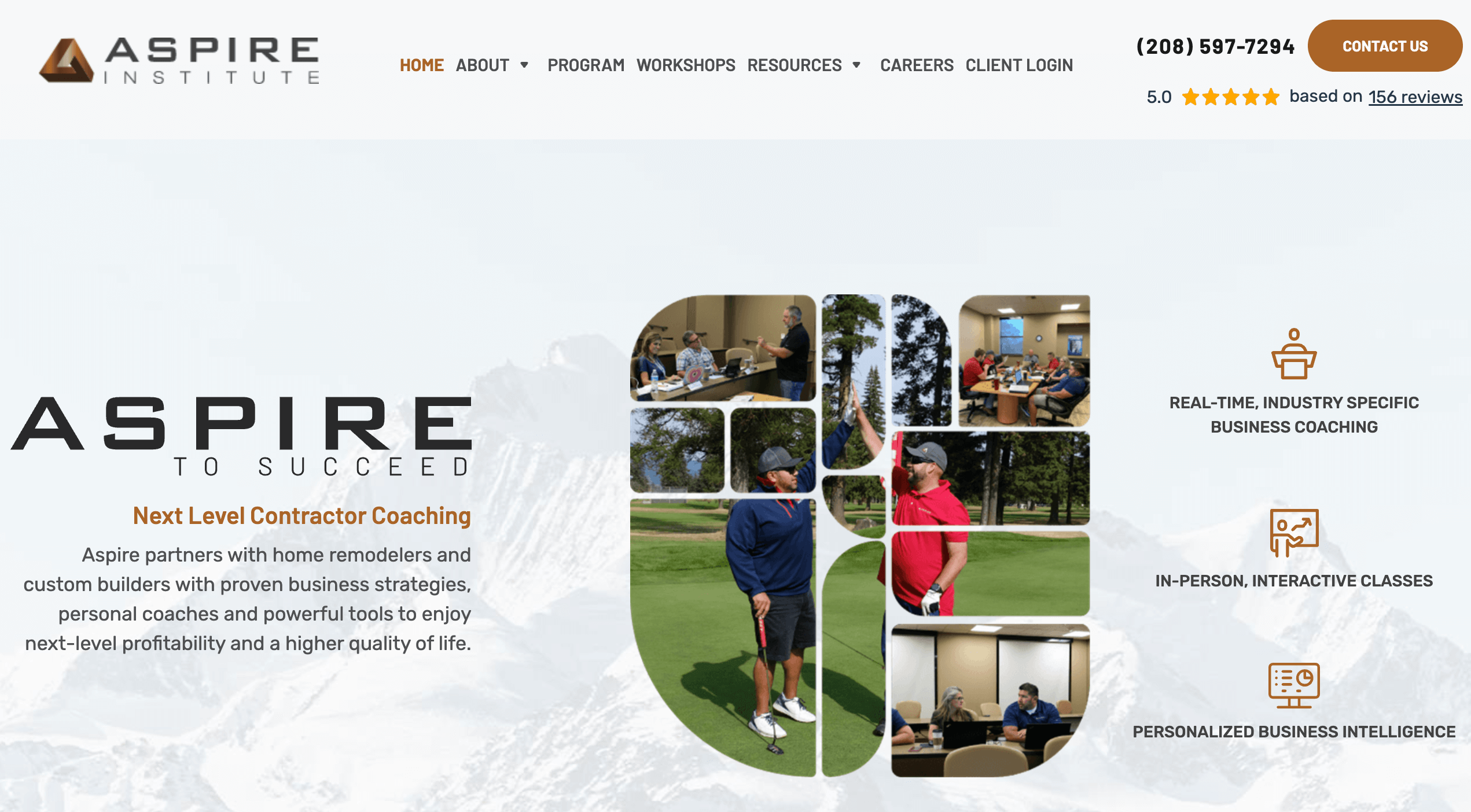 Aspire Institute's contractor coaching program is designed to help business owners in the construction industry take their businesses to the next level. With a team of expert coaches, they provide tailored guidance, motivation, and insight to help contractors think strategically and delegate effectively.
The coaching programs are designed to address contractors' unique challenges in the construction business, including goal setting, time management, marketing strategy development, financial planning, and more.
Aspire Institute's contractor coaches have years of experience in contractor-specific areas and general business coaching, helping countless contractors succeed.
They offer a range of coaching programs to suit different levels of contractor experience, skill levels, and budget, including one-on-one coaching and group workshops.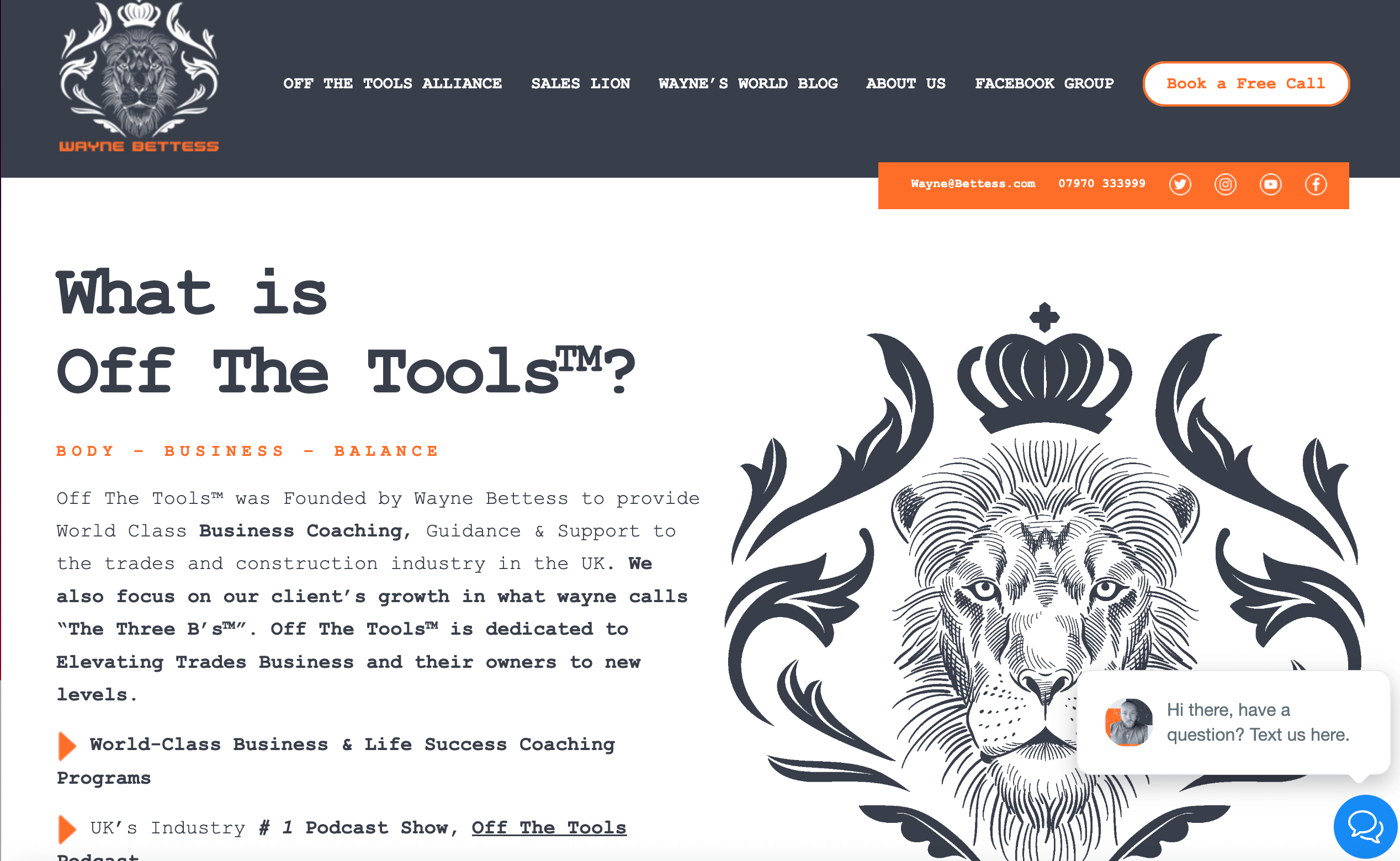 Off The Tools™ is a leading business coaching and support organisation founded by Wayne Bettess, focused on elevating the trades and construction industry in the UK. The company offers world-class business and life success coaching programs and the UK's top-rated podcast show for tradespeople, Off The Tools Podcast.
Through its community of like-minded individuals, Off The Tools supports thousands of trade business owners in elevating their businesses and lives to new levels.
The company's signature program, "The OTT Business Builder," focuses on nine key business areas, including foundations, growth, and leverage, taking owners through each step of building a successful business that will thrive in the future.
With expert guests, insightful content, and thought-provoking discussions, the Off The Tools Podcast provides valuable information and guidance to help elevate trade business owners and their businesses.
Conclusion
In conclusion, there are several great construction business coaches in the UK who can help you achieve your business goals. Each offers a unique approach and specialism, so choosing the one that best fits your needs is essential.
Whether you're a plumber, boiler engineer, landscape gardener, general builder, sole trader or a larger company, investing in a business coach can help you take your business to the next level. So take some time to research and choose a coach who can guide you through the construction industry's challenges and help you achieve long-term success.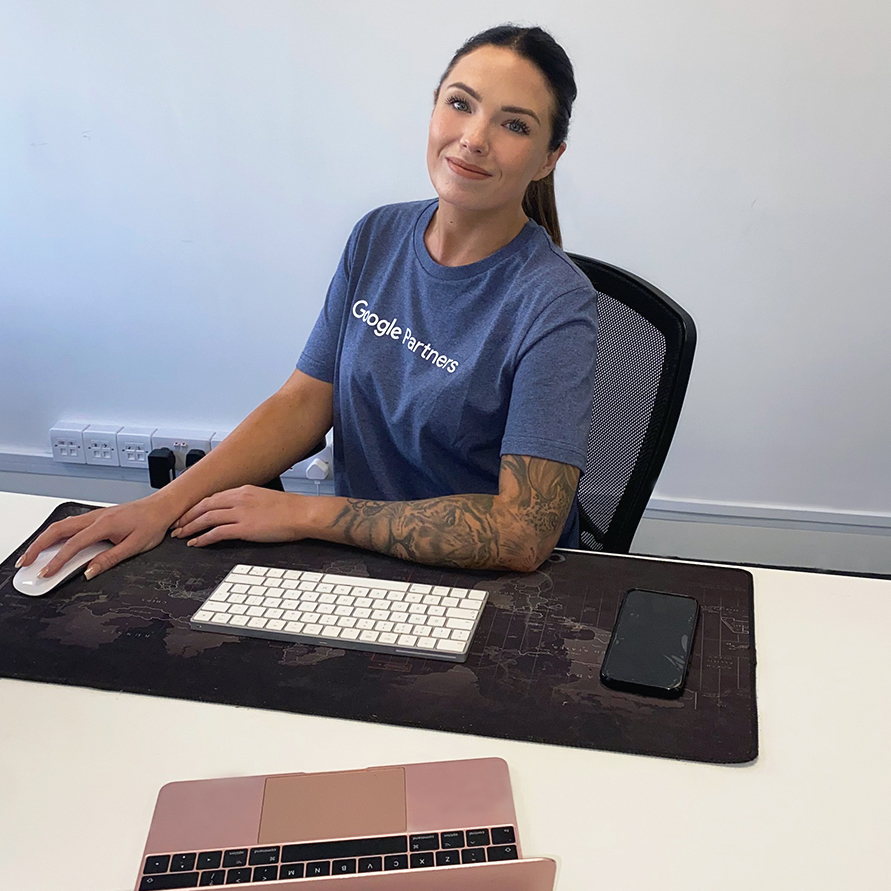 Speak to a construction industry marketing expert
Got a quick question about your marketing. Or you want to run through the details of your next big project. We can help.
Speak to one of our experts today on 01702 668207 or send us a message.