The world of graphic design has advanced greatly over the last few years. In search of improving the quality of a photograph or drawing, many designers now have tools and programs that allow them to have better productivity and results. One of these technologies is graphic design tablets.
Projects that graphic designers have today can be challenging, editing standards have grown, and customers are increasingly demanding, so acquiring a graphic design tablet with a pen is not a luxury, but a necessity.
We use graphic design tablets every day, here we list the best graphic design tablets and some of the best value tablets on the market.
Related Posts: Best Computers for Design
TOP 15 – Best Graphic Design Tablets
These are the best graphic design tablets in 2020:
1. Microsoft Surface Book 2 Graphics Tablet
2. Wacom Cintiq 13 HD Graphics Tablet
3. Apple Ipad Pro Graphics Tablet
4. Microsoft Surface GO Graphics Tablet
5. Huion H420 Graphics Tablet
6. Trust Ultra-Thin Drawing Tablet
7. Samsung Galaxy Tab Graphics Tablet
8. Huion INSPIROY Q11K Drawing Tablet
9. Parblo Coast 13 Drawing Tablet
10. Wacom Cintiq 16 Drawing Tablet
11. Wacom Cintiq 22HD Graphics Tablet
12. XP-PEN Star06c Drawing Tablet
13. Ugee M708 Drawing Tablet
14. XP-PEN Deco-01 Drawing Tablet
15. Igeress 9 LCD Drawing Tablet
Scroll down for more information on tablets for graphic design:
---
1. Microsoft Surface Book 2 Graphic Design Tablet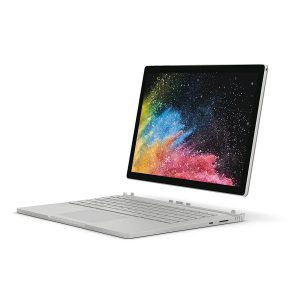 The surface pro for graphic design is a great choice if you are a graphic designer and you are looking for versatility, the Surface Book 2 is a laptop and tablet for graphic design at the same time, so it allows you to perform several tasks at the same time. It has a 13.5 and 15-inch touch screen, perfect for your projects, but you must buy your Surface Pen stylus to do so.
It has an Intel octave 1.9 GHz processor, its RAM is 16 GB, it comes with Windows 10 PRO and has a very sophisticated appearance. It is light, just 1.65 KG, perfect to take it everywhere and make your drawings or edit photos. When you want to do different activities, you just have to connect the keyboard to turn it into a laptop.
Its long-lasting battery allows continuous use of up to 17 hours in a row, enough to work away from home for a long time. The Surface Book 2 for graphic design has connectivity via Bluetooth and USB 3.0, and its main difference with its predecessor, the Surface Book, is its largest screen and is 5 times faster.

---
2. Wacom Cintiq 13hd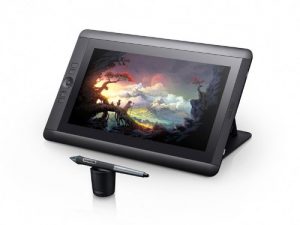 Wacom tablets are preferred by designers and illustrators, and the Cintiq Pro 13 design is one of the best Wacom graphic design tablets. With its HD screen, its Wacom Pro 2 battery-free stylus and its ergonomic model it is installed as one of the best models on the market.
Its 13-inch LED screen supports a wide range of colors, up to 87% Adobe RGB, allowing your illustrations to be much more colorful and crisp. The sensitivity of the stylus of this Wacom drawing tablet is 8192 pressure levels, achieving greater precision when plotting, not to mention that it has a small parallax that allows to give more precision to the pen regardless of the angle in which it is.
Another addition for the Cintiq 13hd is its multi-touch control and its 4 configurable keys. It is compatible with Windows and Mac, has internet access and a USB-C port to offer the best possible resolution on your computer, up to 1920×1080. A very complete on-screen model with professional characteristics.
---
3. Apple iPad Pro Graphic Design Tablet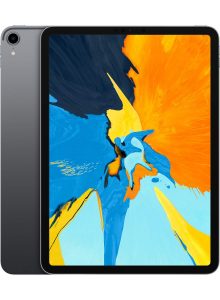 A tablet that is used for everyday use and also for graphic design. By having your operating system (iOS), you can use it anywhere without the need for a computer. The latest model released by Apple that can vary in two sizes: 11 inches and 12.9 inches.
The iPad Pro for industrial design is a great option, its ProMotion screen from edge to edge and the use of the Apple Pencil will allow you to carry out professional projects for up to 10 hours in a row. This stylus is only compatible with iPad Pro.
While you are drawing, you can go on doing other tasks or use applications in different tabs. With the iPad Pro, you can watch videos, photos and surf the internet whenever you want, and when you want to save your projects in storage, you can do it quietly thanks to the large available space they bring, from 64 GB to 1TB.
---
4. Microsoft Surface Go Graphic Design Tablet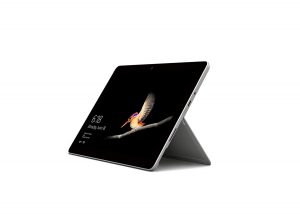 We find another of the Surface models that Microsoft provides, this time with a 10-inch version. The Surface Go for graphic design is 2 in 1: tablet and laptop at the same time. It has a 1.6 GHz Intel Pentium Gold processor and Windows 10 operating system.
Its screen reaches a maximum resolution of 1800×1200, and with PixelSense technology, you can use hand movements to handle the screen content, but the Surface Pen must be purchased separately so you can draw.
It is totally light, weighs just 558 grams, and its portability allows you to make designs, edit photos and do any task from the place you prefer, with a useful battery charge of up to 9 hours. Being also a laptop, you can perform countless tasks outside graphic design, from surfing the internet to watching a movie.
In different presentations of the Surface Go the storage capacity varies, ranging from 64 GB to 128 GB.
---
5. Huion h420 Graphic Drawing Tablet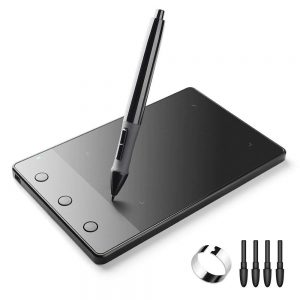 More economical than an on-screen tablet or portable tablet, the art design graphics drawing tablet is used for the same purposes in graphic design. For a designer with a tight budget, this drawing board may be your best choice. It is compatible with Windows, Mac OS, and Linux systems.
Connecting to your computer, the Huion H420 is compatible with the most used applications in the design world, such as Adobe Photoshop, Adobe Illustrator, Corel Painter, Comic Studio, Macromedia Flash, CorelDraw, Corel Painter, among others. You just have to connect the USB cable to the port of your PC and start using the pen as if it were the mouse pointer.
Its active area is 4 x 2.23 inches, it has 3 Hot Keys that have a preset configuration, and the stylus has a central button to scroll through your projects more easily.
---
6. Trust Ultra-Thin Graphic Drawing Tablet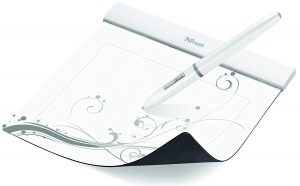 Flexible graphics tablets also exist and allow you to work in small or unconventional spaces. The trust ultrathin graphic design tablet is ergonomic, thin and saves space, useful for any designer. Its size is 6 x 4.6 inches and it is connected via USB to your computer. It is compatible with Windows and Mac.
Weighing just 222 grams and a non-slip bottom, this drawing tablet is easy to transport and install on any job site. It includes a left and right-handed pencil, and the active area has a pressure of 1024 levels, entering the recommended range for writing, drawing, and editing.
The stylus apart from being ergonomic, has two buttons that fulfill the function of right click and left click, but can be configured through the free Trust software, offering greater freedom to the designer.
<
---
7. Samsung Galaxy Tab Graphic Design Tablet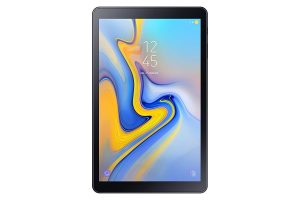 Samsung products have managed to make a place for many graphic designers, thanks to the Galaxy Tab. Its 10.5-inch HD screen is completely clear with a 16:10 ratio, has a 1.8 GHz processor and can perform different tasks on this device that comes with Android integrated.
You can use the Galaxy Tab for the design where you want, it weighs just 531 grams and a long-lasting battery, since it has a charge of up to 15 hours giving it continuous use, and in just 200 minutes it returns to the full charge.
You can install graphic design applications on your Galaxy Tab to start your projects, but first, you must have a Samsung Pen for Tab, since it is not included in the purchase of the tablet. It is one of the most versatile options on the market.
---
8. Huion Inspiroy Q11K Graphic Drawing Tablet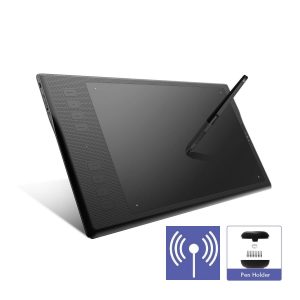 In its second version, the ISPIROY Q11K is a wireless graphic drawing tablet made by Huion, which brings its battery-free PW500 stylus as a great novelty. Like its previous version, the V2 has an active area of ​​11 x 6.8 inches, wide enough to perform your tasks.
The sensitivity levels are 8192 as well as the first version, making the accuracy perfect when drawing. This drawing tablet V2 has as a new feature the recognition of pen inclination, +/- 60 levels to be exact, offering a more natural stroke. The PW500 has an ergonomic design with a silicone grip and is extremely lightweight, being comfortable for any designer.
It has 8 shortcut buttons, they are factory set but you can customize them to make your work more productive. Its wireless connection allows that no cable limits or obstructs your workspace, with a payload of 30 hours straight. It also brings the option to connect via USB.
---
9. Parblo Coast 10 Graphic Drawing Tablet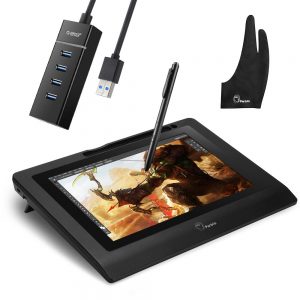 With an ergonomic design, a 10.1-inch screen, and a light pen, the Coast10 is a Digital Pen Tablet with an on-screen monitor of the Parblo brand. It doesn't matter what angle you view the screen, because the Coast 10 has a horizontal and vertical viewing angle of 170 that makes it easy to observe without any problem.
The monitor has a sensitivity of 2048 pressure levels, within the optimum range for professional design use. Together with its battery-free stylus, which is also lightweight, it gives you a very comfortable experience when designing because it resembles drawing with a pencil and paper. It also includes a two-finger glove to facilitate scrolling on the screen and to avoid mistakes that may harm your project by touching the screen while you are drawing.
Its size and weight (440 g) make it easy to place on your work table or even on your legs, it also facilitates transport. It is compatible with all versions of Windows and Mac OS, you just have to connect it to your computer via USB, use the installation CD and start doing your activities.
---
10. Wacom Cintiq 16 Graphic Design Tablet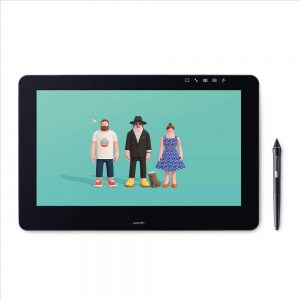 If you are looking for a 4k resolution to work on your professional projects, you will love the Cintiq Pro 16 model from Wacom. An on-screen graphic tablet that works with a pen and touchscreen, reaches a maximum resolution of 3840 x 2160 on its 15.6-inch LED screen, with a viewing angle of 176.
The accuracy of this drawing tablet is very high: 8192 pressure levels. With Wacom Pro Pen 2, you can make precise lines and figures, it is ergonomic and can be used by right and left-handed people. The Cintiq Pro 16 has a flexible support so you can work with all the comforts of the world.
Its weight is 1.5 Kg, a little less light than the rest, but it can still be easily transported. Allow the HDMI connection to your Windows or Mac OS computer thanks to a Link Plus adapter from the same Wacom company.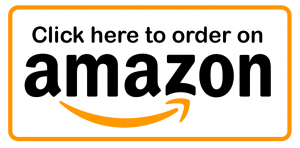 ---
11. Wacom Cintiq 22HD Graphic Design Tablet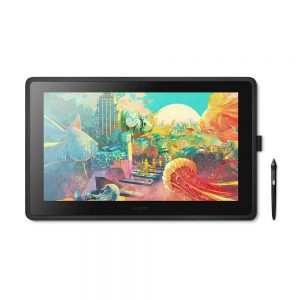 One more presentation of Wacom's graphic design tablets, this time changing the size of its screen to 21.5 inches. With a maximum resolution of 1920 x 1080 HD, it is the third-largest model of all Wacom drawing boards. It comes incorporated with the Wacom Pro Pen 2, like its previous versions.
The screen of this digital graphic drawing pen tablet has a sensitivity of 8192. It allows you to work without space restrictions in your project thanks to its large size, giving you greater freedom to illustrate and edit images while enjoying the sharpness of colors captured on screen.
It has a support that adapts to the position and angle in which you draw, helping you to have greater comfort when drawing. Unlike the other models, the Cintiq 22HD has a much greater weight, of 5.6 Kg being exact, making its transport a bit more complicated.
---
12. XP-PEN Star06c Graphic Drawing Tablet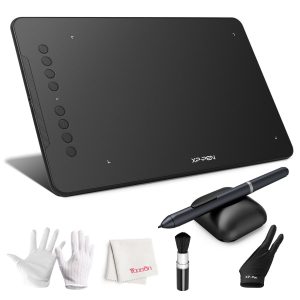 With a large surface and a high sensitivity stylus, the XP-PEN Star 06 is shown as one of the best graphic tablets of the moment. Its active area is 10 x 6 inches, with a frequency of 5080 LPI to guarantee a natural work.
Its stylus is battery-free, has an accuracy of 8192 levels, helping to make lines of different sizes only by pressing hard or soft on the screen. We find 6 Hot Keys 100% customizable, guaranteeing an easier job for the designer or illustrator and obtain greater productivity. It also has a scroll that allows you to scroll through the drawing.
The Star06c weighs 670 grams and connects via USB to your computer, either Windows or Mac OS. It is fully functional with any design software such as Photoshop, Macromedia Flash, Comic Studio, among others. Despite being an amateur drawing tablet, it brings several elements to make your work more professional, such as a pair of gloves, a drawing glove (two fingers), a pen holder and the manual for any questions you may have I presented.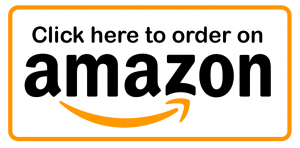 ---
13. Ugee M708 Graphic Drawing Tablet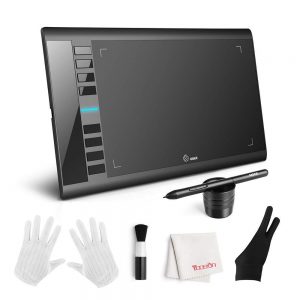 If you are the type of designer who loves direct access buttons, then the Ugee M708 model brings you 8 HotKeys so you can program a greater number of shortcuts in your art design graphics drawing tablet. It has a large area of ​​10 x 6 inches to carry out your projects, and its texture resembles paper.
The Ugee M708 has a stylus without batteries, being lightweight and ergonomic. With 8192 pressure levels, you can draw with more or less opacity depending on the pressure you apply to the pencil, in addition to having two buttons incorporated to perform basic functions such as erase and write.
As we mentioned earlier, it consists of 8 Hot Keys for own uses, offering greater versatility when working. Its USB connection allows you to connect your tablet for graphic design on a computer or laptop with Windows or Mac OS, and its weight of just 658 grams means easy transport of it. It also brings the professional kit with elements to draw.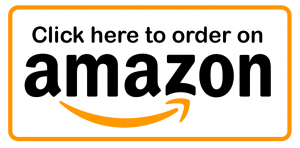 ---
14. XP-PEN DECO-01 Graphic Drawing Tablet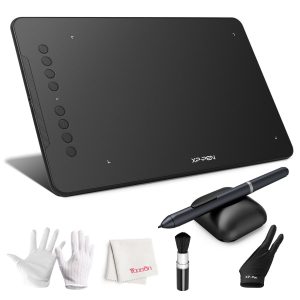 Very similar to the Star06c model that we talked about earlier, the DECO 01 drawing tablet brings the same features as the other version, unlike having 8 Hot Keys instead of 6. Its area to draw is 10 x 6.25 inches, large enough to Develop your creativity without so many space limitations.
Its pencil is very light, battery-free and has 8192 pressure levels, and when it comes into contact with the surface of the drawing board, it gives the feeling of writing on paper. It has a switch to toggle between writing and deleting. Depending on the force you apply when drawing, the lines and strokes can be thin or thick, and you won't have to worry about any scratch or scratch on the surface thanks to its scratch-free film.
The 8 shortcut keys are configurable to your style, and in the corners, you can see 4 LED lights that show the edge of the active area. Easy to transport thanks to its weight of 590 grams. The DECO 01 is compatible with Windows and Mac OS, as well as with all creative design programs such as Photoshop, Illustrator, among others.

---
15. IGERESS 9 "LCD Graphic Drawing Tablet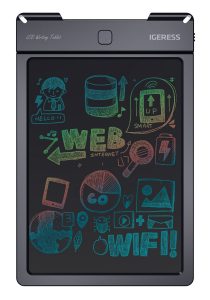 We do not forget children who want to express their creativity and want to have the experience of capturing their drawings on a drawing tablet. The 9-inch IGERESS is an LCD screen and is simply limited to that: a colorful writing tablet so that children can draw on it as many times as they want and then simply erase it and start from scratch. It is completely independent, does not require any operating system or connect to any computer to use it.
There are two presentations, 9 and 12 inches, where the color of the tablet may vary. Through this fun drawing tool, you contribute to the environment thanks to the non-use of paper, in addition to saving a lot of money. Not only can children use it, you can also use it to make notes and drawings.
Its battery is durable and easy to replace if it runs out. Its light and thin design is perfect for children, helping to make the drawing board last longer. You can use it anywhere, the only thing that matters is having the stylus, the tablet, and a good idea to capture on this colorful LCD screen for graphic design tablets.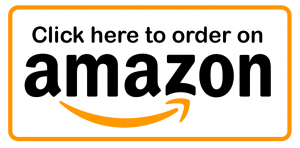 ---
Perhaps for many designers the use of a digital drawing tablet is unnecessary, or they may consider it uncomfortable, but once you get familiar with it, there is no going back, it will be an indispensable tool for your work and projects. With all the brands and models that you can get in the market, you should know how to choose the most appropriate one for you.
A digital design tablet must have different features so that it can be considered for professional use. If you want to touch perfection, choosing the best tablet for graphic design should be your number one priority. In photo editing, creating illustrative content, drawing conceptual art, designing a project and other activities, you can improve the results with a better tablet.
What features should my graphic design tablet have:
Active area
Features
Hot Keys
Stylus
Model Type
Pressure sensitivity
Resolution
Scrollers
Wireless or corded
Active area
The active area of ​​a tablet will be the amount of space available to be able to draw, that is, the larger the active area, the more space to make the drawings. It is advisable to have an active area greater than 12×12, to simulate the size of a sheet of paper. You can always check the exact dimensions of the drawing tablet in inches, centimetres, and millimetres in the specifications.
Bigger does not mean it is better. Yes, it is indeed more comfortable to work in a large space than in a small one, but depending on the activities you are going to do you will not need a tablet that occupies your entire work table unless you are an illustrator and you need to make large-scale drawings. Be sure to choose one that meets your needs.
Features
Perhaps a shortcut button or a multi-touch sensor can be features that add value to you using the graphic design tablet, as well as increase its ease when using it. The Bluetooth function is something that not all graphics tablets have, for example. Remember that the details make the difference.
Hot Keys
Commonly called "shortcut keys", they are keys integrated into graphic design tablets to directly access applications, functions or directories; You customise it your way. The primary purpose of the Hot Keys is to save the graphic designer time and effort, without having to use the mouse or keyboard to perform tasks.
It is common to get Hot Keys in current and modern designs since previously few had these special keys. In more recent models, the keys have been replaced by touch buttons.
Stylus
Also known as an optical pen, it is in charge of recording the strokes made in the active area to display them on the screen and is undoubtedly the essential accessory; They are made to help the illustrator to feel comfortable when drawing. They can come in two forms: with battery and without battery.
Optical pencils with battery are usually a bit heavier due to the same weight of the built-in batteries, normally AAA, which can be replaced or simply recharged, however, Stylus without built-in battery or electromagnetic resonance, they turn out to be more Lightweight and you won't have to worry about getting new batteries.
Graphic Design Tablets Model type
When buying a tablet to draw, you will notice that there are different types of models: flat tablet, on-screen monitor and portable tablet.
The table tablet or flat model is the cheapest and lightest, they connect to your computer as a peripheral. While you are drawing on the graphics tablet, it is reflected on the PC screen.
The tablet monitor or on-screen are the most expensive models; they connect in the same way to the computer, unlike you can draw on the same screen of the tablet.
They are more versatile because they allow you to have greater clarity when drawing.
The portable tablet has an operating system (Android, Mac, Windows) and do not need to be connected to a computer to work. You can work from anywhere and draw directly on your screen.
Pressure sensitivity
It is one of the most important factors when choosing your work tool because the pressure levels will guarantee you greater mobility. The higher the pressure sensitivity, the better you can control the thickness of the lines as you press the pen on the active area of ​​the tablet.
It is recommended that the graphic design tablet has a pressure level between 1024 and 2048, it is optimal for its use, although depending on the illustrator, the necessary sensitivity levels can be even higher, up to 3000.
Resolution of graphic design tablets
It is the capacity of strokes that can be executed per inch. For a graphic design tablet to be considered for professional use, it must have at least a resolution of 2540 LPI, and if you want to work with very clear graphics, a 5080 LPI graphic tablet is perfect. The higher the resolution, the price of the tablet will be higher.
Scrollers
These displacers allow moving throughout the project without using the stylus or finger, avoiding any errors on the screen. Nowadays, they are being included in most of the new models since it saves time and reduces the rate of errors that can be done throughout the project.
Wireless or corded graphic design tablets?
A personal decision. In both ways, you can illustrate and edit either a flat model tablet or an On-screen, the difference is in the response time to be reflected on the screen of your computer.
Cable models have an almost real response time, although sometimes it is inconvenient for the designer to move freely on the tablet for graphic design. Besides, they are cheaper.
Wireless models may have a small delay when drawing, but technology has made this delay somewhat imperceptible. Taking into account all the aspects mentioned above, we will leave you a list of recent of the best tablets of this 2019 for graphic designers (according to us):
Best Tablets for Graphic Design Conclusion
The prices of graphic design tablets can vary greatly. Remember that flat and on-screen tablets serve as a peripheral for your computer or laptop, but the latter having a screen to work more accurately and more comfortably, turn out to be more expensive.
Similarly, portable tablets, such as iPad Pro, Samsung Galaxy Tab, and Microsoft Surface are on-screen but have their operating system, so their price is usually much higher than any other, not counting the components that They give the computer greater speed, such as processor, RAM, and storage.
There are many more options in the market, you can look for other models on Amazon, but we highly recommend any of the 15 graphic design tablets we named in this blog, taking into account the one that best suits your needs, and of course, your pocket.
Now it's your turn, which one do you prefer?
OneBaseMedia – As an Amazon Associate I earn from qualifying purchases.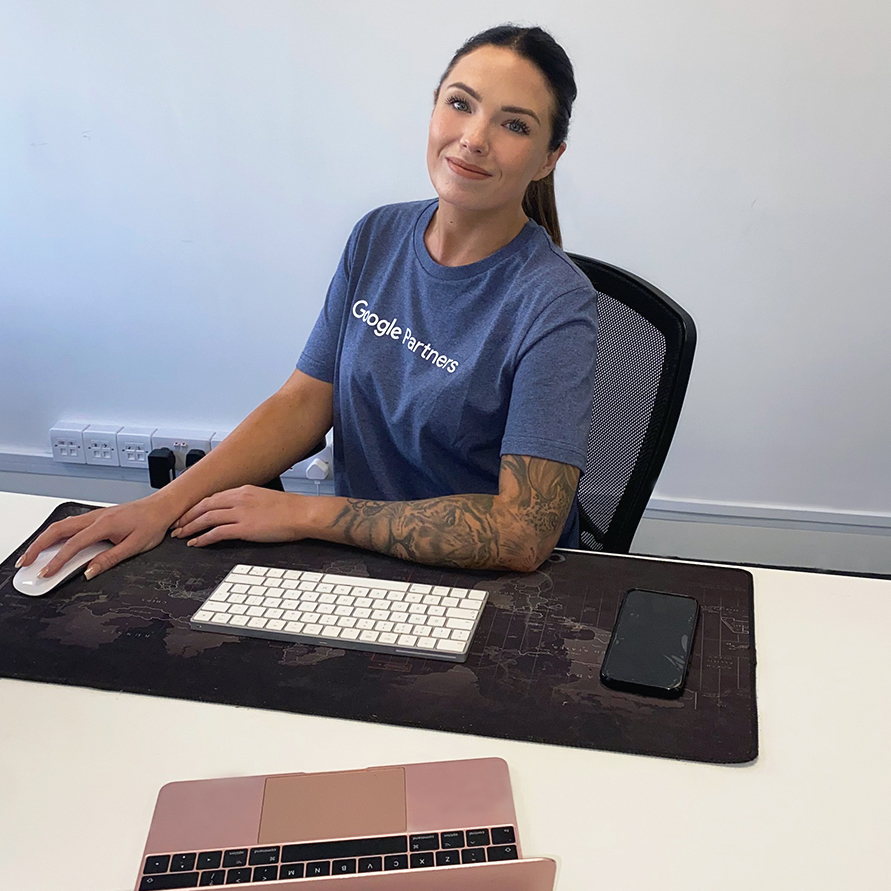 Speak to an expert
Got a quick question about your marketing? Or you want to run through the details of your next big project. We can help.
Speak to one of our experts today on 01702 668207 or send us a message.