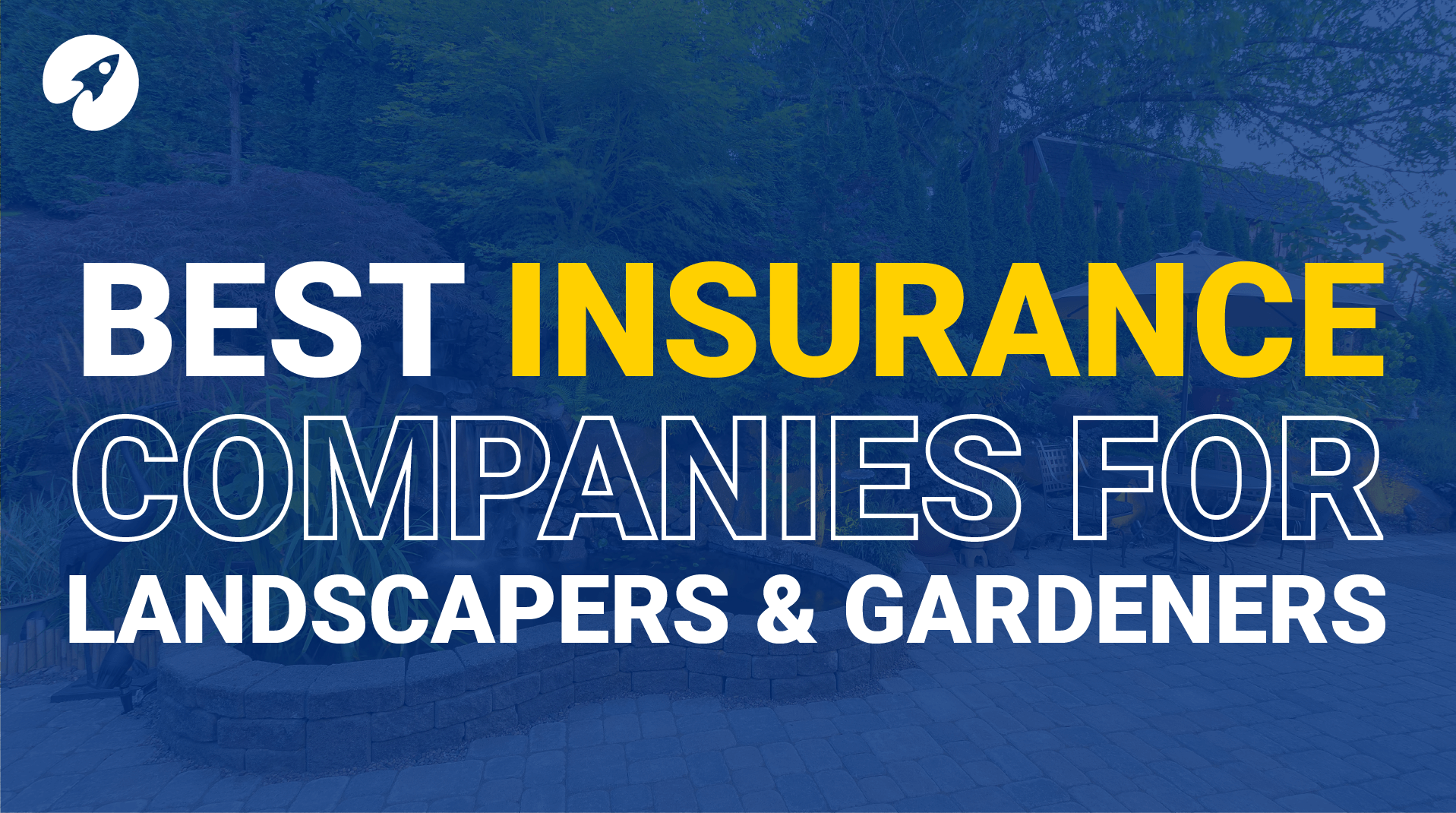 As the owner of a landscaping company in the UK, you know the importance of providing first-class services to your clients. But running your business goes beyond just making gardens beautiful and well-maintained. To protect your hard work and dedication, it's critical to have comprehensive business insurance in place.
But with so many options out there, how do you choose the best provider for your needs? Fear not! We've got you covered. In this post, we'll talk about the importance of business insurance for landscapers, the key features your policy must include, and our top four recommendations.
Ready to find the perfect plan? Let's dive in!
What your business insurance must include - the key features
First and foremost, you need to know what to look for in a business insurance policy. Here are the key features you'll want to have covered:
Public liability insurance: If a customer, supplier, or member of the public gets injured or suffers property damage because of your landscaping work, you could be faced with a costly claim. Public liability insurance helps cover your legal expenses and compensation claims.
Employers liability insurance: As a landscaping business owner, it's crucial to protect yourself and your employees. If an employee is injured or becomes ill due to their work, this insurance covers any compensation claims.
Professional indemnity insurance: If a client believes they have suffered financial loss due to your landscaping advice or services, you could face a compensation claim. Professional indemnity insurance covers your legal defence and any required payouts.
Tools & equipment cover: As a landscaper, you rely on your tools and equipment to get the job done. Insurance for tools and equipment covers the cost of repairing or replacing these items due to theft, loss, or damage.
Contract works insurance: This covers any landscaping works in progress on a client's property, including the cost of materials, labour, and completed works if there's damage due to an unforeseen event (like a fire or flood).
Now that we've covered the essentials, let's take a look at our top four recommendations!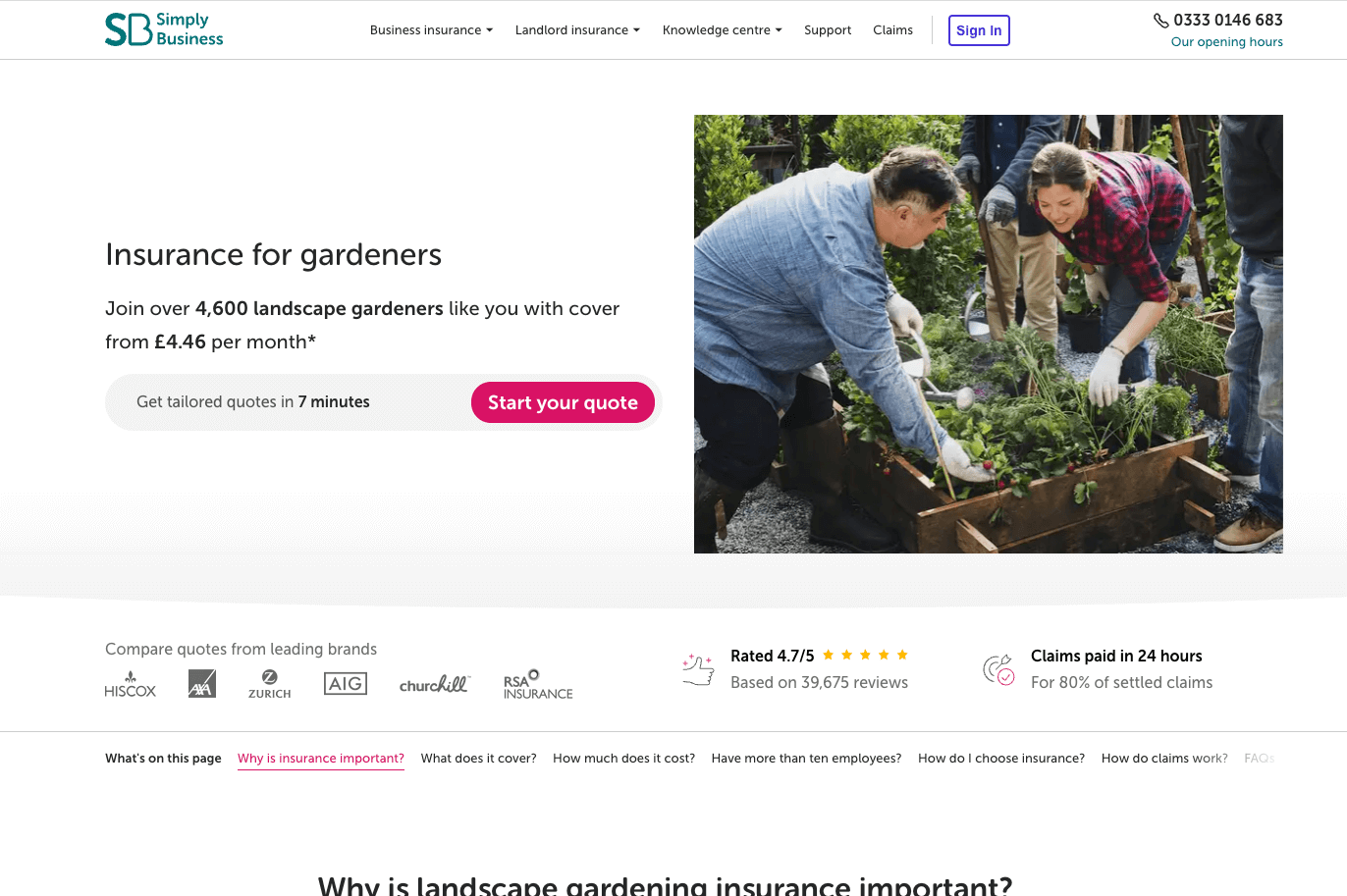 Simply Business is one of the UK's largest business insurance brokers. They offer bespoke business insurance packages that are tailored to meet the unique needs of landscaping businesses.
What sets Simply Business apart is their transparent and intuitive online platform that makes understanding and choosing the right policy a breeze. Their policies can be customised to include all the key features outlined above, ensuring comprehensive coverage.
They also cater to businesses of all sizes, from solo landscapers to larger teams, meaning they can scale with your business as it grows. A highlight of their service is their dedicated claims team, who are available 24/7 to support you in the event of a claim. They have a high customer satisfaction rating, with many customers praising their responsiveness and professionalism.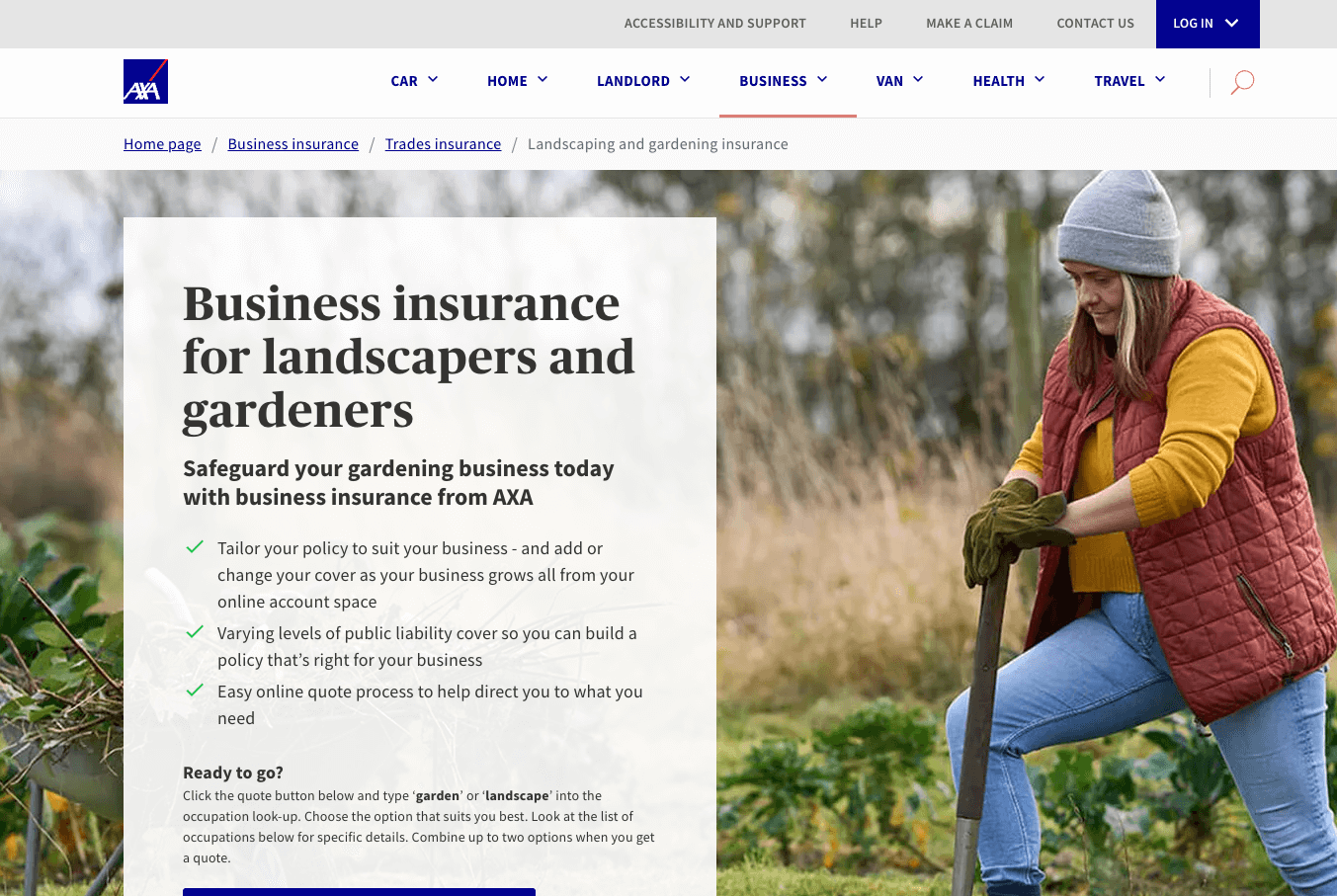 AXA is a renowned global insurance company that provides an array of business insurance products, including coverage specifically tailored for landscapers.
They stand out due to their flexible policies, allowing you to select the level of coverage that best aligns with your business operations and risk profile. This flexibility extends to the inclusion of the key features mentioned earlier, letting you bundle different types of coverage into a single policy for comprehensive protection.
Their website also provides a wealth of online resources such as guides, articles, and risk management tools to aid in understanding insurance needs and insurance related questions.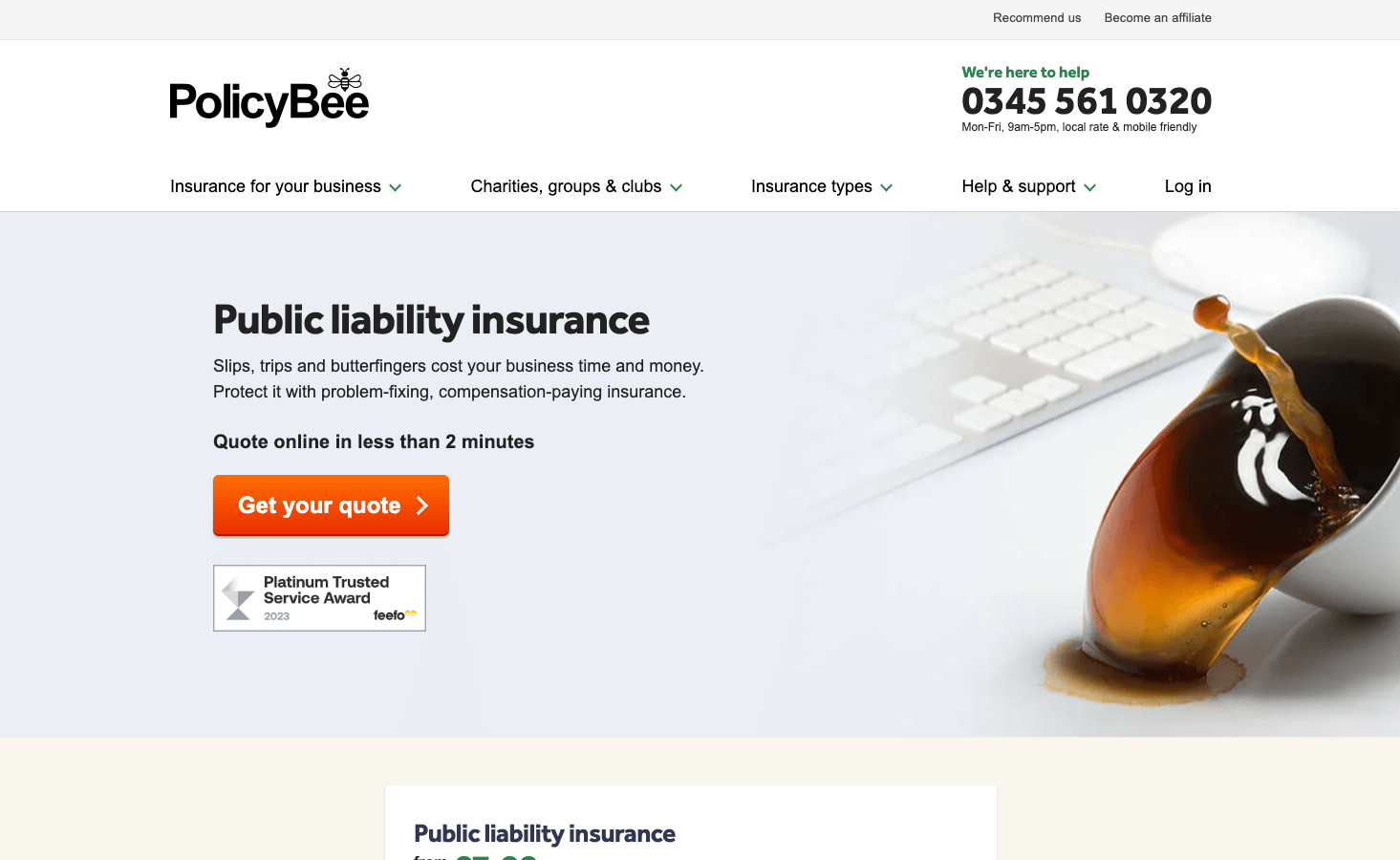 PolicyBee is an online insurance broker specialising in bespoke policies for SMEs, including landscapers. Who pride themselves on finding the perfect policy for your specific business needs.
In terms of the key features, PolicyBee's policies offer all the essential coverage types that any landscaping business might need, including public liability, employers liability, professional indemnity, tools & equipment cover, and contract works insurance. This ensures that your business is well-protected against a variety of potential risks.
What differentiates PolicyBee from others in the market is their focus on SMEs, which allows them to tailor their policies to the unique needs and challenges of smaller businesses. Their policies are flexible and can be adjusted as your landscaping business grows and evolves over time.
Their online platform is easy to navigate and offers a straightforward quote and purchase process. This allows you to acquire a policy in a few easy steps and make necessary changes to your coverage without any hassle.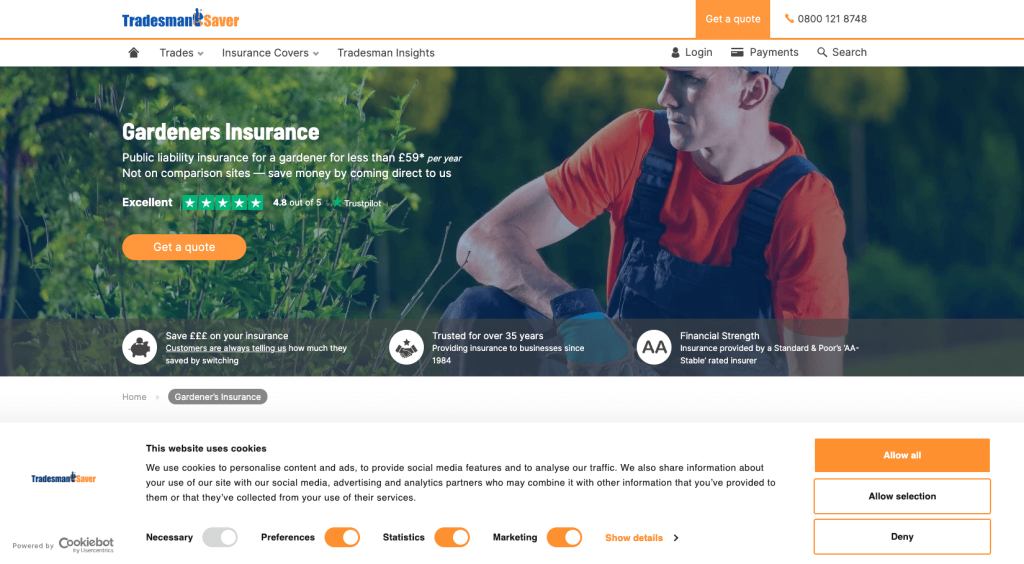 Tradesman Saver is a UK-based insurance provider that focuses on the trades industry and offers customisable policies for landscaping businesses.Tradesman Saver has built a strong reputation for its industry-specific knowledge, understanding the unique risks and challenges that landscaping businesses face.
Their policies are designed with landscapers in mind, featuring all key coverage elements necessary for businesses of this nature. These insurance policies not only cover general liability and professional indemnity but also extend to cover accidental damage to property and injury to the public due to your business activities.
They have streamlined their process to a degree that you can get a quote, customise your policy, and make a purchase all in a matter of minutes. This efficiency is particularly appreciated by tradespeople, who often prefer spending their time on-site rather than dealing with paperwork.
Another unique feature of Tradesman Saver is their inclusive approach to coverage. Instead of offering individual add-ons at additional costs, they incorporate essential coverages like tool insurance and contract works into their standard policy at no extra charge. This approach ensures comprehensive coverage while offering excellent value
for money.
In summary, we've explored four insurance providers: Simply Business, AXA, PolicyBee, and Tradesman Saver. Each offers specialised policies for landscaping businesses and comprehensive coverage.
Deciding on the right insurance provider is dependent on your specific needs and budget. Be sure to consider each provider's offerings in detail, assess their strengths, and make an informed decision best suited to your business requirements.
We hope this guide aids you in your search for the perfect business insurance. Remember, the best insurance policy is the one that offers you peace of mind and allows you to focus on what you do best — creating beautiful landscapes.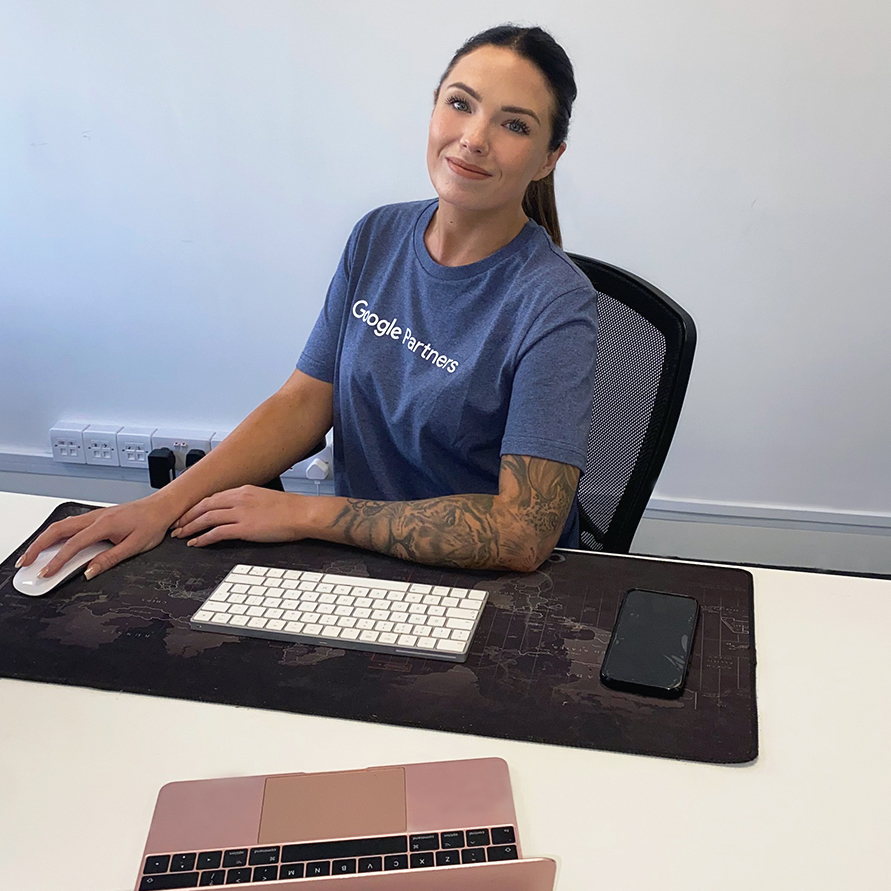 Speak to an expert
Got a quick question about your marketing? Or you want to run through the details of your next big project. We can help.
Speak to one of our experts today on 01702 668207 or send us a message.