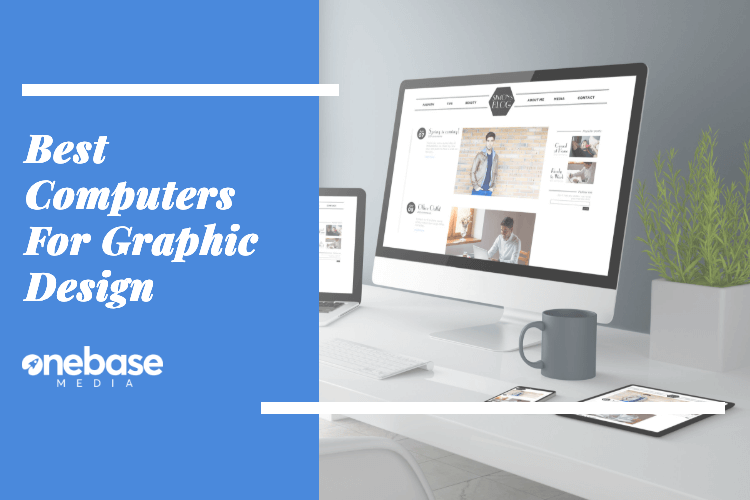 As a graphic designer, you need a reliable computer that's powerful enough to run your design tools. It needs to offer a quality display and enough speed for smooth operation of the software that you choose to use.
You might be looking for a desktop computer if you need something with enough power to make your work possible. Alternatively, some laptops and even laptop-tablet hybrids are now ideal for graphic designers looking for a more flexible solution. While a desktop computer tends to offer more power and a larger and clearer display, laptops are a portable option for designers who move around a lot, whether they serve as a primary computer or an additional tool.
Quick Navigation
Apple iMac Pro with Retina Display
Apple iMac with Retina Display
Microsoft Surface Studio
Microsoft Surface Studio 2
HP Pavilion 590
Apple Mac Mini
Asus ProArt PA90
HP Envy 34″ Curved All-in-One
Acer Aspire S24-880 All-in-One
Dell XPS 8930
Dell Inspiron 27 7000
CUK Continuum Gamer PC
HP Pavilion Power Gaming Desktop Computer
However, desktop computers are the best solution for most graphic designers. Even if you have a laptop, you are likely to have a desktop computer too. Both PCs and Macs offer excellent choices for graphic designers. Many people will automatically recommend a Mac, but there are plenty of other choices if you would rather buy a PC. Let's take a look at what a graphic designer should look for in a computer, and which are the best options.
What Should a Designer Look for in a Computer?
There are many things that a graphic designer should look into when they're choosing a computer. You need a computer that meets your needs in terms of speed and capacity, and that offers the graphics you require to create beautiful and accurate designs.
Some of the things that you should be looking at when you choose a computer include the GPU (graphics processing unit), processor, memory, hard drive, and monitor.
GPU
The GPU is arguably the most important element of a computer for a graphic designer. The GPU dictates the quality of the graphics that the computer has, so you need to consider choosing the right one. A good quality GPU will result is great graphics, which is essential if graphic design is what you do for a living. When you buy a computer, it can have shared graphics or a dedicated graphics card. Ideally, you want the latter option if you're looking for a computer with the right graphics capabilities. With a dedicated graphics card, you can even swap out the card for a better one if you want to improve your computer even more.
Processor Performance
The processor is what keeps your computer running, managing all of the software and tools that you're using. The CPU (central processing unit) speed is very important for graphic designers. Design software tends to use up a lot of processing power, so a heavy-duty processor is essential. You will need at least 1 Ghz if you want to prevent any lagging or other problems, but 2 Ghz or more is better if you want the best performance.
Memory
A computer has different types of memory, with RAM (random access memory) being one of them. RAM is like your computer's short-term memory, and the amount of RAM your computer has affects its performance and speed. A computer is able to process more things at the same time if it has more RAM, so look for at least 8GB. If you're planning on doing super intensive design work, computers approaching 16GB could be more appropriate.
Hard Drive
The other type of memory to consider is the hard drive. This is like the long-term memory of the computer, where you will store all kinds of files, software, and more. You can choose between hard disk drives (HDDs) and solid state drives (SSDs). An SSD is faster and more durable, although it is also more expensive and has lower maximum capabilities for storage. However, you can still find SSDs that store up to 4 terabytes.
Monitor
When you're a graphic designer, the image quality that you get from your computer is obviously going to be important. You can choose between all-in-one style computers, like an iMac, or a separate computer and monitor. If you buy a computer that comes with a separate monitor, there's a good chance that you will want to upgrade to ensure you have something better. You need a monitor with a resolution of at least 1200 x 800. The three main types of monitor are Twisted Nematic (TN), Vertical Alignment (VA), and In-Plane Switching (IPS). The latter two are best for graphic design work, with IPS monitors being the better choice but also more expensive.
The Best Computers for Graphic Designers
If you want to find the best computer for your graphic design work, pay attention to the factors above. Everyone will have different requirements when it comes to finding the right computer, but the following options are some of the best picks available right now.
1. Apple iMac Pro with Retina Display
The Apple iMac Pro has been designed with professional use in mind. It's a very powerful machine, but everything that it offers does come at a high price. There's a lot to take in with this impressive computer, including 2.4 Ghz 18-core Xeon W processor, 128GB of RAM, and a 4 TB solid state drive. One of the most attractive parts of the Apple iMac Pro is, of course, the Radeon Pro Vega 64 GPU, offering the quality graphics performance that any graphic designer could be happy with. Combined with the 27-inch LED-backlit Retina 5k display, you will enjoy excellent images.
This iMac Pro is the best option for any graphic designers who are looking for something to handle heavy-duty graphic design tasks. It has plenty of connections, including 4 USB ports, an SD card port, an ethernet port, and 4 Thunderbolt 3/USB-C ports to enable the use of other devices and connections. The all-in-one nature of the computer means that there isn't much space for upgrades. However, Macs have a reputation for lasting a long time, and the cutting-edge offering should serve you well for years.
The high price tag of this computer is a definite disadvantage. If you're willing to pay a higher price, however, it could deliver everything that you need in one package. It has great graphics quality and plenty of power and memory, allowing you to do pretty much any graphic design task that you might need to do without any problems.
2. Apple iMac with Retina Display
If you want an iMac but you're not convinced that the higher price tag of the iMac Pro can be justified, there's also the regular Apple iMac available. While it might not be designed specifically with professionals in mind, iMacs have been used by graphic designers and creatives for many years. The iMac with 4k retina display still has plenty to offer, and it's a whole lot more affordable. In fact, it's almost a quarter of the price. You can choose a 21.5-inch or 27-inch Retina display with 4k or 5k resolution, up to 8 core processors, and up to 3 TB of storage.
The graphics card options are an AMD Radeon Pro 570X, 580X or Vega 48, so you could still get the excellent graphics offered by the iMac Pro. Choose between 8GB up to 64GB of RAM, and enjoy the power and smooth operation offered by the Mac OS software. You still get USB and USB-C ports for connections, as well as an SDXC card slot.
Although the iMac is not as expensive as the iMac Pro, it's still not one of the cheaper options available. You can spend less by choosing the lower options for memory, graphics and display size, but even the basic package is going to set you back. However, if you're willing to pay for the best, most people recognize Apple's products as top picks for graphic designers.
3. Microsoft Surface Studio
The Microsoft Surface Studio can be seen as something that was created to offer a PC alternative to Macs for creative professionals. As an all-in-one Windows PC, it offers several of the things you can find in an iMac and even in the iMac Pro. The first generation Surface Studio has an Intel Core i7 processor, which is the same as the iMac Pro, and has 32GB of RAM, along with a 2 TB hard drive. You have a choice between the base and high-end models, which is great if you want to stick to a budget and don't want to spend extra on specs you don't need.
The high-end mode of the first generation Surface Pro gets you an Nvidia 980M GPU, with an Nvidia 965M for the base model. The screen can support three different colour profiles, sRGB, DCI-P3 and a vivid mode, and the display is 4500 x 3000 pixels. The screen can also be moved down to a 20-degree angle, which allows designers to use it like a drafting table. Being able to draw directly onto the screen is a big plus, doubling up the computer as a drawing tablet that makes it easy to get your designs right.
While the Surface Studio doesn't reach iMac Pro prices, it is still on the pricey side. However, it could be a great investment for an experienced graphic designer who is looking for a new computer that delivers an excellent package.
4. Microsoft Surface Studio 2
The second generation Microsoft Surface Studio improves on the first generation with some updated parts and some new features. Like the previous Studio, it's touch-sensitive, giving it an edge over other options that don't allow you to use them like a tablet. It again has a 28-inch display, with a slightly higher contrast ratio and an individually colour-calibrated display. The Zero Gravity Hinge allows you to lay it flat and use the 10-point multitouch with the Surface Pen.
Whereas the original surface features the 6th generation Intel i7 processor, the Surface 2 updates it to a 7th generation process, with 4 cores and delivering 2.9 Ghz. The graphics are updated too, with a choice of Nvidia GTX 1060 or 1070. There is up to 32GB of RAM available, but no 8GB option as with the previous model, and up to 2 TB of hard drive memory. It still features 4 USB 3.0 ports, plus there is a USB-C port, which replaces the Mini DisplayPort. Many other features are the same as the original Surface Studio, including the camera, audio, and the accessories, including the pen, keyboard and mouse.
The Surface Pen has had an update, now delivering 4096 levels of pressure, tilt tensing, a paper feel, 0.1mm precision and magnetic storage. The updated Surface Studio does offer a few advantages over the original, although you will obviously pay a little more for the updates.
5. HP Pavilion 590
For anyone looking for a budget option for graphic design, the HP Pavilion offers a lot for a reasonable price. It might not offer the specs that you can get from an iMac or the Microsoft Surface Studio, but it's still an excellent choice for graphic designers. It's among the most affordable options that you can find, and it offers a 4-8 core AMD Ryzen 3,5 or 7, or 4-6 core Intel Core i3 or i7. It has 8 to 16GB of RAM, and up to 256GB of SSD memory, 16GB Intel Optane, and 1-2TB HDD. The choice of graphics includes Intel UHD, AMD Vega Pro, Radeon RX550 or Nvidia GeForce GTX 1050Ti/1060.
Even if you choose the lower specs, you can get plenty of power and run your graphic design software smoothly. Of course, as a stand-alone tower computer, you will also need to choose a monitor and other accessories to use with this computer. However, that means you can choose a monitor that works for you and delivers the performance that you're looking for. You have a choice of processors and graphics cards, but some people might miss the 8-core Intel process. In some tasks, however, the AMD 8-core processor could perform even better.
If you're looking for an affordable but still high-performing computer, the HP Pavilion 590 is a great choice. Just remember to budget for your monitor and other accessories too, including keyboard and mouse.
6. Apple Mac Mini
If you're thinking about a Mac computer but the idea of an all-in-one doesn't appeal to you, the Apple Mac Mini is another option. Because it's not an all-in-one, it's the cheapest option when you're considering a Mac, unless you want to get something secondhand. It's available with a 3.6 GHz quad-core Intel Core i3 processor, up to a 3.2GHz 6-core Intel Core i7. With Intel HD 630 graphics, you don't benefit from a dedicated graphics card, but the processor is sure to handle a lot of the graphic design tasks you will be performing.
Choose from a minimum 8GB of RAM up to 64GB, and storage up to 2TB. However, if you want more storage, you need to be prepared to pay for it. However, you always have the option of choosing one of the lower choices for storage, then expanding with an external storage device via USB or Thunderbolt. As with other computers of the same type, it's up to you to find a monitor that meets your needs. Although choosing a good monitor is important, it's not necessarily the most important thing. Concentrate on what the computer can offer you first before choosing any accessories.
The Mac Mini is a great entry point if you're thinking about buying a Mac. It won't quite be the same as having an iMac, but there's still plenty of power. It's also super compact, so it barely takes up any space.
7. Asus ProArt PA90
Another tower PC option, this compact computer from Asus has an interesting design and excellent specs. Choose an Intel Core i5, i7 or i9 with 6 to 8 cores plus between 8GB and 65GB of RAM for a speedy performance. A powerful Quadro P4000 graphics card offers 4k video on up to six different monitors, making this a fantastic computer for graphic design. In terms of storage, you get 128-512GB SATA SSD, 256GB-512GB M.2 SSD or 1TB HDD. Choose the specs that work for you to get the level of performance that you need.
The chassis of this computer offers a sleek and unique design, which is great if you want something that looks good. Of course, considering it could be hidden under your desk, it might not matter as much as what your monitor looks like. What's inside the computer is more important, and although how it looks is a bonus, it's ultimately not what you'll be paying for.
This PC is going to cost you less than a Microsoft Surface Pro, but more than an iMac. Considering you also need to buy a monitor and a decent keyboard and mouse, it could be pricey to get everything that you need. It's a compact computer, but it does require two power supplies to run, so take that into account if you're considering this one. It's worth the extra power supply that it requires if you're looking for something powerful.
8. HP Envy 34″ Curved All-in-One
For an all-in-one computer that's from neither Apple or Windows, this HP Envy computer is capable of handling your graphic design needs. With its 7th generation Intel processor and AMD Radeon RX 460 GPU, it's powerful and offers the graphics capability that you're looking for. It has a 256GB solid-state drive as well as a 1TB SATA hard drive, plus 16GB of RAM to give it even more power.
At 34″, the display is larger than you will find on many other options. It's also curved, which is novel and makes the computer look great, especially as the rest of the design is kept to a minimum. You can put the display in Technicolour-certified mode, which means that the colours will pop and there will be a sRBG color gamut of 99 percent. Your images will appear truer to life, which is certainly helpful for designers. However, one downside is that the curved screen might make straight lines look curved, which really isn't ideal for graphic designers who need to ensure their designs are accurate.
The computer also has four USB 3.0 ports, as well as a Thunderbolt 3 port, plus HDMI out and in ports. The 3-in-1 media card reader also allows you to connect your external storage. This computer offers power and a great display, but consider whether the curved display could have an effect on your work. It could be excellent or it might make it difficult for you to work in the way you want to.
9. Acer Aspire S24-880 All-in-One
Acer's Aspire range also offers an all-in-one PC option. It looks good and is very thin, plus it's powerful enough to handle many graphic design tasks. Its quad-core Intel i5 processor might not be as powerful as some, but it's still adequate for plenty of graphic design tools. However, it has to be noted that there is no dedicated graphics card, with the Intel UHD 620 instead. You can get between 8GB and 32GB of RAM, plus 256GB SSD or 1TB HDD. The 23.8-inch screen is a decent size too. One of the best things about this computer is the price, offering a much more affordable option compared to other all-in-one computers.
The 1080p display has full HD so your designs will still look great as you're working on them. You'll get fantastic colours and a wide view. Acer Vision Care even helps to reduce eye strain and look after your vision during long hours at the computer. If you're not looking for a computer that delivers top-of-the-range possibilities for your graphics, this one can still deliver enough power and quality display. The super thin design means it doesn't take up too much space on your desk, and you can leave space in front of it for your keyboard and other devices, such as a drawing tablet. Another added benefit is the wireless charging pad, which allows you to keep your other devices charged while you're working.
10. Dell XPS 8930
The Dell XPS 8930 might not look like much, but it still has something to offer graphic designers. This tower PC uses an Intel Core i7-8700 processor which, combined with 256GB solid-state drive(SSD) and a 2TB 7200 RPM SATA Hard Drive, gives you all of the power and memory that you need to ace all of your graphic design duties. With a Nvidia GeForce 1060 GPU, which also has 6GB of graphics double data rate type five synchronous random-access memory (GDDR5). You can be sure that you'll enjoy excellent graphics with this graphics card.
One of the good things about this tower computer is how easy it is to update it. If you want to upgrade certain elements, rather than buying a new computer every time you need more power, you can upgrade just about any component. The only part that's more difficult to change is the CPU, which is soldered on. If you want to give it more RAM or change the graphics card. Other benefits include the two USB-C ports, USB-A port, HDMI connection, DisplayPort and SD card reader.
As with other tower computers, it's important to remember that you will need to choose a monitor and other accessories to make sure you have the full package. If you're looking for something that you can use straight out of the box, you will obviously need to consider something else. Once you've added a decent monitor, you could be paying about the same as you would for an all-in-one computer.
11. Dell Inspiron 27 7000
Another option from Dell, the 27 7000 is an all-in-one that's affordable and has a great display. An Intel Core i5-i7 or AMD Ryzen processor gives you the necessary capability to use your favourite design tools. With a AMD Radeon 580 8GB or Nvidia GeForce GTX 1050 4TB GPU, you can do even better than an iMac in terms of graphics quality, and it's a lot more affordable too. The Infinity Edge 4k display is an edge-to-edge design to maximize the space use, and it makes the PC look great too. The screen itself is 27 inches and an IPS display, with a resolution of 3840×2160.
When it comes to storage, you get 1TB HDD and 256GB SSD. As for RAM, it starts at 8GB and goes up to 32GB, which is in line with many other choices on this list. This all-in-one is a fantastic out-of-the-box solution, giving you all that you need to get started. The HDMI input is a handy feature, and there is also a USB-C port for you to use too. Other ports and connections include USB 3.1 and 2.0, HDMI output, and an SD card reader.
For an affordable price, this PC offers many of the features that you need to get your graphic design work done. It's a similar price to some tower PC options but has all that you require to get started, and it's cheaper than other all-in-one options.
12. CUK Continuum Gamer PC
Gaming computers can also offer what you're looking for if you want a good graphic design computer. They're built with powerful processors, plenty of RAM to prevent lagging games, and great graphics cards too. If you want to consider a gaming computer, the CUK Continuum Gamer PC is one option to look at. This tower PC has many of things that you might be looking for. Its 8th generation Intel Core processor can reach top speeds of an impressive 4.7Ghz and you can choose to have up to 12GB of cache memory. A Nvidia GeForce RTX GPU makes sure that your graphics look amazing too.
The top level of this computer features two 500GB SSD and a 2TB 7200RPM HDD, for fast performance and plenty of storage. If the 32GB RAM isn't enough, you can expand it if you need to. Of course, such as high-spec computer is working hard, so you need to stop it from overheating. This particular computer has five fans that work to keep it cool, protecting it and preventing any problems.
A robust and high-performance PC like this one isn't going to come cheap, but you could still save money compared to some other options, including the iMac Pro and the Microsoft Surface computers too. Of course, a high-spec computer with excellent graphics also needs a good monitor to go with it, so remember to factor it into your budget.
13. HP Pavilion Power Gaming Desktop Computer
Try this other option for a gaming computer that can pack a punch but is a lot more affordable. Like the Continuum, it certainly looks like a gaming computer, and the insides have been chosen for gaming too. Despite the lower price tag, you still get an 8th generation Intel Core i5-8400 processor, plus a Nvidia GeForce GTX 1060 GPU with a dedicated 3GB GDDR5, and 8GB of RAM. You can upgrade to 64GB of RAM if necessary, giving you that extra speed that you might need while designing. It also comes with an SSD with 256GB.
Connections on this computer include 2 USB 3.1 Gen 1 and 2 USB 3.1 Gen 2 ports, as well as an additional USB 3.1 Gen 2 Type-C port. Connecting any additional devices or expanding your storage with an external device is simple. This is another desktop PC that's a tower, so you will need to find the right monitor, mouse and keyboard to go with it too.
This computer might not be built with graphic designers in mind, but it's still a great choice if you're looking for speed, power and great graphics. If you're on a budget but you don't want to compromise, the HP Pavilion Power Gaming Desktop could be a good option for you. Perhaps you're fairly new to graphic design and you don't want to splurge but you're still looking for performance and quality.
Find your perfect computer for your graphic design projects and you can enjoy great graphics and smoothly running design tools.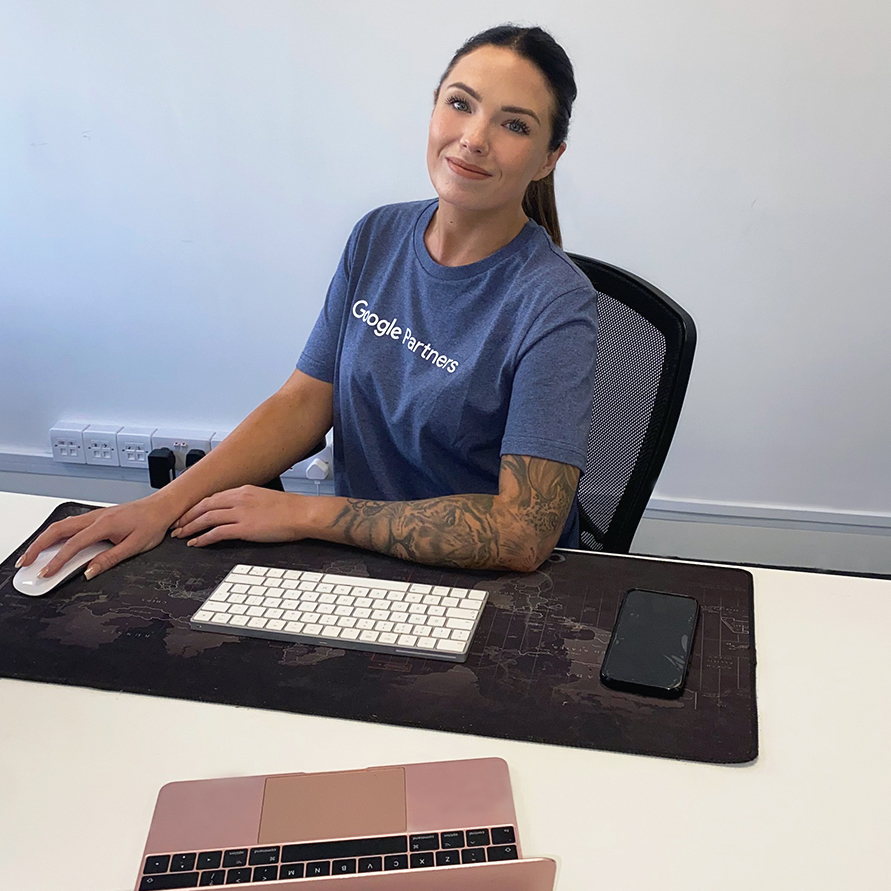 Speak to an expert
Got a quick question about your marketing? Or you want to run through the details of your next big project. We can help.
Speak to one of our experts today on 01702 668207 or send us a message.