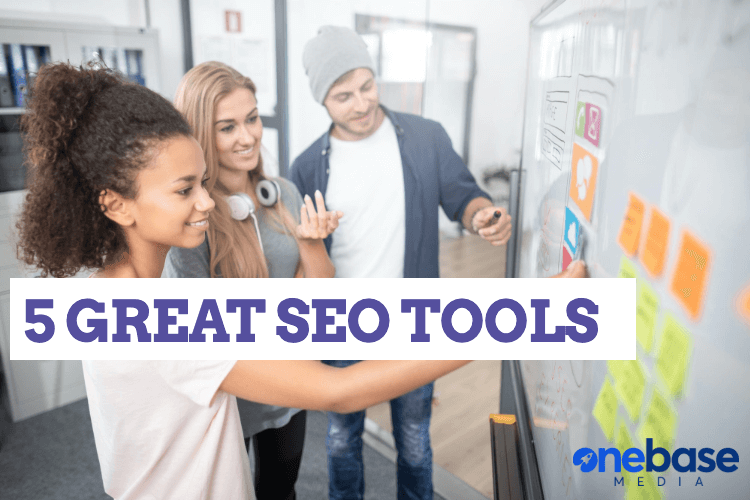 Ranking highly on the internet is always an important matter for any website owner, which is why here at One Base Media, we are informing you of five great tools for SEO.
After sorting through many different website ranking tools and viewing the work that these websites had committed, I finally managed to get the number down to the five best websites.
You may be wondering 'what makes these so great?' but after finding out what big, well-known companies these website ranking tools have played a part in, the services they offer, reviews they have received along with the number of people who follow them on social media, it is obvious that their services are important to so many people and are not to be missed.
So, without further ado, I would like to present to you the top five tools, with number one being the most popular and frequently used website:
Fifth: Screaming Frog
Screaming Frog SEO Spider is one of the most well-known pieces of software, especially when it comes to SEO tools, since such high brands such as Apple, Disney and Amazon are using it.
Screaming Frog take great pride in their work, to the point that on their website you can read up on examples of how they have assisted many different clients in the past, one of which is the well-known music app, Shazam.
With a blog that is updated once or twice a month, you can read up on different topics, one of the most recent being "How To Audit Backlinks In The SEO Spider".
Screaming Frog pride themselves in covering all topics that you can think of on how to improve your website, whether it be search engine marketing, pay-per-click management (otherwise known as PPC management) or analytics consultancy. If you have a problem, they will be able to fix it.
Forth: Ahrefs
You may be wondering how a website like Ahrefs can beat Screaming Frog after that amazing introduction, but for starters, Ahrefs offer a seven day trial for only $7, which is hard to miss.
Meanwhile, when you are working with Ahrefs, you get a range of six different tools ready for you to use:
• Site Explorer
• Positions Explorer
• Content Explorer
• Position Tracker
• Crawl Report
• Ahrefs Alert
Whether you are keeping an eye on your rank tracker, looking at the search traffic from your competitors or trying to find out the problems with your SEO ranking, you will have a much more effective website after using a great tool like this.
Another advantage is every month several posts will be written and put on their blog, providing you with answers on different ways to improve your website further.
Third: Semrush
Being the highest-ranking piece of software out of the five listed on Facebook with 50,280 followers, Semrush is constantly looking for opportunities to improve their client's website traffic and page rank, which is not surprising when you consider the fact that they currently have 1,076,968 users, along with over 128,000,000 domains.
There is no shortage of blog posts to read through, with this popular website posting content consistently, to keep their fellow website creators busy on improving and adapting their websites to receive the best possible effects.
With exciting webinars for you to watch, fitting within a range of topics all in order to improve your website's visibility, from SEO words to find out your website's rank from the keywords you have fitted in your content.
You can even find out about internet orientated events that are coming up all around the world and what will be going on. The excitement truly never ends with this amazing piece of software!
Second: Moz
Working with over 35,000 customers, Moz is committed to helping their clients with everything from web page ranking, to SEO keywords.
With a blog that is updated near enough every day – sometimes even twice a day – there will always be new information to read up on.
What I found interesting about this particular website, is although they have tools that you have to pay for, they also do a range of free tools that you can use for both SEO and local marketing for 30 days, which is an absolutely fantastic idea. People can be so cautious in investing their money on products, never too sure if they will help but hoping that it will improve the visibility of their website on the internet.
By providing them with this opportunity, it gives people the chance to test it out and see if they like the product to begin with – which clearly so many people have considering the number of users and followers they have on social media, along with the fact that they are number two on my list of the top five tools for website ranking.
First: Google Analytics
Out of all five of these pieces of software, Google Analytics came out as most popular on both Twitter (with 961k followers) and Google+ (with 6,814,074 followers).
Google Analytics is one of the most well-known tools, assisting people in receiving more engagement from people on the internet, while also providing their website users with free website solutions in order to improve their own websites and businesses. This is through the use of Analytics, Tag Manager and Data Studio.
Google Analytics pride themselves for the fact that they have helped many companies with improving engagement by 33% and also help many people through the use of their Blogger page, informing people on their products and how different companies have found them useful.
With their YouTube channel, Google Analytics has also made using their products even easier by providing people with lessons on different areas in Digital Analytics, how to improve your website through using this software, along with insight on the data and the advantages of it.
This website is also targeting customers owning mobile apps, allowing you to see the business value of your app and how you can improve.
No matter what size company you are working with, Google Analytics will always be able to help you improve, heighten your google page rank and assist in making yourself more known on the internet.