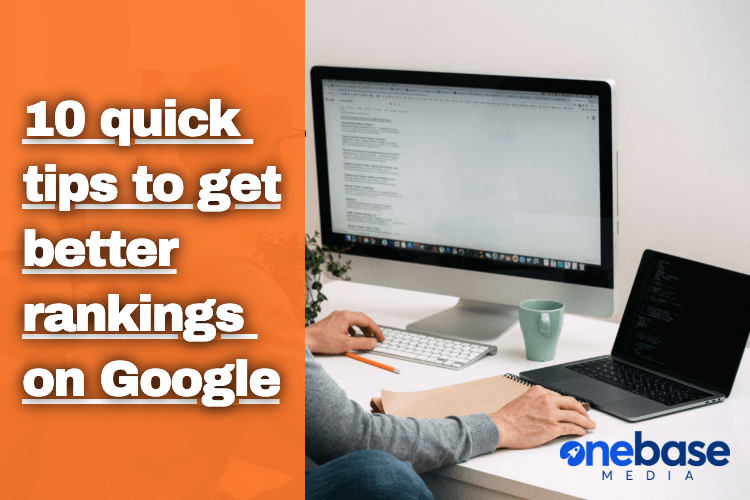 Fancy being on the first results page of Google? Get to the top with these 10 tips to improving your Google rankings.
Keyword Research
What are keywords? Keywords are phrases or words that people will type into search engines to find what it is that they are looking for. The idea is to research and use the words that your potential customers are searching for, and include as many of them when producing your content; triggering better Google rankings.
Keyword Difficulty
Keywords are categorised into different groups depending on the number of words in the phrase. As it goes the more words that is in a keyword phrase, the easier your website would be found and ranked. This is due to the fact that there will be less competition from other sites. (This is not entirely guaranteed though.)
An example: The short keyword phrase "t-shirt" will have a high search rate, due to the limited amount of words. The phrase "child's age 12 blue t-shirt" is referred to as the long tail keyword phrase, as it clearly has more substance to it. Using a long tail keyword will lower the search rate, being more complex, and that is a very good thing for your ranking.
Title Tag
This is a very important factor to include. It tells the reader what they can expect from the page. Displaying this tag can have your business rankings climbing, due to a higher likelihood of click-throughs.
Remember: Have a unique title for each page on your website. Keep the title to the point, it should be around 55 characters.
Title Tag Example
<head>
<title>Example Title</title>
</head>
Meta Description
Meta description tags are needed when it comes to achieving user click-through. You should make sure that every page on your website has an individual meta description, including that all important keyword on the page. Your Meta description should be roughly 155 characters.
Meta Description Example
<head>
<meta name="description" content="This is an example of a meta description">
</head>
Quantity and Quality of Content
Do not copy and paste! The worst thing you can do at this stage is to copy and use someone else's work. Search engines have advanced. They will notice when you have copied content and will discard your work. Obviously this is something you want to avoid. We advise you to write unique content, as well as making sure that you have all of the following included:
Short paragraphs and short sentences. People don't want to read an essay. Be wary of how many words you write, you want to make it easy for the viewer to read.
Correct grammar and spelling
Enough white space on your website. This avoids overcrowding on your site.
Make sure to use plenty of keywords from your keyword research.
Including these factors will ensure that the content you produce for the web is to a good enough standard, resulting in an increase in readability of your content.
A Bonus Point – Always remember to add value to your content. By keeping it relevant to the readers, you will increase the likelihood of receiving inbound links.
Various Multimedia
Delivering information to your users in various forms can help improve your Google Rankings. You can make your content interactive and better looking, by using images, audio, videos and slideshows. These can increase your conversion rate and user engagement. As well as getting visitors to spend more amounts of time on your website.
Optimise Images
Images are always beneficial, when used in moderation. Don't go over the top with images, use a few on your page to add interest and break up bundles of text. Be careful when choosing image size; images should be neither too large or too tiny. Additionally, making sure that your image loads quickly on your website can optimise your website even further, and boost your rankings.
Testimonials
A thought for you: Do you have a section or page on your website just for testimonials? Well you need to allocate space for this information. Testimonials are serving evidence and credibility to your website. This is because they are real reviews from other businesses or individuals, and potential customers would like to read what they have written about your products/services.
Not only that if you and another business are in connection, it may mean that you receive a testimonial from them in exchange for putting a testimonial onto their site (with a link attached back to your site.) This is a benefit for both websites, as well as establishing/maintaining a good relationship with suppliers.
Contact Page
A contact page that is designed well and includes adequate information can be considered more trust-worthy, than if your contact page was limited. This can push your website higher up the search engine. So it is definitely worth spending some time on your contact page.
Link Building
Link Building can be a huge factor in how search engines rank your website. There are two types of inbound links, called internal links and backlinks. Let's dive into the details of these links.
Inbound links – How it works. You are linking one of your pages on your website to another page on your website. This is done by choosing a sentence or keyword, from which the reader will click onto.
For example, if you briefly mentioned in a piece content on your website the keywords "Google Rankings", you could set an inbound link onto another page on the same site that is specifically about Google Rankings.
Backlinks – This is when links from other sites point to your website. Backlinks are regarded as more valuable but harder and slower to achieve. The best way to create backlinks is to firstly produce useful and required content that your audience wants and then promote it through your social media platforms. This leads us onto our next point.
Responsive Website
It is crucial for your business site to be flexible. Your site design must work well across all different devices; computer, mobile and tablet. They must be user-friendly!
How fast is your site? You need to check your website speed. Having a slow website can have an effect on your conversion rate and your chances of having a website that is close to the top of a results page. People will not want to wait around for a site to load, so keep that in mind.